GGG - 2017 News & Results
Please email News & Results for publishing on this page to: janicemsaunders1@gmail.com
GLOUCESTERSHIRE GIRLS v GLOUCESTERSHIRE LADY VETS - 31st MAY
Every year, the Gloucestershire Girls are invited to play in a friendly match against some of the Gloucestershire Vets. Some of our higher handicapped girls like to play in this match as it provides them with invaluable experience from the Lady Vets during a very relaxed game of golf. All the girls who played would like to say a big "THANK YOU" to the Lady Vets for giving up their time and making the match so enjoyable.
Report from Gabriella Haynes, Knowle Golf Club
"On Wednesday the 31st May, the Gloucestershire Girls squad met at Shirehampton golf club, for the second friendly match this season, ready to take on a strong Vets team.
For some of the girls it was their first time playing for Gloucestershire Girls and they were nervous, but everyone played amazingly and were in high spirits.
It was a hilly course, so it tired us all out, but nobody gave up and that's why we won 4/3. That day, there was some great golf played and it was very enjoyable.
Thank you very much to Shirehampton Golf Cub for letting us hold the match there and to Alex Saunders for organising a fantastic competition."
From Gabby Haynes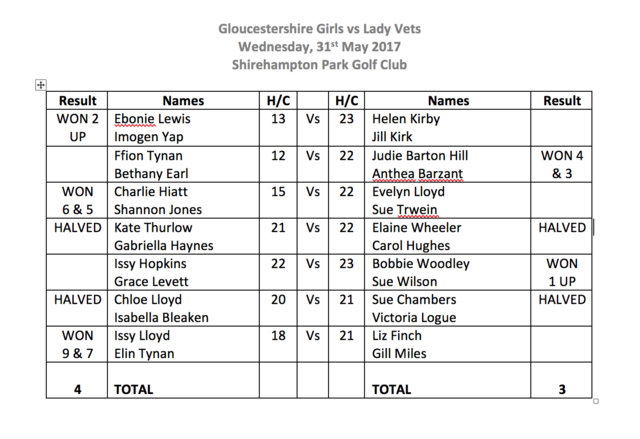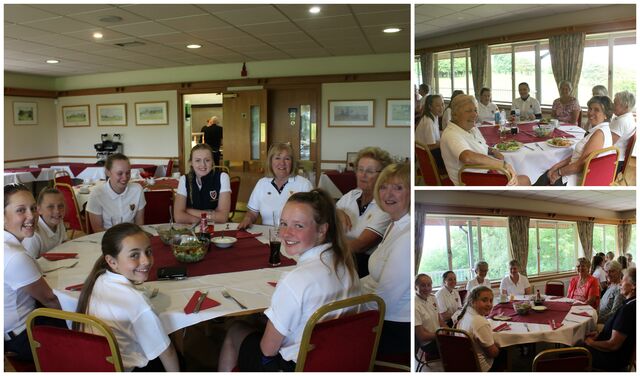 GLOUCESTERSHIRE GIRLS WAITING FOR THEIR WELL-EARNED TEA, COURTESY OF THE VETS.
GLOUCESTERSHIRE GIRLS v WORCESTERSHIRE & HEREFORDSHIRE GIRLS - 9th APRIL
On Sunday 9th April, 12 Gloucestershire girls played in a friendly match against the girls from Worcestershire & Herefordshire at The Worcestershire Golf Club.
The sun shone and the girls took on the challenges of quite a tight course that had some lightening fast greens and some that were so slow it was difficult to get the balls to the hole!
Our girls' handicaps ranged from 8 – 36 and we had a couple of rookies – Chloe and Gabriella - who stepped onto the first tee with a few nerves but they battled throughout the match and although we lost 10:2, this didn't really reflect some of the excellent golf that was played.
Ten year old Gabriella whose golf trolley is only a little bit smaller than herself played outstanding – with a maximum match handicap of 36 she had to play off 4 shots lower than her current handicap of 40 with her opponent playing off 30. So what did she do – she took her opponent to the 18th losing only 1 down which was an incredible achievement.
With some of the girls losing holes against their opponents early in the match, they fought well to pull some holes back and never gave up. It was a tough match with Worcestershire & Herefordshire girls taking advantage of their home course knowledge but next year we'll welcome them to one of our clubs and hopefully the result will be reversed!
A big thanks go to The Worcestershire GC for hosting the match, to Worcestershire & Herefordshire's Junior Organiser for organising everything and to all our opponents and most importantly to all the Gloucestershire supporters, especially Sue Rawles, our County Vice President who was able to provide on-course rulings when they were needed!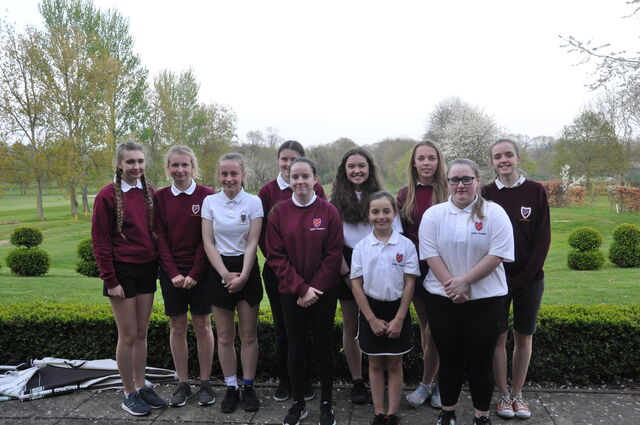 TEAM GLOS (minus Sophie and Kate who had to leave immediately after their matches)
| | | | | | |
| --- | --- | --- | --- | --- | --- |
| GGG | Result | Points | Worcs & Hereford | Result | Points |
| Sophie Price (8) | 4&3 | 1 | Emily Furness (5) | | |
| Jess Brown (10) | | | Kirsten Porte (9) | 3 & 2 | 1 |
| Sabrina Thompson-Green (14) | | | Charlotte Campbell (9) | 6 & 5 | 1 |
| Kate Thurlow (16) | | | Kacey Haynes (11) | 7 & 6 | 1 |
| Jess Baber (17) | | | Rosanna Halls (10) | 2 & 1 | 1 |
| Izzy Lloyd (17) | 4 & 2 | 1 | Lauren Shap (11) | | |
| Macey Edwards (20) | | | Abigail Pope (13) | 4 & 3 | 1 |
| Isabel Ovens (22) | | | Grace Bowen (15) | 5 & 4 | 1 |
| Lorna Evans (22) | | | Lili-Rose Hunt (19) | 2 & 1 | 1 |
| Chloe Lloyd (25) | | | Megan Langford (21) | 5 & 4 | 1 |
| Lowri Thomas (36) | | | Olivia Williams (22) | 6 & 5 | 1 |
| Gabriella Haynes (36) | | | Amy Deane (30) | 1 UP | 1 |
| | | 2 | | | 10 |
ACADEMY COACHING FITNESS AND NUTRITION SESSION - 18 FEBRUARY 2017
SIMON PUTS THE GLOS GIRLS THROUGH THEIR PACES
Some of the Glos Girls joined Simon Sveder-Cain of Personal Best Studio at Brickhampton Court Golf Complex for a fitness and nutrition session last Saturday and he certainly put them through their paces!
With Lowri travelling for 24 hours across Europe after her ski-ing trip to get to the session and another girl, who shall remain nameless (!) who was on a 'sleepover' the night before and only achieved 2 hours sleep – Simon was extremely impressed by all the girls commitment to participate in all the exercises he set them – he even said they were his best group for a long time and they were still smiling at the end of the session! So well done girls and let's hope the exercises and advice that Simon gave you will help you during the forthcoming golf season.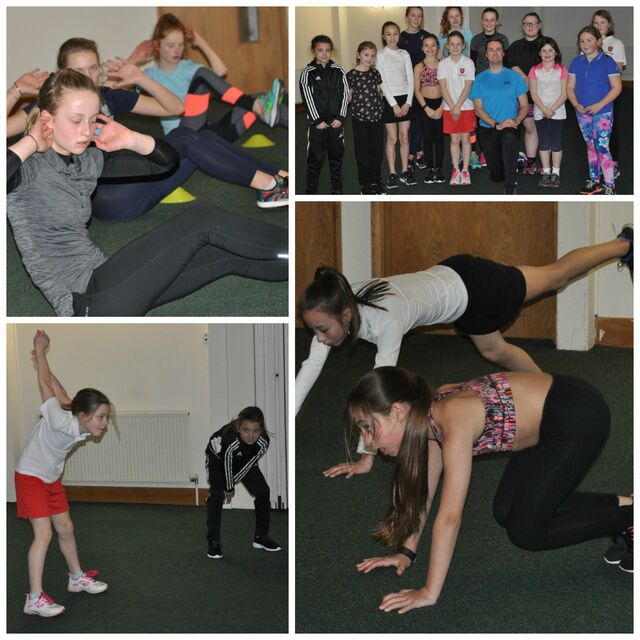 GGG - 2016 News & Results
The Jenny May Day, The Bristol Golf Club - 16th October
This was our last event of the year and was a chance to reflect on the fantastic year that you girls have had. We started the day with our yearly report highlighting some of your achievements and the presentation of awards before going on to the 18 hole and 9 hole Texas Scrambles and crazy putting competitions. Many thanks must go to 'The Bristol Golf Club' for hosting the day.
Jenny May very kindly came to present the awards and trophies to our winners. If you would like to see who won the awards and read the yearly report click here and to see a copy of the powerpoint presentation click here.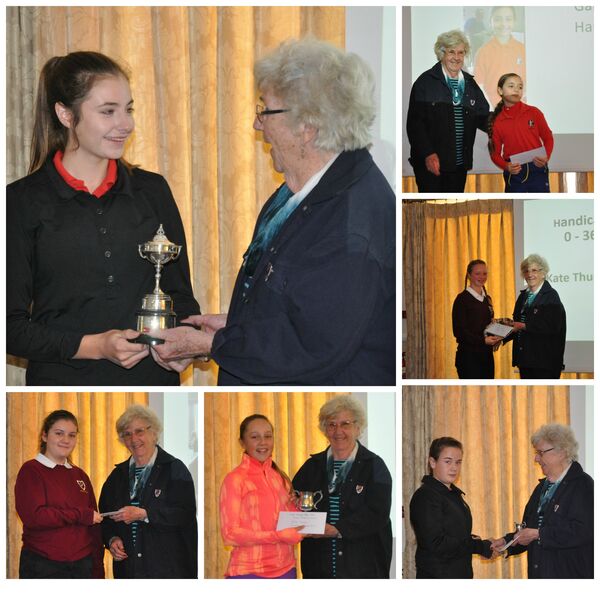 It was an exciting day's golf and there was even a hole in one! - Neve Jeffery on the 8th hole of the academy course; she also went on to win the putting competition. Well done Neve.
Nine girls took part in the 9 hole texas scramble. Many thank to Janice Saunders, Justina Prosser, Marion Jackson who walked with the girls and to Bethan Popel who offered advice and inspiration to them. I think Beth was even more excited than Neve when she witnessed her hole in one. Thank you also to Sue Rawles for presenting the prizes.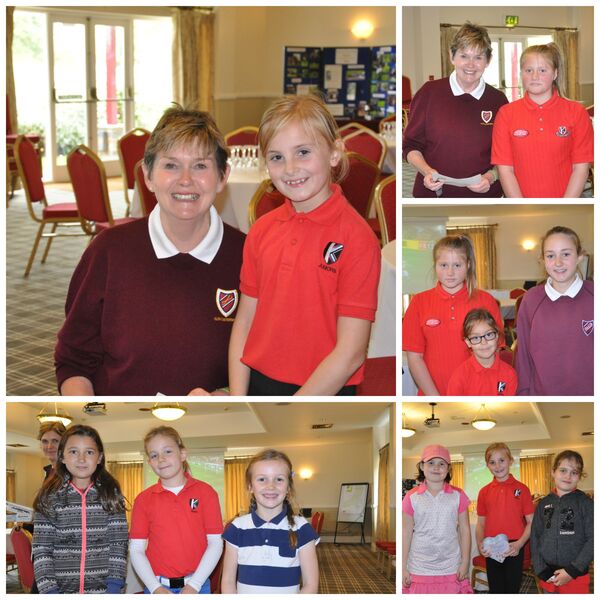 9 Hole Texas Scramble Results:
| | | | |
| --- | --- | --- | --- |
| Player | Player | Player | Gross Score |
| Sophie Williams | Millie Gait | Una Morrisey | 36 |
| Neve Jeffery | Sasha McIhinney | Lillie Walden | 37 |
| Imogen Dunn | Neive Embery | Olivia Noirault | 40 |
The 18 hole Texas Scramble was a closely contested competition. It is always a pleasure to watch the different age and ability girls playing together with such enjoyment. There were some impressive scores and we had to wait for the last group to come in before we had our winners. Thank you to Carole Stratford who came to present the prizes. The day finished with Girl's Captain Charlie Hiatt making a very good speech thanking 'The Bristol Golf Club' on behalf of us all.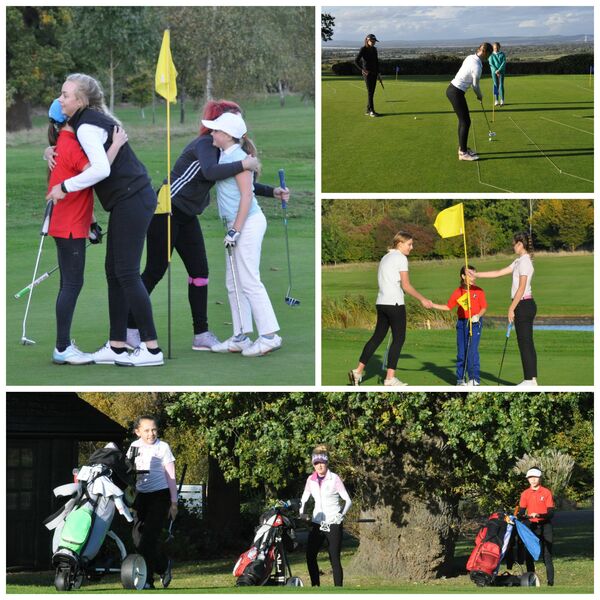 18 Hole Texas Scramble Results
| | | | | | |
| --- | --- | --- | --- | --- | --- |
| Player | Player | Player | Player | Gross Score | Net Score |
| Hannah Brown Pearce | Naiomi Armitage | Chloe Lloyd | Robyn Bailey | 71 | 60.6 |
| Caley McGinty | Kate Thurlow | Amelia Davey | | 75 | 62.8 |
| Jess Brown | Jasmine Prosser | Lowri Thomas | Shannon Jones | 76 | 64.8 |
| Charlie Hiatt | Isabel Ovens | Molly Kemery | | 80 | 66.8 |
| Megan Bartlett | Abbie Bishop | Evie Rodman | | 79 | 67.2 |
| Ffion Tynan | Lorna Evans | Bethany Earl | | 80 | 67.8 |
| Sophie Price | Jessica Baber | Connie Davis | | 82 | 68.7 |
| Carys Parker | Elin Tynan | Imogen Yap | | 82 | 69.5 |
| Kimberley Parker | Maddy Gloyne | Gabriella Haynes | | 83 | 69.8 |

My special thanks must go to all those who helped on the day and during the year and to the girls for making it such an enjoyable and successful year. Thank you also for the very kind gifts I received, I will always treasure them. Best of luck to Janice and the team for the coming year.
By Ali Kelly.
Gloucestershire Girls' v Oxfordshire Girls' - 9 October
On Sunday, 9th October, 7 of our girls played in a match against Oxfordshire at Cirencester Golf Club. The team consisted of Caley McGinty, Charlie Hiatt (C), Sophie Price, Hannah Brown Pearce, Megan Bartlett, Jess Brown and Martha Evans. A big well done to Charlie for winning her match 9/7 despite having to give shots. The Gloucestershire girls did so well to win the match 4-3 especially when most of the team were giving shots, and we were playing in the chillier October weather. Well done to both teams!
A few big thank you's to Cirencester Golf Club for kindly hosting the match, Sue Rawles for starting us all off and Ali and Alex for organising the day.
By Megan Bartlett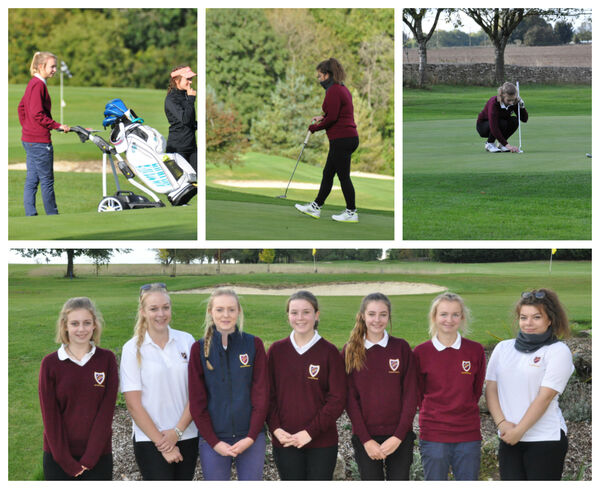 SW Girls' Inter-Counties Team Tournament - 7th to 9th August
Played at Cumberwell Park GC 7th-9th August our Girls Win! Congratulations to the team of 'Little Spots' who retain the SW Inter-Counties Girls' Title ...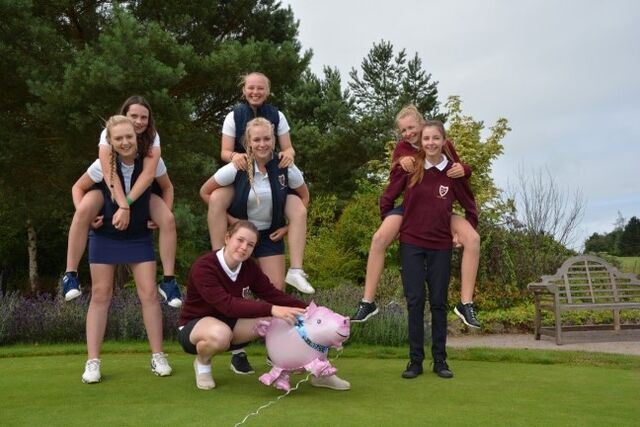 Back row: Alex Giles, Ebonie Lewis, & Jess BrownFront row: Charlie Hiatt (captain), Hannah Pearce-brown (vice captain), & Caley McGintyCentre front: Sophie Price
Check out the Final Score Card which excitingly came down to the outcome of our last match:
Day 1: Glos win vs Somerset 3.5-2.5 Results
Day 2: Morning win vs Cornwall 3.5-2.5 Results but loss to Dorset 4-2 in the afternoon Results
Day 3: Morning win vs Wiltshire 3.5-2.5 Results and halved match vs Devon in the afternoon Results
Enjoy reading Ali's match report with lots of great photos.
County Junior Championship 2016 Cotswold Hills GC – 10th July
Well done to the twenty three girls who entered and enjoyed playing in our flagship competition of the year held at a very welcoming Cotswold Hills Golf Club in challenging blowy conditions but fortunately it stayed dry and sunny...
Well done to Caley McGinty (Knowle) on not only winning the Championship Trophy with a super 78 gross, but also the, Best Nett, Under 16 Best Nett, and Best Stableford! The Competition Scratch Score was 76 (cf SSS 75) and the full category place results and prize awards kindly presented by Sue Rawles, Vice President GLCGA, were as follows:
Category

Results1

Prize Awards2

A) Best Gross

Championship Trophy

(23 entrants)

1st: Caley McGinty (78)

2nd: Ebonie Lewis (80)

£30: Caley McGinty

£15: Ebonie Lewis

B) Best Nett

Townsend Salver

(23 entrants)

1st: Caley McGinty (73)

2nd: Jess Baber (74)

£15: Jess Baber

£10: Sabrina Thompson-Green

C) Under 16 Best Gross

Trophy

(21 entrants)

1st: Caley McGinty (78)

2nd: Ebonie Lewis (80)

£15: Alex Giles

(one prize only)

D) Under 16 Best Nett3

(21 entrants)

1st: Caley McGinty (73)

2nd: Jess Baber (74)

£10: Megan Bartlett

(one prize only)

E) Under 14 Best Gross

(9 entrants)

1st: Ffion Tynan (88)

2nd: Jessica Brown (101

£10: Ffion Tynan

(one prize only)

F) Under 14 Best Nett

(9 entrants)

1st: Abbie Bishop (77)

2nd: Elin Tynan (82)

£10: Abbie Bishop

(one prize only)

G) Best Stableford

(23 entrants)

1st: Caley McGinty (39)

2nd: Jess Baber (39)

£15: Carys Parker

£10: Raye Bradley

H) Telegraph BMW Qualifier

Best Gross4

(23 entrants)

1st: Caley McGinty (78)

Taylor Made Balls & chance for winner to qualify for final in Portugal4

I) Telegraph BMW Qualifier

Best Nett against CSS4

(23 entrants)

1st: Caley McGinty (-3)

Taylor Made Balls & chance for winner to qualify for final in Portugal4
Notes:
For details of all competitors' results please see County Junior Championship 2016 Players' Results
For prize categories A) to G) Love2shop Gift Vouchers awarded. Girls may only win one Voucher (highest value), i.e. a category Voucher maybe awarded to the next placed girl.
Winner awarded a place at the GGU West of England Under 16 Championship on 18th September at Minchinhampton (New) GC (provided her handicap is under 18).
For chance to qualify/ win a trip to the final at Quinta do Lago Portugal 31st October to 5th November please see The Telegraph BMW Qualifier leader boards & competition rules www.telegraph.co.uk/juniorgolf
A big thank you to, Debbie Casling for making arrangements with Cotswold Hills Golf Club to host the Championship and printing score cards, our starter Sue Rawles, referee Carol Newton, and not least to Cotswold Hills Golf Club for providing a great venue and opportunity for the girls to play their beautiful course in such terrific condition and all their staff who kindly stayed on to feed the girls and their families.
By Martin Evans
GGG vs. South Lady Vets - 1 June
Today the girls vs vets match was played at Chipping Sodbury golf club. Despite the gusty and chilly day the course was in brilliant condition, which was very noticeable to everyone. A special well done goes to Jess Brown and Lily Whitaker making an outstanding win of 9/7. Well done to all of the other girls who also made some big win, particularly as all of us were giving shots! In the end we won 6 out of our 7 matches making the overall scores 12-2 (see below). Some excellent golf was played from both teams and the day overall was great.
By Carys Parker.
Carys Parker 8
Hannah Brown-Pearce 10
Jess Brown 14
Kim Parker 15
Izzy Lloyd 19
Martha Evans 19
Jess Baber 20
Naiomi Armitage 20
Macy Edwards 23
Lily Whitaker 24
Abbie Bishop 29
Lorna Evans 35
Lowri Thomas 36
GGG

Results

Somerset

Results

Sophie Price

Abbie Bishop

6/5

Sue Trewin

Jean Strickland

Carys Parker

Lorna Evans

5/4

Sue Butler

Sue Parry

Hannah B Pearce

Lowri Thomas

Elaine Wheeler

Carol Hughes

5/4

Jess Brown

Lily Whitaker

9/7

Jane Rowel

Sue Hazel

Kim Parker

Macy Edwards

5/3

Gerry Munden

Anne Bryson

Izzy Lloyd

Naiomi Armitage

5/4

Julia Colling

Victoria Logue

Martha Evans

Jess Baber

5/4

Dee Allen

Alison Ancrum
Match Result:- GGG won 6 matches to 1
GGG vs. Somerset - 8 May
Team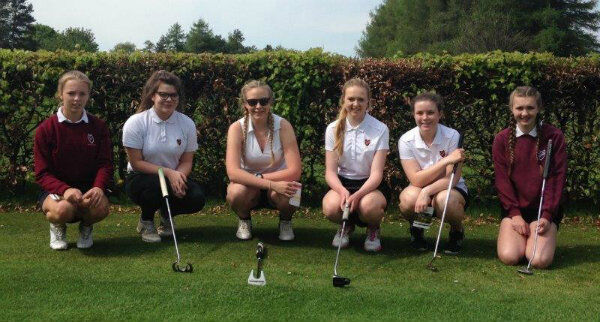 Charlie Hiatt 5
Sophie Price 9
Hannah Brown-Pearce 10
Megan Bartlett 11
Sabrina Thompson Green 17
Izzy Lloyd 19
| | | | |
| --- | --- | --- | --- |
| GGG | Results | Somerset | Results |
| Charlie | 5/4 | Arabella White | |
| Sophie | | Patience Rhodes | 3/2 |
| Hannah | | Harriet Lockley | 2/1 |
| Megan | | Georgia Pope | 4/3 |
| Sabrina | | Charlotte Millington | 5/4 |
| Izzy | | Abby Gray | 5/4 |
Match Result: Somerset won 5 matches to 1
GGG vs. Herefordshire & Worcestershire - 2 April
On Saturday 2nd April, 8 Gloucestershire Girls all from different golf clubs made their way to Cotswold Hills Golf Club for a friendly match against Herefordshire and Worcestershire. With Sue Rawles as starter and a lovely sunny day, the girls were raring to play.
All the girls played extremely well and we were happy to see 3 new girls to the Gloucestershire team, Naiomi Armitage, Izzy Lloyd and Issie Edwards.
The team consisted of Ffion Tynan, Sophie Price, Lindsey Hunt, Izzy Lloyd, Naiomi Armitage, Issie Edwards, Macy Edwards and Kim Parker with handicaps ranging from 8-23.
Ffion, off first played fantastically and secured an early win of 8 and 6! Sophie to follow also fought well with a 2 and 1 win after being 2 down after 9 holes. Unfortunately Lindsey lost her match 4 and 3 however she fought well to stay in it coming back from being several holes down. Never give up! Issie, Macy and Kim also lost their matches however Naiomi and Izzy won their matches which resulted in a friendly draw, 4-4.
The Girls would just like to say a big thank you to Ali and Alex for organising the day and Sue for starting them off. Additionally, Cotswold Hills golf club for kindly hosting the match and all of the parents for bringing the girls. All in all, it was a lovely day and we look forward to a rematch next year!
By Sophie Price
Fitness Session - 13 February
A number of girls took up the challenge of a very intensive workout session at Brickhampton Golf Club...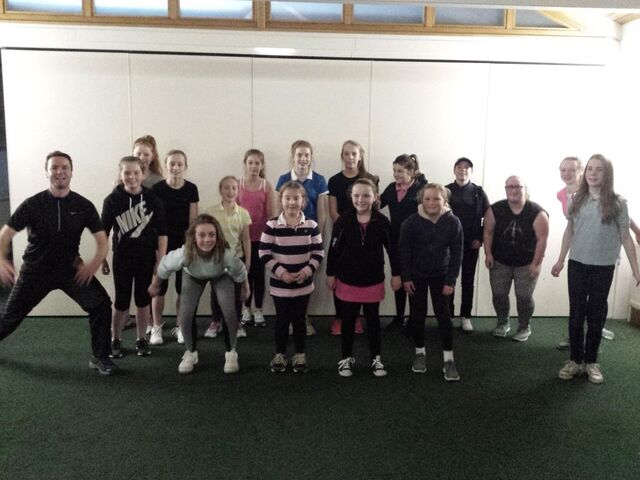 Simon, a professional trainer, who led the session has trained many people from amateurs to the top PGA golf players. Simon gave the girls a lot of different work outs to try and help improve their strength for their golf. The girls worked their hardest and were surprisingly quiet throughout the session. All in all it was a great session that all the girls really enjoyed!
By Martha Evans