GGG Coaching
Introduction
GGG strives to ensure a relevant programme of coaching is available to girls showing potential, commitment and involvement, as it is an important part of their all round coordinated golfing development. This includes group and individual lessons with your club pro, practising putting, the short as well as the long game. It also includes learning about course management, golf rules and etiquette and of course playing in lots of different competitions at your club, with GGG and in junior opens.
To help progress your golfing development it is best to set clear goals supported by a month by month plan of how you are going to achieve those goals, so you can monitor your progress along the journey. If you would like some help with this please download the Goal Setting Sheet and fill it in with help from your club pro and/or county coach.
Some of our girls have been offered national coaching awards. We are very proud of these girls and delighted that their hard work is recognised.
Gloucestershire County Academy 2017 programme
Eagles (North)

Eagles (South)

Birdies

Fledglings

Fledglings

Coach

Tim Hall/Oli Leet

Steve Scott-Bowen

James Harraway

Jamie Casling

Emma Brown

Venue

Ross-on-Wye G.C.

The Bristol G.C.

Cirencester G.C.

Cotswold Hills G.C.

The Kendleshire G.C.

Helper

TBC

Marion Jackson

Hilary Swan/Jan Flynn/Pam Hunters

Joanna Stokes

Janice Saunders

Time

1300 – 1600 hrs

1330 - 1630 (pm) or 0930 - 1230 (am) hrs

1300 - 1600 hrs or 1200 - 1500 hrs

1000 – 1300 hrs

1000 - 1300 hrs

Dates

March 4


April 8

April 30

June 10

July 22

October 1

March 18 (pm)

April 22 (am)

May 20 (pm)

June 24 (am)

September 16 (pm)

October 21 (am)

March 5 - 1200-1500 hrs

April 30 - 1300-1600 hrs


May 20 - 1200-1500 hrs

June 25 - 1300-1600 hrs

July 30 - 1300-1600 hrs

September 23 - 1200- 1500 hrs

March 19

April 30


May 28

July 2

July 30

September 10

March 4

April 1

May 13

June 10

July 8

September 2

Squad

Phoebe Barber

Kate Thurlow

Sabrina Green

Izzy Lloyd

Isabel Ovens

Abbie Bishop

Lowri Thomas

Megan Bartlett

Isabel Payne

Jess Baber

Macy Edwards

Chloe Lloyd

Isabella Bleaken

Issy Hopkins

Lily Whitaker

Lorna Evans

Robyn Bailey

Shannon Jones

Bethany Earl

Bethany Curry

Imogen Yap

Gabriella Haynes

Grace Levett

Connie Davis

Amelia Davey

Molly Kemery

Lucy Mabley

Lauren Polley

Millie Gait

Heidi Swift

Sophie Williams

Una Morrisey

Olivia Noirault

Sasha McIlhinney

Lillie Walden

Neve Jeffery
Eagles South Squad Coaching - 24 June 2017 with Steve Scott-Bowen

Following a discussion with the girls about their performances over the previous month, with some great handicap reductions, a 1-2-1 technical session was planned to work on their woods, long irons and alignment. It was great to see, following a few 'tweaks' to swings and set up, that the girls left the driving range, with big smiles on their faces! #happygolfers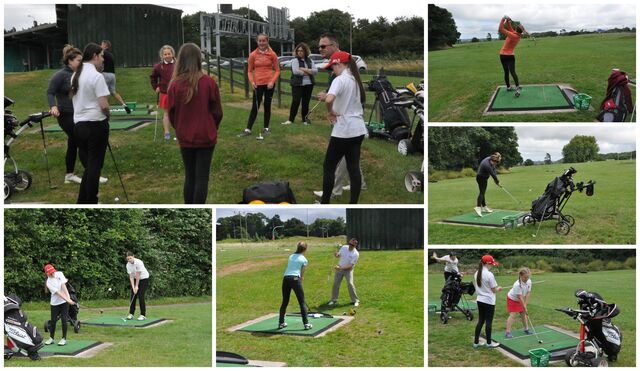 Squad Coaching Sessions at The Bristol GC and Cotswold Hills GC start
Eagles South - The Bristol GC

Gloucestershire's Eagles South squad took part in their first coaching session at The Bristol GC with PGA Pro Steve Scott-Bowen. Steve did an introductory session with them in the clubhouse before taking them outside and to get them ready and in the swing of things they did a bit of hula-hooping!!!
Even though the weather had changed from earlier in the week and there was a biting north westerly wind blowing across the putting green the girls carried out their putting drills enthusiastically. To warm them up before they walked up to the driving range they were treated to a welcome hot chocolate drink which energised them to do some fitness exercises in the range prior to them going through their set up routines and having their swing assessed by Steve.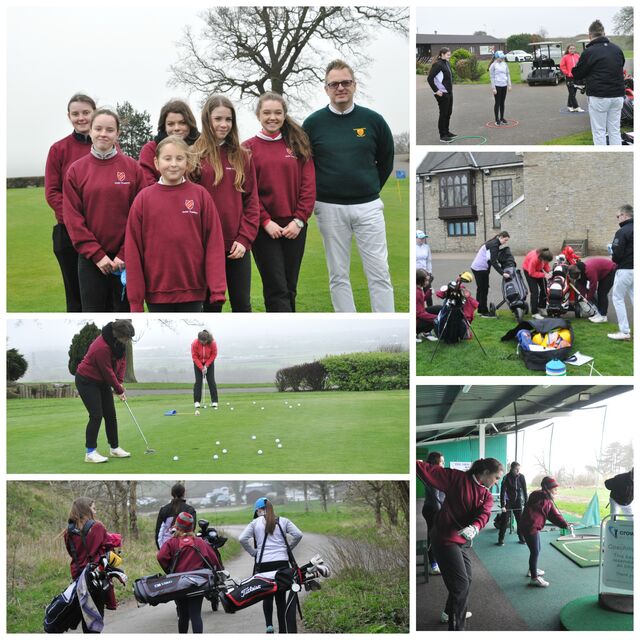 Fledglings North, Cotswold Hills GC
On Sunday, 19th March it was the turn of the Fledglings North squad to get together with their PGA Pro, Jamie Lee Casling at Cotswold Hills GC. This group of young golfers, some of which have club handicaps and some have high CONGU handicaps started their session with an overview of what they were working on with their home coaches and what they would be working on during the forthcoming sessions with Jamie.
After doing a warm up jog up and down the pathway to the range, they then hit some balls so that Jamie could assess their swings and grips and it was great to see how much more length they achieved from their first couple of shots to when they hit their last few balls on the range. They then headed back to the putting green to carry out some fun putting drills and you could see how competitive they became when challenged to sink their putts or attempting to get a clean pass through some tee pegs which were positioned just wide enough to get a golf ball through - how big is that hole going to look when they play in the future? - "HUUUUUUGE" said one of the girls!!!!

We are very fortunate to have such a talented bunch of girls who will, with the support of GGG, the Golf Partnership and the coaches who work with them to improve their game, bring future success to our County.
Well done to all the girls who have participated in coaching sessions over the past couple of weekends.
Junior County Academy Training starts
Gloucestershire Girls' training started this weekend with three groups getting together with their coaches at The Kendleshire GC, Ross-on-Wye GC and Cotswold Hills GC.
Fledglings South, The Kendleshire GC
Luckily on Saturday the weather wasn't too bad with lovely blue skies at The Kendleshire GC and we even saw the sun momentarily which meant that our pre-handicappers were able to get out on the Academy Course for some of their time. Emma Brown showed them how to warm up using "supergirl" stretching exercises and then they were ready to play a couple of holes on the Academy course.
Eagles North, Ross-on-Wye GC
Tim Hall and Oli Leet at Ross-on-Wye GC took their squad through the coaching programme to make sure that they get the most out of their coaching sessions over the next six months. How good do the girls look in their new Gloucestershire Academy kit!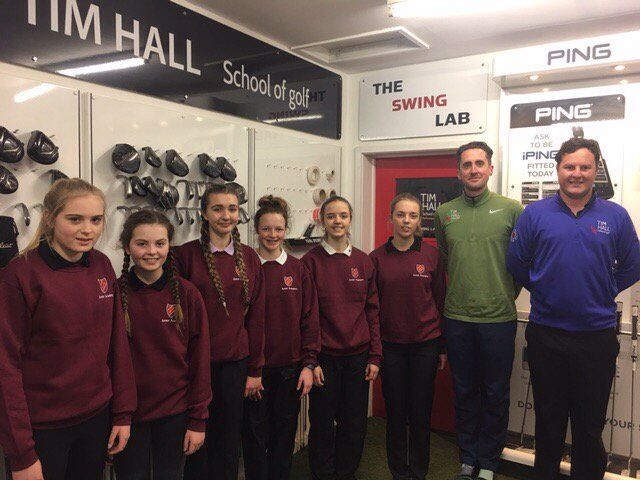 Birdies, Cirencester GC
And on Sunday at Cirencester GC, with the weather being changeable, James Harraway split his squads time in the conference room and on the range. He even got the girls to do a bit of spring cleaning of their golf bags with an interesting array of accessories found at the bottom of their bags – James is still wondering why girls need a manicure set in their golf bag!! C'mon James they're girls!!!!