NEWS & RESULTS 2017
GLCGS V WILTSHIRE JULY 6 2017
Match report by Captain Jane Barrett
Cumberwell Park was the venue for our match against Wiltshire and the umbrellas were up again but for a different reason – the temperature soared to 30 degrees!
We had a two tee start which meant that no one had too long to wait and we all finished close together. It was a shame that the designers thought that two toilets and two showers were enough for the ladies changing room!
The course was in good condition and with sunburnt fairways the ball certainly ran well although the greens were difficult.
The meal was very welcome and judging by the noise level everyone enjoyed themselves.
All of the matches were close but somehow the result was a win for Wiltshire by 6 ½ to 1 ½.
Thanks to all of the Gloucestershire team, we battled hard.
JB
GLCGS V GWENT 30 JUNE 2017
Match report by Captain Jane Barrett
After the cancellation of our Match v Oxford on 17 May due to horrendous weather I was worried that I may become the first captain never to play a game!
However overnight rain cleared and the beautiful views from Broadway Golf Club could be appreciated by all.
The Gwent Team arrived by coach as tradition dictates with a sprinkling of supporters and both teams enjoyed sandwiches and coffee before pairings were announced and introductions made.
Both teams had low handicap players but by chance they were pitted against each other so not too many shots were given. I think the 16 shots I had to give a Gwent lady was the biggest margin.
All of the matches were keenly fought and several went to the last hole before a result was decided.
A delicious meal followed with much lively discussions and laughter resounding around the Club House.
Thank you to all the Gloucestershire Ladies who played.
Result GLCGS 2 ½ - Gwent 5 ½
SUMMER MEETING 2017
Report from your Vice Captain Barbara Smyth:
The day finally arrived, and the most important aspect didn't let us down – no rain. A touch chilly in the morning, but the weather improved as the day went on. Jane had everything prepared down to a tee. It was a day of fun and friendship, meeting old friends and new, chewing the fat, analysing our games and of course playing golf (except for Jane who had to work all day keeping things running smoothly).
Thanks are due to the wonderful team of Cotswold Edge ladies (and some gentlemen), who manned the registration table, made lovely little flower arrangements for the tables, guided us around the course and took charge of the halfway house. We also had help from some of our society members who were unable to play, but gave up their day to support us. As we arrived at the halfway house golfers were treated to Pimms and strawberries and delicious shortbread biscuits – much to our delight. I was hoping that my golf would improve after the Pimms, but it had the opposite effect!
A big thank you to John Barrett who acted as starter for the entire field (I did ask, but he swore he wasn't losing the will to live!) placed and collected all the markers and was generally a terrific support. He even had to look after grandchildren after school! He must have earned a lot of brownie points!
Mike Mancktelow did a wonderful job as usual, collating and displaying results as they came in on his fantastic tailor-made system – what would we do without him??
Cotswold Edge catering did us proud with a delicious running buffet of great variety and scrumptious puddings, much appreciated by the incoming golfers.
A full list of winners is available by opening the pdf, but just a few special mentions. Andra Knight retained the Captain's Salver for the best gross score (next year we're making her play with balloons on her clubs) with a terrific gross 82. Jackie Berry scored a magnificent nett 70 to win the Chamberlain Cup and Nicky Edwards had a tremendous 37 points to win the Summer Bowl.
The biggest thank you of all must go to Captain Jane Barrett for organising such a warm, friendly, efficient day for all of us. Thank you Jane 😊
PS from your Captain: A special thanks to Barbara who coordinated all the entries for the meeting and with the rest of the committee works hard to make my life easy! JB
A few prize winners from the Summer Meeting.

---
---

GLCGS SPRING BOWMAKER AT LANSDOWN GOLF CLUB TUESDAY 25th APRIL 2017Jane Barrett Captain
The inaugural GLCGS Bowmaker was held at Lansdown Golf Club on Tuesday 25th April 2017. Lansdown is the "newest" Club in Gloucestershire with the Ladies Section transferring from Somerset this year making their Past Captains eligible to join GLCGS which they have done with enthusiasm. Seventeen teams of three GLCGS Members played on a bright but very cold day.
Special mention must go to Sarah Nannestad who flew in from a destination in 40 degrees heat that very morning and then encountered snow during her round!Some teams were from one club and others a mix of friends making the most of an opportunity to meet up and play.
Prize winners were:


1st Jane Lakin and Pauline Brown from Brickhampton with Prue Taylor from Thornbury. 79 points
2nd Millie Parker, Sonia Phipps and Margaret Ruxton from Lansdown. 77 points
3rd Marilyn Slater, Yvonne West and Mary James from Chipping Sodbury. 75 points
4th Andrea Dawson, Barbara Watson and Penny Brazier from Naunton Downs. 74 points
Nearest the pin was Jane Lakin.
I would like to thank my Committee members Barbara Smyth, Sue Trewin and Jackie Berry who helped get this new completion off the ground. Also Jacky Smith, newly retired Committee member who is not playing at the moment due to an injury who was there for the whole day manning the reception table and then checking the cards after play.Grateful thanks also to Millie and Sonia from Lansdown who liaised with me before the day and also provided table flowers.
Thanks to all who came to support such an enjoyable day, feedback suggests this may become an annual fixture.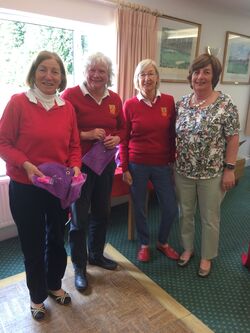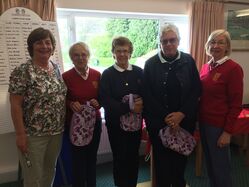 NEW LADY CAPTAINS DAY 2017 AT BRICKHAMPTON COURT FRIDAY 21st APRIL.

Sixteen New Captains and four committee members met for bacon rolls and coffee at a very busy Brickhampton Court Golf Club. Gloucestershire Men's captains must have heard we were coming and arranged to play their Spring Cup on the same day!
We played on the 9 hole course in a team of four playing the yellow ball format. It was a fun game even for the team that lost their yellow ball early in the game.
Sandwiches and chips followed amidst much chat amongst the New Lady captains getting to know each other and discussing their year ahead and new friendships formed.
Prize winners were
1st Barbara Smyth, Liz Dodd, Lorraine Lewis, Jackie Bradley.
2nd Jane Barrett, Suzanne Wheeler, Linda Carney, Brenda Corfield.

Thanks to everyone who came to support the day.
Ensure you download forms from the Fixtures page

---
GLCGA Name Badge (Brooch) Order Form - UPDATED JULY 2015
The updated form to order your red GLCGA name badge is attached. You can either order by post or online, and they are a relatively cheap one-off expense (£5.00 for one line, £5.30 for two if you want to add name of your golf club). It is very helpful when members wear their name badge at our events.
COLOURED GILT BROOCH ORDER FORM.docx
The GLCGS crest badge is available to purchase at the Summer Meeting, Fun Away Day and AGM or by contacting the Secretary or Vice Captain at any time.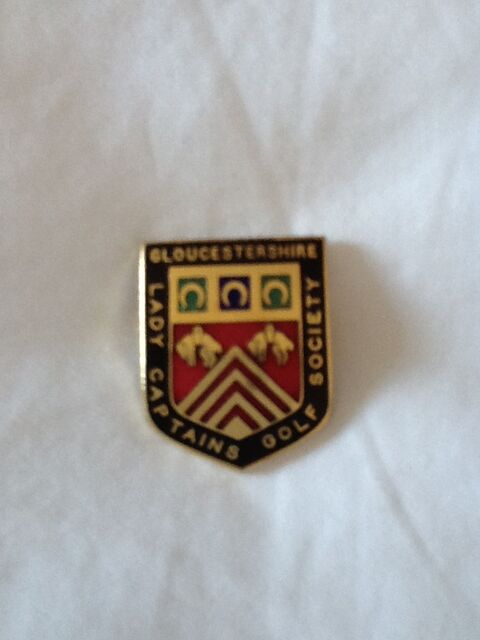 Crest Badge
---
Please look at Fixtures page for downloadable Summer Meeting, Match and Away Day Forms