North v South at Lansdown 21st September 2017
---
Committee versus Lady Veterans at Rodway Hill 17th August 2017
This match was held instead of the usual match against the Junior Girls.
There were enough Lady Vets to play the Committee Lady Vets. We had 4 teams which was a small but friendly group and to keep it friendly I decided to play greensomes.
The day dawned and after a stormy night the morning held promise of a fine day and as time went on the sun came out for perfect golfing weather.
At 10.00 am the ladies all began arriving with the usual enthusiasm I have come to experience, everyone chatting to old friends and acquaintances they had not seen for a while. The atmosphere was full of laughter and fun as they helped themselves to coffee and biscuits.
The tee off was at 11.00 and we all gathered for a team photo. The teams set off all chatting happily with their partners; again much merriment was to be heard. I was in the last team playing with Gill Miles and Roberta Woodley and partnering Pat Righton. We had a lovely game as did all the other ladies.
A simple meal of Ham Egg and Chips followed by cheesecake was enjoyed by all, amidst more laughter and talk of the game they had had.
The course was in good condition and thanks was given to Rodway Hill for allowing us courtesy of the course to hold this event, thanks also went to Cater Cater for the meal and attention from their staff.
The Committee won the match 2 ½ to 1 ½
Many of the ladies felt we should do this again.
Rose Hook North Captain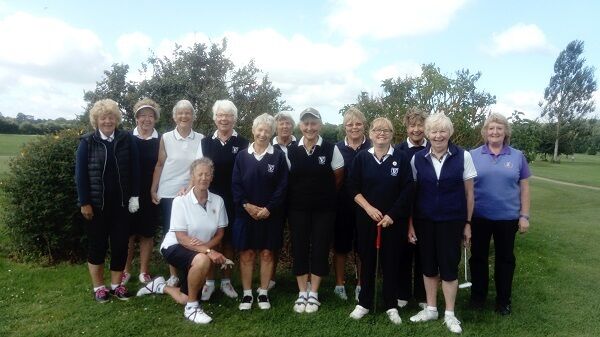 ---
Muriel Button Trophy July 2017
There was an increase in entries compared to 2016. More clubs participated up from 24 to 26.
I am pleased to say that all competitions were played within date and results arrived promptly.
Thanks to the Veterans' Representatives for their assistance.
| | | | | | | | | |
| --- | --- | --- | --- | --- | --- | --- | --- | --- |
| | | | Name | Club | H/Cap | Nett | CSS | Diff |
| | Overall Winner | | Louise Folkes | Broadway | 29 | 64 | 75 | --11 |
| | Silver Division | 1st | Chris Grady | Naunton Downs | 19 | 66 | 70 | -4 |
| | | 2nd | Gaynor Bridgman | Westonbirt | 13 | 63 | 66 | -3 |
| | | 3rd | Yvonne Smith | Sherdons | 20 | 65 | 67 | -2 CB last 6 |
| | Bronze Division | 1st | Tina Howman | Cotswold Hills | 29 | 65 | 73 | -8 |
| | | 2nd | Hazel Blandford | Rodway Hill | 36 | 65 | 70 | -5 |
| | | 3rd | Veronica Courtney | Naunton Downs | 30 | 66 | 70 | -4 |
Eve Clements 10.08.17
Assistant Competition Secretary
---
SUMMER BOWMAKER PLAYED ON WEDNESDAY 2ND AUGUST 2017 AT BROADWAY G.C.
With an excellent entry of 135 ladies, 45 teams, the Competition got off to a prompt start. Unfortunately the weather was very unkind to us and we had heavy rain and strong winds for about 2 hours in the middle of the morning – no rain at all 3 miles away in Broadway village or surrounding areas!!
The wind continued to blow even though the rain stopped and most players were dried out by the end of their round.
Thank you Broadway for hosting this Competition – the course was in fantastic condition and the food provided was of the usual high standard.
Overall Trophy Winners

Janet Duberley

Elaine Wheeler

Dee Allen

Cotswold Edge

71 Points

2nd Place

Judy Thomas

Kathy Biggs

Pauline Smith

Cotswold Hills

68 Points

3rd Place

Mel Lee

Alison Ancrum

Ilse Russell

Cotswold Edge

66 Points c/b

4th Place

Pat Fluck

Lorna Dymock

Gaynor Christie

Cotswold Edge and Brickhampton

66 Points

5th Place

Hazel Day

Andrea Dawson

Judy Parry

Naunton Downs

65 Points c/b
Prizes will be presented at the AGM on Monday 6th November 2017 at Cotswold Edge GC
Please try to attend to collect your prize – or send a substitute.
Pat Righton
Competition Secretary
---
Gloucestershire Veterans' v Lady Captains
Forest Hills Golf Club 27th July 2017
Another day, another game, on my arrival all the ladies from both teams were arriving eagerly looking forward to this match. As usual meeting ladies from other clubs they had not seen for a while ordering coffee and bacon rolls. The atmosphere in the club was lovely. Soon it was time for the first team to get off to the tee which was led by Jane Barrett and Lorna Sparkes for the Lady Captains and Jan McCartney and Jennie Field for the Lady Veterans'.
Although the day promised some rain, wind and cloud we were extremely lucky and for the most part the sun came out, the rain stayed away and it was a good day to play golf. The course was looking lovely and all the teams were eager to start the games.
Eventually I was able to watch the ladies come in on the 18th hole from the veranda and everyone was still in good spirits.
Over a lovely meal served by a team of very attentive ladies from the club everyone was still chatting happily about their game.
Prior to the match I had thought to give my ladies a chocolate biscuit having seen this done at the other matches I had attended, I thought this might change our fortunes and I am happy to report that although it wasn't an outright win we halved the match, so for half the year we have retained the trophy. It was also lovely to meet Lorna Sparkes who was the brainchild for the competition.
Rose Hook
Captain North
| | | |
| --- | --- | --- |
| | | |
| | Some of the ladies before the off! | |
| | | |
| Captains confer | Lorna ready to present to? | Everybody happy this year |
---
Gloucestershire Veterans v Warwickshire at Leamington & County GC on 3rd July 2017

My third match, this time against Warwickshire. The day held promise, it wasn't raining although there were some dark clouds, no emails or texts from players cancelling. We had a lovely drive along the A46, not too much traffic arriving at the club before 10 o'clock. I decided to get my clubs out just in case. Inside the lounge, it was lovely to see that some of my team had arrived and they were familiar faces. Both teams started to arrive quickly and everyone chatted happily together over coffee and bacon rolls. It was a wonderful and relaxed atmosphere. I was now able to put faces to the names I had been seeing putting the teams together, so far through the season.
Eventually the game got started, and all teams set off. No need for my clubs. The weather had brightened and the sun slowly started to come out, thankfully not too hot to play golf. Jane Colman, Captain for Warwickshire and I were able to play a few holes which was lovely, and I was able to see the challenges that the ladies faced from the ridge and furrow of the fairways and bunkers around the greens.
The teams started to come in with everyone seeming to have had a good game, one team had to retire early as Helen Briggs had become unwell on the 11th hole but over a drink in the clubhouse she recovered, thankfully. Lyn Blandford came in very excited as she had almost had a hole in one on the 15th. With the photo as proof.
Over a lovely meal everyone was chatting about their game with their playing partners, there was a lot of laughter and happy faces.
Prior to the match I had taken a look back at the previous years results, noting that we had come second on every occasion. I was optimistic for this year but I have to report that once again results were consistentwith us coming second Warwickshire 6 1/2 to 1 1/2 .
Rose Hook
Captain North
AND that so nearly moment for Lyn Blandford on the 15th.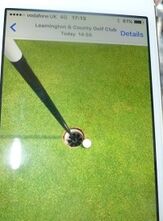 ---
Gloucestershire Veterans v Somerset at Wells GC on 26th June 2017
Here is my report for the South Vets v Somerset at Wells Golf Club on 26/6/17
This was our second away match this year and again we were lucky with the weather. Dry, not too hot and no forecast of rain !
Delighted to say all the ladies arrived safely and with plenty of time to spare despite the Glastonbury festival traffic heading home.
After all the teams had driven off the first tee, I was able to play about 10 holes with the Somerset captain , her Vice and the Somerset President. However, we spotted the first group on the 17th, and had to quickly come off the course so we were at the Clubhouse when they finished. The remaining teams then very slowly drifted in and it became clear that Gloucestershire were doing well and the result was a win of 5 & 2 for us! So, many congratulations Ladies for playing so well and achieving our 1st win this year.
I must thank Yvette Gregg, the Somerset Captain, for being so welcoming, friendly and organising a great day for all the Ladies. Also, a big thank you to the chef for providing a delicious meal and for being so helpful with the meal timings as a few ladies needed to eat earlier for various reasons.
Jacky Watson
Captain South
---
Gloucestershire Veterans v Oxfordshire at Cotswold Hills on 21st June 2017

This was my second match of the 2017 season held at Cotswold Hills Golf Club. The match was being played on the hottest day of the year but thankfully there was a slight breeze. All the ladies arrived happy, looking forward to the game and chatting with each other, even though the night before I had received an email from the Oxfordshire Captain to see if the match was still going ahead. All the Gloucestershire Ladies arrived even though one lady's husband was poorly but she didn't want to let the side down and Di Hawkins stepped in at the last minute to cover Jean Mullins who had been poorly for a week but had hoped to play. Everyone came well prepared for the hot weather with freezer packs and several bottles of water. The club had a cold drink water system in place on the 9th hole and I brought along bottles of squash to help keep the fluid levels up. Everyone teed off on time and were all chatting happily with their partners.
The club kindly let me use a buggy and I drove the course making sure everyone was coping with the heat. All was well and as they came in on the 9th hole and their spirits were still up.
Eventually the groups started to trickle in and only one group came in early have lost 5 and 4, seemingly the others held out until the 17th. Sadly, Gloucestershire was beaten by Oxfordshire and although we lost 7 ½ to ½ this did not reflect how the game was played. All agreed it was a very close game. One team halving their game on the 18th.
Everyone was in good spirits after a shower and a well-earned drink before sitting down for a lovely meal which everyone enjoyed. The caterers were thanked for providing the excellent meal with a few different meals for the people who did not like fish.
Unfortunately, we were well and truly beaten but all agreed they had enjoyed their game and the course which was in excellent condition.
Oxfordshire 7 1/2 Gloucestershire ½
Rose Hook, Captain North
Ready for Action!

On perhaps the longest and hottest day of the year?
---
Millennium Trophy played May 2017
Report by Eve Clements Assistant Competition Secretary
I am pleased to report an increase in entries and participating clubs as you can see in the table below. Entries received increased to 129 with an increase in both divisions. I am pleased to say results arrived promptly with all competitions played within date, in the correct divisions and alongside a club qualifier. The results were very close between 42 and 39 points. Thanks to the Vets Reps for their assistance.
Several reps contacted me for clarification especially over the 2017 form as for some reason some did not in all cases have a column for Stableford points.

Entry Statistics over the last 4 years
| | | | | |
| --- | --- | --- | --- | --- |
| Year | No of Clubs | Bronze | Silver | Total |
| 2017 | 25 | 71 | 58 | 129 |
| 2016 | 23 | 61 | 49 | 115 |
| 2015 | 24 | 39 | 62 | 101 |
| 2014 | 23 | 49 | 59 | 108 |
Millennium Trophy Results 2017
| | | | | |
| --- | --- | --- | --- | --- |
| Overall winner | 42 | | Olive French | 21+21=42 Stinchcombe Hill |
| Silver | | | | |
| 1st | 40 | | Mary Griffiths | 20+20=40 Westonbirt |
| 2nd | 39 | ocb | Anne Crawley | 18+21+39 Cotswold Edge |
| 3rd | 39 | | Jane Madden | 21+18=39 Henbury |
| Bronze | | | | |
| 1st | 41 | | Liz Hussey | 20+21=41 Long Ashton |
| 2nd | 40 | ocb | Jennie Field | 20+20=40 Rodway Hill |
| 3rd | 40 | | Kate Rowe | 23+17=40 Thornbury |
Apologies Gloucester, Knowle, Shirehampton, Painswick
Not included Forest of Dean, Forest Hills, Lansdown, Lydney, Newent, The Bristol, Puckrup
---
Gloucestershire Veterans v Witlshire at Wrag Barn GC on 13th June 2017
This match was held at Wrag Barn Golf Club in almost perfect golfing weather. My team all arrived promptly and we were given a warm welcome by Pam Megarry the Wiltshire Captain. The format was 4BBB and after seeing all the teams drive off, Pam , her treasurer Diana and myself were able to play 9 holes behind the match. After 7 teams coming in we were all square with just one match to determine the result. After some nervous minutes , this went to Wiltshire , so sadly we lost 3 1/2 to 4 1/2. We then had a wonderful 2 course buffet meal and so thanks must go to Pam for all her hard work in organising a very enjoyable day and to Wrag Barn for hosting this match .
Finally a big thank you to my team who all played well and in good spirits.
Jacky Watson, Captain South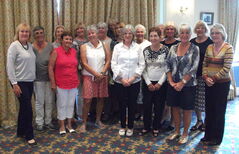 ---
Gloucestershire Veterans v Worcestershire/Herefordshire Veterans
Bransford Golf Club 5th June 2017
This was the first match of the 2017 season, held at Bransford Golf Club. It was also my first match to host.
The day began quite well for me because I thought I was going to have to play but luckily Judy Thomas felt she was alright to play with her injured shoulder. All the ladies were arriving happy, looking forward to the game and chatting with each other despite the inclement weather.
Di Hawkins was collecting the money for the meal and about 10.30 said 'I am just waiting for one more person', Elaine Smith. Fortunately, I had taken the Reps sheets with me so quickly ran outside and phoned her. She had completely forgotten when the match was being played and was in Portugal, so I was playing again. Out came the clubs and we were ready to play.
The previous evening I had thought to look at the course map, only 14 lakes and where there weren't lakes there were bunkers. I am pleased I had the opportunity to play albeit the weather was like the course rather wet and windy but fortunately most of the rain stayed away until after the game was over.
Everyone seemed to enjoy themselves and were happily chatting over an enjoyable meal.
As Liz Evans and myself checked the results as they came in I was optimistic of a change in our fortunes because before the last result came in we were all square, 3 1/2 each but sadly once again Worcestershire beat us.
Worcestershire/Herefordshire 4 1/2 Gloucestershire 3 ½
Rose Hook, Captain North

A damp and windy day, but still smiling

and afterwards a meal and speeches
---
Vets Match v Juniors at Shirehampton Park on 1st May2017
Our first match of the season was held at Shirehampton Park Golf Club against a great team of Juniors organised by Alex Saunders. After some last minute handicap reductions for the Juniors the teams were ready to play in lovely dry weather . Our President, Carole Stratford arrived to give her support and encouragement as the teams drove off on the first. Our Ladies were up against some very low handicappers and although we lost 3& 4 , this was an amazing result for the day. The match was followed by an excellent meal and plenty of it as we did have some very hungry Juniors !
My thanks go to all the hard working staff at Shirehampton for making us so very welcome and agreeing to host this very enjoyable annual event . Also a big thank you to the chef who was very helpful with some last minute dietary requirements.
Finally I must congratulate the Juniors for their win but also a big thank you to the Ladies for their great team play on the day.
Jacky Watson, Captain South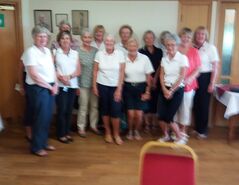 ---
Results of Brockworth Salver held at Henbury GC on Thursday 11th May 2017
| | | | | | | |
| --- | --- | --- | --- | --- | --- | --- |
| OVERALL WINNER | | Jean Hardinges | | Henbury G.C. | | 42pts |
| Division 1 | | | | | | |
| 1st | | Barbara Watson | | Naunton Downs | | 36pts c/b |
| 2nd | | Sylvia Mills | | Shirehampton Park | | 36pts c/b |
| 3rd | | Barbara Smyth | | Cleeve Cloud | | 36pts c/b |
| Division 2 | | | | | | |
| 1st | | Sandra Robinson | | Long Ashton | | 35pts |
| 2nd | | Lynne Rutter | | Thornbury | | 34pts |
| 3rd | | Angie Sykes | | Henbury | | 33pts c/b |
| Division 3 | | | | | | |
| 1st | | Sheila Smith-Justice | | Henbury | | 41pts c/b |
| 2nd | | Sue Loader | | Henbury | | 41 pts |
| 3rd | | Sandra Hampson | | Ross on Wye | | 37pts |
| Super Vet 75+ | | Mary James | | Chipping Sodbury | | 32pts |
The TROPHY and VOUCHERS will be presented at the AGM on Monday 6th November 2017 at Cotswold Edge Golf Club.
The Brockworth Salver is an individual Stableford and today 122 ladies met at Henbury Golf Club to play for the prize of a beautiful silver salver.
Apart from one or two small showers the weather remained fair and warm if a little overcast.
Sheila Smith-Justice, the Veterans' Representative for Henbury G.C., organised a team of starters and ball spotters who did an admirable job and our thanks go to them all.
Our thanks also go to the Henbury Secretary, Sue Elliot, Green staff for the condition of the course, Caterers for keeping us all fed throughout the day and the Professional who was most helpful.
The field was divided into three handicap divisions 0-20, 21-26, 27-36. and also 14 Super-Veteran entries. Well done to everyone who entered and I look forward to seeing you all at the Summer Bowmaker on Wednesday 2nd August 2017 at Broadway G.C.
Pat Righton Competition Secretary
---
As a result of feedback from the Club Representatives Meeting
The committee discussed the matter with regard to entries for the Brockworth Salver and Autumn Trophies. It was decided that the general view of the ladies was that they sign up in 3s at their club, knowing that it is an individual competition, but it is also a social outing for them.
Therefore there will be no change and please be assured that unless you enter individually or in pairs you will be kept together for these competitions.
2017 Club Representatives Meeting held on Monday 13th February at Cotswold Edge

At least 24 clubs were represented at the meeting today and it was great to see many new faces who have taken on the role of Veterans' representatives for their Clubs.

Coffee and cake was ready for everyone on arrival and it gave the ladies a chance to introduce themselves and have a chat.
This meeting was an opportunity to ask questions and to receive guidance and instruction of how best to fill in match sheets and competition sheets. This was also an chance to collect extra competition sheets and also their members fixture cards.
It was a great way to meet everyone and start the new season.



2016 AGM held on Monday 7th November at Cotswold Edge
This was a celebration of the achievements for the Veteran Ladies of Gloucestershire throughout 2016. To remind yourself of the highlights please go to the archives and re-visit at your leisure.

Unfortunately quite a few of the winners were not with us on this occasion, but you can enjoy recognising the ladies who did receive prizes presented by our chairman, Colleen Seymour.