1st Team match vs Worcs/Here 1
Played at The Herefordshire Golf Club on Sunday 23rd April 2017
4 x foursomes, and 8 x singles matchplay
Result: Glos 6 - Worcs/Here 6 A very friendly draw!
Our team: Ebonie Lewis, Jane Rees, Alex Saunders, Alex Giles, Sam Round, Claudia Ovens, Grace Connelly, Charlie Hiatt, Rachael Archibald
The Herefordshire is a beautiful hilly golf course with lots of blind shots to challenge even the best of players. We were lucky with the weather and enjoyed a lovely spring day.
Glos posted two early foursomes wins, (6/5 and 5/4) and Worcs & Here responded with two wins, both on the 18th, so all square at lunch.
Ebonie, Sam, Charlie managed fine wins in the afternoon singles, and Grace posted a half. Claudia was looking strong (dormy 5) when she had an unfortunate but significantly audible and painful forehead collision with an overhanging tree branch that she simply didn't see (so focussed on her ball!!). I insisted she concede the remaining holes, so her match was halved too. Worcs/Here came in with the other 3 singles matches, so the end result was 4 singles points each.
Well played everyone!
Andra Knight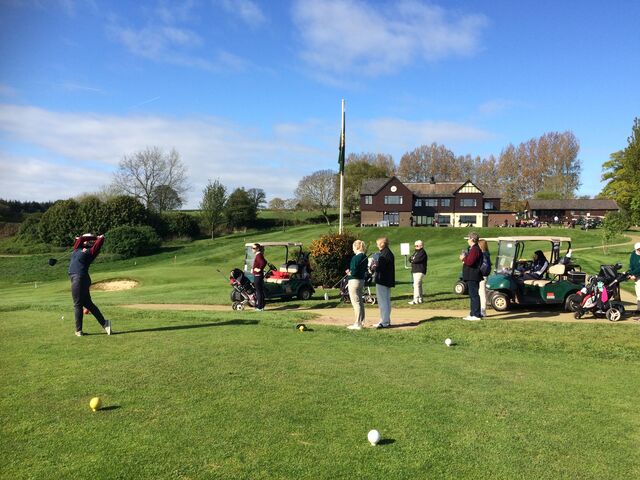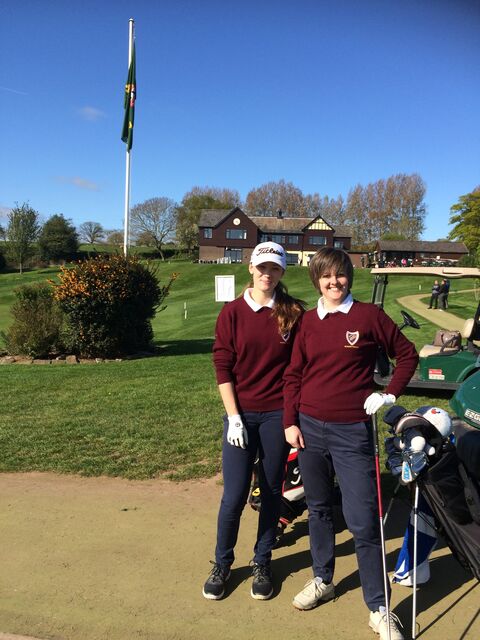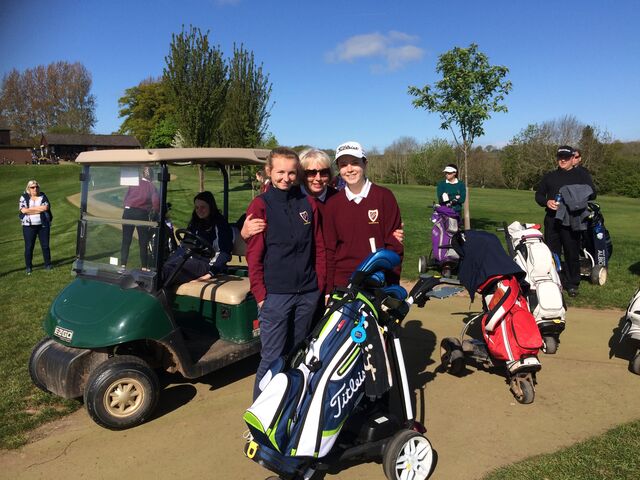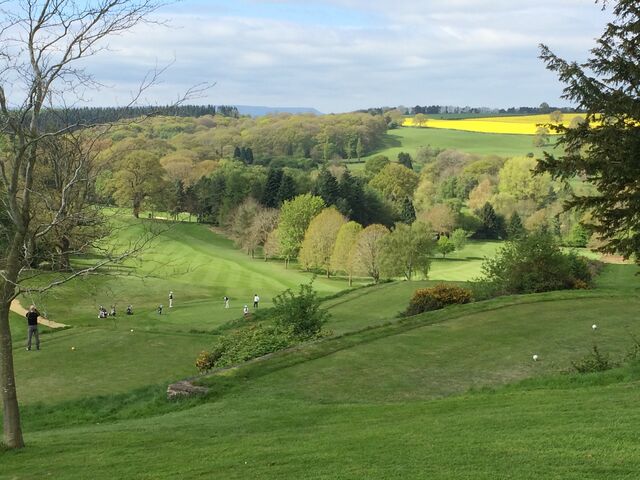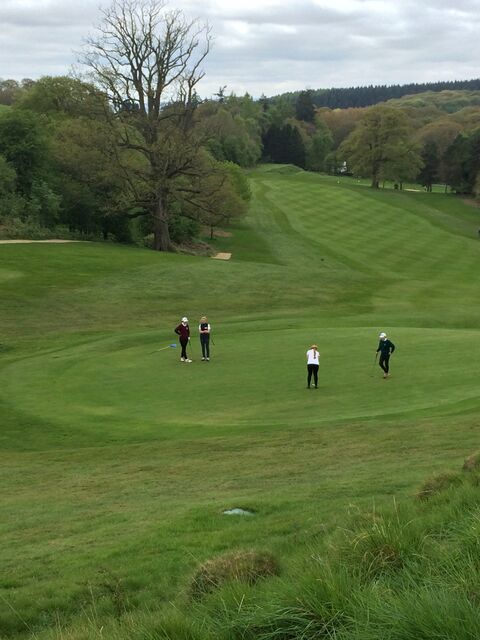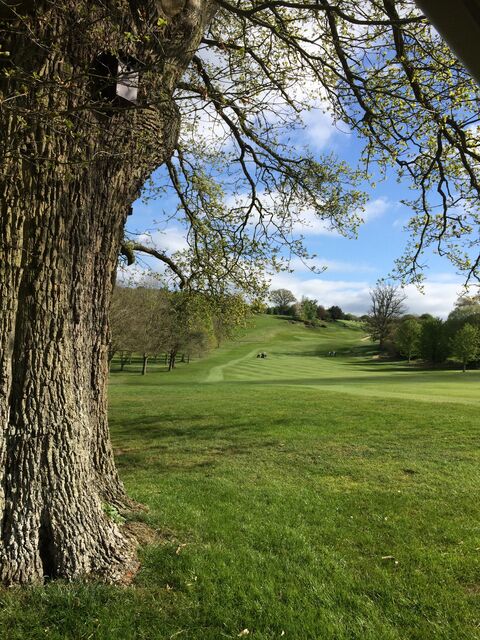 2017 1st Team Friendly v Worcs & Here Match sheet.pdf
1st Team match vs GGU u18 Boys
Played at Forest Hills GC on Sunday 2nd April 2017 - Sunny at last!!
Foursomes matchplay
Result: Glos won 3.5 - 2.5
Our team (front row, L to R)
Grace Connelly, Claudia Ovens, Sam Round, Rachael Archibald, Sophie Price and Jane Rees, and Jess Brown (not in pic)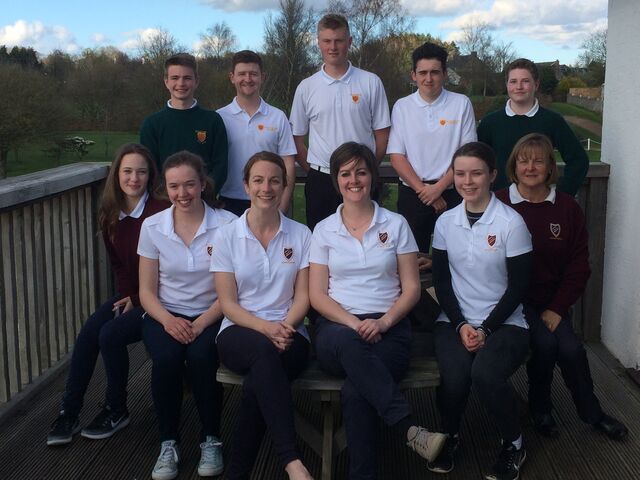 The match was played off handicap difference on a beautiful bright and sunny spring day.
We played a very strong GGU team. Unfortunately this fixture was held on the same weekend as the 36hole Leveret Trophy at Formby (an order of merit event) which affected our squad availability, as did illness and injury, so we were able to field only three pairs instead of the expected four. We changed the pairings in the afternoon, so all our players had the chance to play with different partners.
The result was a very hard-fought win for us, with several matches finishing on the 18th - a fantastic result.
We are very grateful to GGU for this fixture. It's always a tough one for us, but a wonderful opportunity for our team to practise some strong foursomes, and next year I hope we will be able to find a date that doesn't clash with important qualifying events for our players.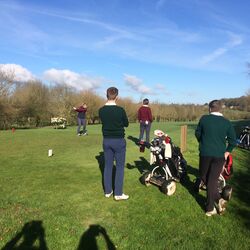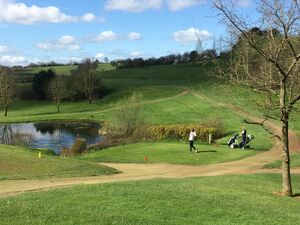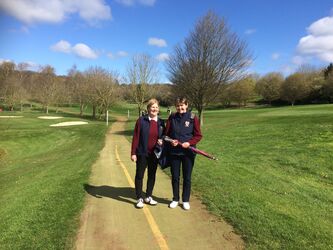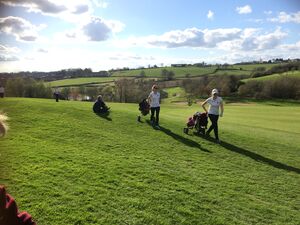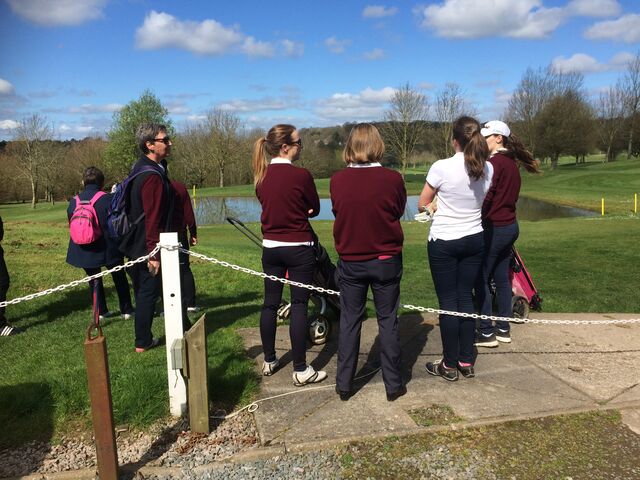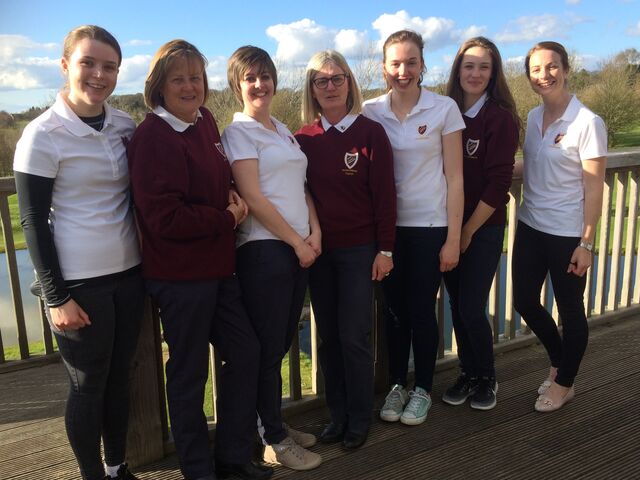 See match sheet for details.
2017 1st Team Friendly v GGU u18 boys Match Sheet.pdf
1st Team Friendly match vs England SW Girls
Played at Cumberwell Park on Sunday 12th March 2017 (Singles Matchplay off handicap difference)
Result: Glos won 4 - 2
Our team: Ebonie Lewis, Sam Round, Caley McGinty, Claudia Ovens, Grace Connelly, Ffion Tynan. Alex Giles played 'on loan' for the SW Girls team.
The match was played off handicap (apart from that between Ebonie and Alex which was played off scratch) in great spirit on a dry day on a very soggy course and featured lots of very impressive golf, some borrowed shoes (no names!), a lot of mud and plenty of preferred lies.
It was a great team result, good practice for all, and a very encouraging start to the season.
Well done to all, and thanks to Sheila Davidge for arranging the fixture.
See Match Sheet for details
2017 1st Team Friendly v SW Girls Match Sheet.pdf