2012 News
Fantastic Win for B & C Ladies!
2nd November 2012
The Winning Bristol & Clifton Team: L-R Katie McConochie, Su Worthington, Susan Ellis, Paula Keaney and Helen Wilson.
The Bristol & Clifton Ladies' team has won the Ladies' team prize at the finals of the Volvo National Golf Club Challenge, supporting Help 4 Heros, played at Turnberry on Monday and Tuesday this week.
So, it is 'Well played and many congratulations to Su Worthington, Susan Ellis, Katie McConochie, Helen Wilson and Paula Keaney.'
The first day was a practice day, an individual stableford competition. The weather was good and the views stunning. Unfortunately the B & C ladies teed off last and some finished in the dark!
Sue Ellis won twobottles French white wine and a pair of Bolle sunglasses for nearest the pin. Paula and the other three in her flight who were last out, had a bottle of wine each as compensation for the dark and Paula also had a bottle of champagne because it was her birthday!
Tuesday was the team day with four out of five scores to count.
And the B & C team won -- the Wedgewood Trophy will now be in B & C's trophy cabinet for the year. And each member has a glass engraved memento.
The team has also won a fabulous holiday - five nights for six golfers at the five star All Inclusive Body Holiday Le Sport resort in St Lucia.
WOW!!!
How about making sure your club enters this tournament next year .... a great competition for a fine charity!
For more information go to http://www.nationalgolfclubchallenge.org.uk/register-for-2013.php
---
Alliance Team Results -- date for North vs South Match
Being, geographically, a large county, our teams play in two groups .... the Bristol & District Alliance in the south, and the Cotswold & District Alliance in the north of the county.
Bristol & Clifton has won the in the south, and Minchinhampton (New) in the north. This is a repeat of last year's results and the two teams will play each other on Easter Monday at Minchinhampton GC (New Course)
Minchinhampton (New) second team won the northern Division 2 -- so next year will join the club's first team in Division 1.
Congratulations to all!
Bristol & District Alliance results and trophy winners
Cotswold & District Results:Div. 1 - Minchinhampton (NC) 1, Div. 2 - Minchinhampton (NC) 1 Div. 3 - Naunton Downs 1, Div. 4 - Stinchcombe 1
The Bristol & Clifton Team.

Missing from photograph -- Pao Poole, Su Worthinton,Jane Bell and Susan Ellis.

The Minchinhampton Team
---
Focus, Fight & Fun for Naunton Downs' Pair
22nd October 2012
(From Naunton Downs' Ladies' Press Officer)
Mandy Tye and Linda Godfrey represented Naunton Downs in the Daily Mail Ladies Foursomes 2012 and decided at the beginning that their mantra was to be Focus, Fight & Fun!
They stuck to this and from being one pair of the 1200 + originally entered, they ended up being one of the 32 teams playing the final rounds at the Forest of Arden earlier this month.
They had some strong wins and played their way into the final eight teams but unfortunately were knocked out on the 17th hole by the eventual competition winners.
They played tremendously well throughout the year and both agree the entire experience was something never to forget and it was great putting Naunton Downs on the map!
Mandy Tye (L) & Linda Godfrey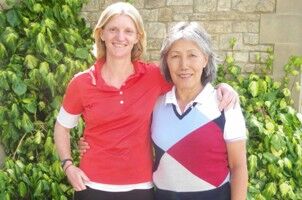 ---
SPEEDING!
2nd October 2012
Wendy Brown, past County Treasurer (1993 - 1998), has just celebrated her 83rd birthday .... and received a notice of 'intended prosecution' .... for speeding!
---
OPEN DAY FOR BEGINNERS AT BRICKHAMPTON COURT GC
27th September 2012
The County Golf Partnership's Away Days for beginner ladies have become part of the golfing scene …. and it looks as though an extension of this idea, Ladies' Club Open Days for beginners and high handicappers, are set to take their place as regular events.
It began with one at The Orchard GC some weeks ago and then in late September, on one of the very few fine and sunny days, some 40 ladies had a great day at Brickhampton Court GC.
The chosen format was the player-friendly Texas Scramble, played on the club's 9-hole Glevum Course, with morning and afternoon competitions. Players could enter in teams or singly and the organisers were able to make up teams, giving everyone a chance to meet and make new friends. And everyone sat down to lunch together making that friendliness even more apparent.
Liz Finch, Brickhampton's ladies' section captain, was understandably delighted with the day.
"We worked very much hand in hand with the Gloucestershire Golf Partnership to host our first Beginners' Open. It was well supported with a mix of absolute beginners and some with a bit more playing experience.
"We made it a shotgun start so that we could all have lunch together, and there was an experienced player with each group to help and advise. It made for a really happy day and a new experience for lots of the participants. They must have enjoyed themselves because I heard lots asking when and where the next one was to be held!"

---
Congratulations Ann Manley!
SQUASH WORLD MASTERS over 65 CHAMPION
This is how Ann described her recent success:
"I have been pretty over whelmed by all the support and congratulations that my Golf Buddies have given me. I didn't enter the tournament until the last minute as I had been injured for about a year, but I decided to give it a go.
"I wasn't seeded this time so had to play the No.1 seed, an Australian, in the second round. I had beaten her before in New Zealand so was quite pleased to win three love.
"I then played what turned out to be my hardest game against a South African. I eventually won 3/2 so progressed to the final where I was drawn against a very strong Bett Dryhurst, a long standing adversary, but with my husband playing every shot from the balcony I won three love, even with what was described as a disgustingly old racket which broke in the second game!
"Luckily first prize was a new racket so perhaps I will have to defend my title in Hong Kong in two years' time? "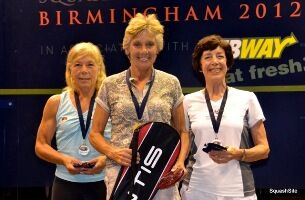 ---
Charity Day at The Players
The Windmill Golf Academy is arranging a Charity Day at The Players, to raise funds for the MacMillan Nurses & Cancer Research.
Click here for poster and entry form
---
One Hundred Hole Challenge
Ross-on-Wye's ladies' captain, Amanda Marshall, issued quite a challenge .. to herself and three golfing friends, Helen Palmer, Kerry Welding and Sarah Forrest, to play 100 holes of golf in a day so raising funds for the Guide Dogs for the Blind.
Amanda explained the logistics: "100 holes is 5 rounds and 10 holes. An average round takes more than three hours. Therefore we need to play for around 19 hours. We will start at 3.30am as day breaks and anticipate finishing at about 10pm. We will have to play fast and are packing head torches!
WELL….THEY DID IT!
Read all about it on Sarah's blog
http://redteebreaks.blogspot.co.uk/
Amanda also issued a challenge to her husband and his cycling friends. Both challenges are planned for June 23/24. "If we manage to raise £5000 in total then we can name a guide dog puppy and our money will go towards training that particular pup," she explained.
Why Guide Dogs?
"I grew up in Hereford which has a large college for the blind. The college was near my school and so I saw the blind students every day on my way to school. What has always struck me is the dependence on others which blindness brings …. and how a guide dog can restore the independence"
Donate by going to:http://www.justgiving.com/AmandaMarshallRossladycaptain
| | | |
| --- | --- | --- |
| | | |
| Amanda, Kerry, Sarah & Helen | | All Together Now for The Final Drive! |
---
On Your Bike ..... For Charity
PAST & FUTUREPAST
In March this year Chris Grady, Ladies' Captain of Naunton Downs GC, and fellow golfer Alison Taylor, cycled to Whitsand Bay, Cornwall, to raise funds for Myeloma UK. "It all came about, in the bar, after four of us had played in a Ladies Open at the Rolls Of Monmouth last summer. Somehow we got on to the subject of challenges. Alli and I both said we enjoyed challenges but I said that, realistically, I knew that I wouldn't be able to take on a big challenge during my captaincy. Why not do one at the very beginning, to kick start your year?" Chris explained.
And that was it …. they did the ride, with Andrea Pegler as their 'support person', and raised more than £11,000 for their chosen charity.
Plus in Alison's words: "Challenges can be rewarding on so many levels - friendships forged, a sense of personal and team achievement gained, spiritual enlightenment found, plus true learning about yourself, that comes from being faced with a challenge that takes you beyond where you have been before."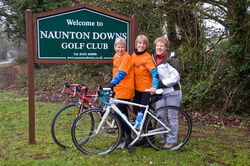 FUTURE
Sharon Heeley has her latest challenge to come!
Many of us remember Sharon well. A member of Cotswold Hills GC, she was such a stalwart of our County Team some ten years ago. Then injury took her off the fairways … but it certainly didn't stop her physical activities!
She just 'got on her bike' …. and cycled for charity, raising money for The Genesis Research Trust - funding better health for women and babies.
Last year she and her bike travelled across China and this year, in November, she is cycling 450km through Central America, from Panama to Costa Rica, finishing in Nicaragua.
If you would like to help, visit her site for further details on her fund-raising and training http://www.justgiving.com/sheeley. As she says " All donations welcome!"
Sharon in Training!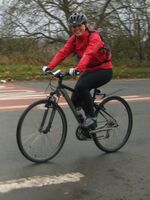 ---
Diamonds Really are Forever!
May 30th 2012
Henbury Ladies' Captain Gill Cleverdon, lost a diamond from her ring whilst playing at Cirencester GC on her Ladies' Away Day. Unbelievably it was later found lying on the 10th tee by Christian Blake. What are the chances of that!!
In Search of Diamonds!