2016 COMPETITION NEWS

Nett Team Championships

Twenty seven teams of four descended on The Kendleshire GC for the Nett Team Championships yesterday (4th August). The home team of Brenda Oxford, Margaret Jones, Jenny Garland & Jennie Fisher were decisive winners some 17 ahead of second placed Knowle. Tewkesbury and Cirencester were just one behind.
County Secretary Debbie Casling reported:
"As always lovely to have the support from the Club Ladies Section and in particular many thanks to Sue Johns who came to help for the day.
We were very lucky with the weather considering what we have had over the last few weeks – it was just a touch windy! It was also good to see some Junior Girls in the teams
In her winner's acceptance speech team Captain Brenda Oxford said 'I may not be able to play the game but I can certainly pick a team !' "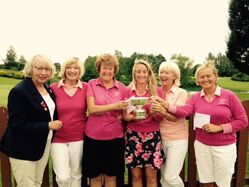 L-R:Carole Stratford (President),
Carol Hughes (The Kendleshire Lady Captain),
Brenda Oxford, Jennie Fisher, Maggie Jones
& Jenny Garland
Winners: The Kendleshire (220), Brenda Oxford, Margaret Jones, Jenny Garland, Jennie Fisher
Second: Knowle (237), Caley McGinty, Julie Jones, Gill Smith, Vron Lawton
Third: Tewkesbury Park(238c/b) Denise Clayson, Isobel Lloyd, Glo Slatter, Susan Chatburn
Fourth: Cirencester (238 c/b) Kay Fullerton, Jessica Brown, Muriel Telling, Fiona Harrington
---
Spring Bowmaker
Played at Cotswold Edge GC on Tuesday 10th May.
1st - Carol Hughes - Jenny Garland - Sue Williams - The Kendleshire - 85pts
2nd - Mary Griffiths - Jane Rowell - Gaynor Bridgman - Westonbirt - 76 pts
3rd - Sandie Lloyd - Pat Brew - Denise Barwell - The Bristol - 74 pts
4th - Alison Kelly - Emma Brereton - Pam Mallinson - Cirencester - 73pts
5th - Debbie pringle - Anne Crawley - Jacki Emerson - Cotswold Edge - 72 pts
---
Archived News Items

---