GGG - 2018 News & Results
Please email News & Results for publishing on this page to: janicemsaunders1@gmail.com
Gloucestershire Girls' Championship - 8 July - Rodway Hill Golf Club
Well girls you survived Costa del Rodway as Sue called it in her thank you speech! It was so hot and our trusty 'Water Lady' Becky Hopkins was whizzing around the course dishing out frozen water (well it was frozen at the start of her journey!) to keep you all hydrated and that must have been why you scored so well.
There were some phenomenal scores. Our newly crowned County Champion, Izzy Hopkins shot a gross 67 which has resulted in her handicap being slashed to 5.5 and our Nett Champion, Lucy Mabley also shot a fantastic score of nett 58 with her handicap being cut by 11!
Rodway Hill GC are always hospitable and welcoming, and we'd like to thank Alan, the greenkeepers and the bar and catering staff for making our day great. We'd also like to thank Sue and Robert Rawles for refereeing and starting the competition and to Becky our wonderful 'water lady' and Amanda, our treasurer.
It was good to see all the girls chatting and having a laugh whilst they waited for all the field to finish their rounds and to hear who had made it into the Gloucestershire Junior team to defend out title as SW Champions at Brickhampton in August.
Prizewinners can be found below and scores can be found on the competition results page.
L-R: Imogen Yap, Shannon Jones, Lucy Mabley, Izzy Hopkins, President Sue Rawles, Issy Lloyd, Jess Brown, Lorna Evans
County Junior Championship 2018 Final.docx
SW Junior Inter Counties - Brickhampton Court Golf Complex - 12-14 August 2018
The team selected to represent Gloucestershire is:
Megan Bartlett (Captain) - Knowle
Jess Brown (Vice Captain) - Cirencester
Izzy Hopkins - Bristol & Clifton
Issy Lloyd _ Tewkesbury Park
Kate Thurlow - Cotswold Hills
Chloe Lloyd - Knowle
Sabrina Thompson Green - Cotswold Hills
Lorna Evans - Minchinhampton Old Course
Isabel Payne – travelling reserve - The Kendleshire
This is a strong squad who will be great Ambassadors for Gloucestershire - Good Luck Girls!
Gloucestershire Girls' v Worcestershire & Herefordshire Girls' - 22 April 2018 - Stinchcombe Hill Golf Club
On a beautiful spring day at Stinchcombe Hill Golf Club, Gloucestershire Girls played their counterparts from Worcestershire and Herefordshire.
Despite the atrocious weather leading up to the match, the green keepers presented the course in fabulous condition and the girls clearly enjoyed playing in this wonderful picturesque scenery.

Led by our Vice Captain, Jess Brown, the girls were up against an experienced Worcestershire and Herefordshire team.
Whilst there were a number of close matches, unfortunately on this occasion Gloucestershire came up short losing 5-3.
Valuable experience was gained by the team of:
Jess Brown

Issy Lloyd

Issy Hopkins

Sabrina Thompson Green

Lorna Evans

Jess Baber

Izzy Ovens

Shannon Jones
and friendships were built.
We'd like to thank Stinchcombe Hill Golf Club for hosting this match and Ann Solloway and the Worcestershire and Herefordshire Girls who travelled down the M5 and we look forward to the return match in 2019.
The girls look forward to their next match against the Gloucestershire Lady Vets on the 30th of May at Rodway Hill Golf Club.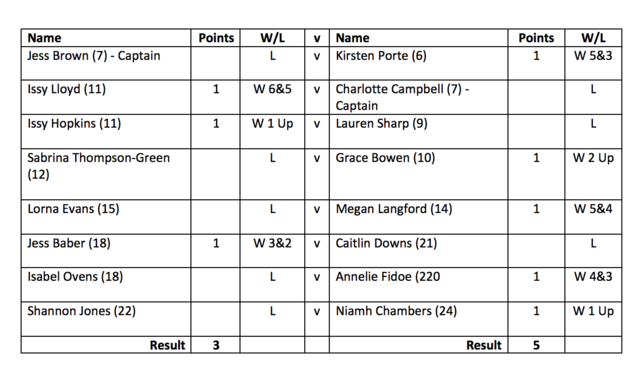 Report by Issy Hopkins