GGG - 2018 News & Results
Please email News & Results for publishing on this page to: janicemsaunders1@gmail.com
Gloucestershire Girls' v Oxfordshire Girls' - 23 September 2018 - Lansdown Golf Club
The team for this match consisted of:
Kate Thurlow
Issy Payne
Sabrina Thompson-Green
Lily Whittaker
Shannon Jones
Jess Baber
Phoebe Barber
Millie Gait
The weather held off surprisingly well considering the thundery weather that we had experienced over the previous week, there were a few short showers when the girls were playing and they all fought against the winds throughout their matches.
The course looked to be in great condition and the girls all played some brilliant golf and it was a well fought match for both sides. The winning team point, came down to the very last match so a very close game.
The result of this match was 4.5-3.5 to Oxfordshire - very well played to both teams.
A big thank you to Lansdown Golf Club for hosting the match, to the Oxfordshire team and all their supporters and the match organisers for making this event happen.
(Report by Megan Bartlett)
| | | | | | | |
| --- | --- | --- | --- | --- | --- | --- |
| Name | Points | W/L | v | Name | Points | W/L |
| Kate Thurlow (9) Captain | 1 | W 2up | v | Izzy Edwards (6) | | L |
| Issy Payne (12) | | L | V | Freya Coughlan (14) | 1 | W 6&5 |
| Sabrina Thompson-Green (12) | | L | V | Grace Boag-Matthews (15) | 1 | W 6&5 |
| Lily Whitaker (15) | | L | V | Mairi Weir (15) | 1 | W 4&3 |
| Shannon Jones (16) | | L | V | Megan Bishop (17) | 1 | W 2up |
| Jess Baber (18) | 1 | W 4&3 | V | Ellie Phillips (18) | | L |
| Phoebe Barber (22) | 1 | W 6&5 | V | Elizabeth Ball (19) | | L |
| Millie Gait (25) | ½ | Halved | V | Ellie Mitchell (20) | ½ | Halved |
| Result | 3 ½ | | | Result | 4 ½ | |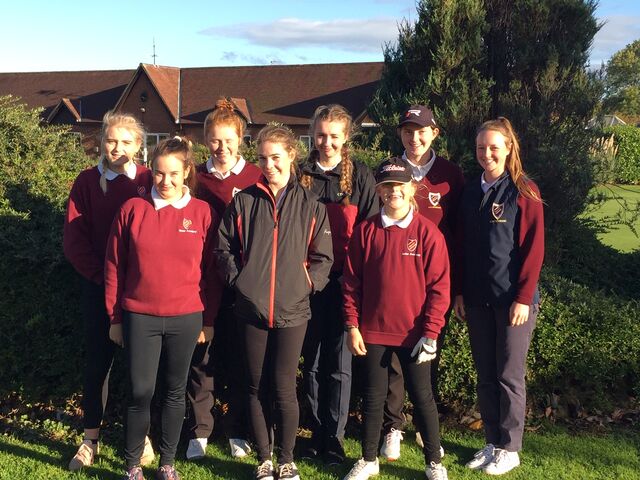 South West Junior InterCounties Tournament
Our InterCounties tournament started with a practice round on the Saturday with seven of the team going out in the afternoon to get accustomed to the course at Brickhampton Court Golf Complex. Unfortunately Izzy Lloyd couldn't make it due to food poisoning and we were hoping she would recover in time to play at some point during the tournament.
Day 1 started well for Gloucestershire with Izzy L joining us as she felt a lot better. For our first match against Devon, Team Glos was made up of Jess, Megan, Kate, Issy P, Chloe and Lorna with Sabrina and Izzy L rested. As you would expect in a nett competition, many of the matches finished on the 18th hole and the girls battled hard and came away with the win 3.5 : 2.5 - plus they were very lucky to finish all their matches before the heavens opened.
Because of the rain, the evening BBQ was brought inside but the rain soon stopped and everyone walked down to the footgolf course for some fun. Luckily the weather held off and soon the evening sun was out making the evening spectacular. All the County players were put into mixed teams and everyone had fun - competitive golfers and parents, became very competitive foot golfers!
Day 2 - with a very early start and having to get through the roadworks, breakfast was taken on the move, so it was a quick croissant consumed in the cars before dashing down to the range to warm up.
Some of the girls were traumatised by the errant spider that was found to be living in Alex's car and as soon as they got to Brickhampton, the speed at which they vacated the car would have put Usain Bolt to shame! Spider still not found even after a thorough investigation, so Janice and Alex swapped cars and only the brave travel in the 'spider' car!
With Issy Lloyd feeling much better, it was decided it was time for her to play in the match against Wiltshire, so Team Glos was made up of Megan, Issy L, Kate, Issy P, Sabrina and Lorna.
Wiltshire really pushed Team Glos with many of the matches going down the 18th and although we battled hard, today was not our day - all credit to Wiltshire who played exceptionally well. Wiltshire won 3.5 : 2.5
In the afternoon, because Cornwall had withdrawn from the Tournament we didn't have a match, but an InterCounty Stableford had been arranged so Team Glos went out and played 9 holes hoping that their average player score would prove to be the best out of all the other counties.
Day 2 for the other Counties proved to be very interesting as they shared the wins, which meant that the competition was still wide open - so Day 3 would be 'crunch day' with all to play for. Following a team meeting, Team Glos were determined to go out and give their all against Somerset in the morning and Dorset in the afternoon and hopefully we would see better results tomorrow.
Day 3 - SW Junior Inter Counties Tournament
The tournament was wide open going into the last day with all to play for. Team Glos knew they had to win both their matches to be able to lift the trophy again and they went out in the morning session against Somerset knowing that it was going to be a tough ask. However, they stunned everyone by winning 4.5 : 1.5 - so going into lunch all talk was how they were going to draw on everything they had left to find one more win.
Unfortunately it was not to be our year to lift the trophy as Dorset also needed to halve or win the match to take the trophy back to Dorset. Team Glos just lot out 2.5 : 3.5 but they were awesome throughout the tournament and Gloucestershire should be proud of what they achieved - yes they were runners up this year but they are already talking about next year when we go to Dudsbury in Dorset and what they need to do to bring the trophy home.
Following the lovely roast dinner, the presentation started with Team Gloucestershire collecting their prize for winning the InterCounties Stableford. Then came the medal ceremony for the winning footgolf team. Gloucestershire President then awarded the SW Junior InterCounties Shield to Dorset. Not to be forgotten we ended on a musical note, singing Happy Birthday to our President Sue, who was going to be celebrating her birthday later in the week.
Thank you to all Gloucestershire supporters who came to witness some stunning golf, to all the parents for helping out, to Sue Rawles for starting our matches, to Debbie Casling and Martin Evans who ran the tournament office, to Brickhampton Court (Damian, Jo, Crystal and the catering and events team) for hosting the event, to the guys in the Pro Shop and the greenkeepers, to Carol and Bob Newton, who did a sterling job as our tournament referees and to Christine Dooley, Brickhampton's Lady Captain and her team of 'Aunties' who ensured everything ran smoothly - without you we wouldn't have received such complimentary comments from the other Counties about the event.
Looking to next year, the event will take place at Dudsbury between 11 - 13 August so a date for your diaries!
Team Glos you are all stars in my eyes and I'm proud to be your CJO.
Full results of all the matches can be found at: https://www.glcga.co.uk/swjic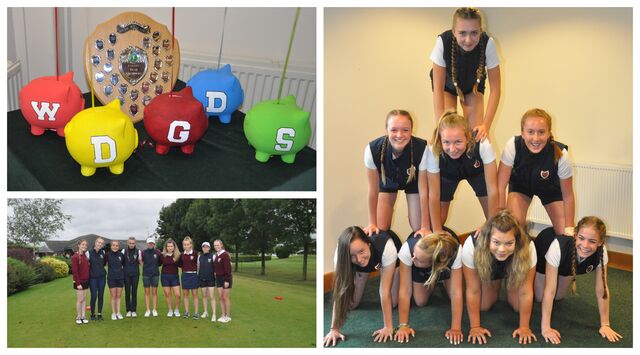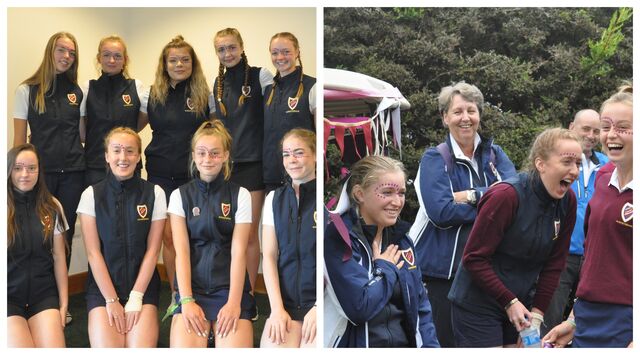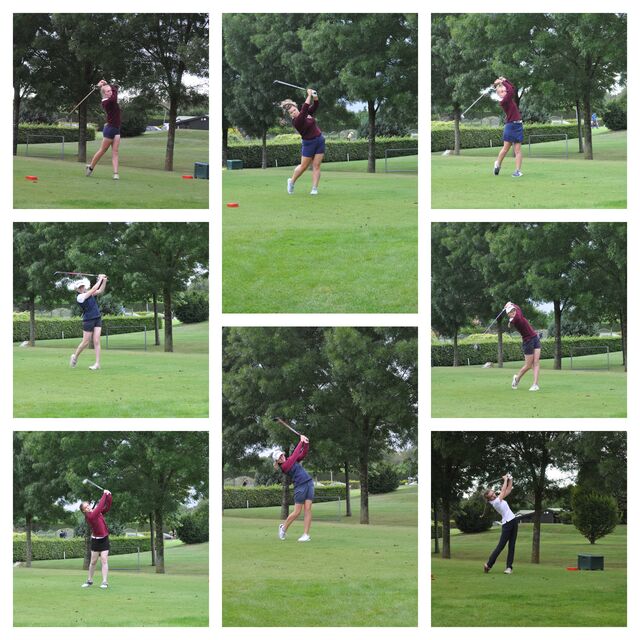 Gloucestershire Girls' Inaugural AmAm Fundraiser
It was hot, it was fun and the colours were bright! 16 teams entered into the fun of raising funds for GGG and £1123.15 was raised in total. What a fab day we had with some great scores from the bowmaker, with the wining team, captained by Gabriella Haynes attaining 140 points.
Next year's event will be hosted by Henbury GC on Sunday, 4th August and we hope we have as much fun and raise as much money.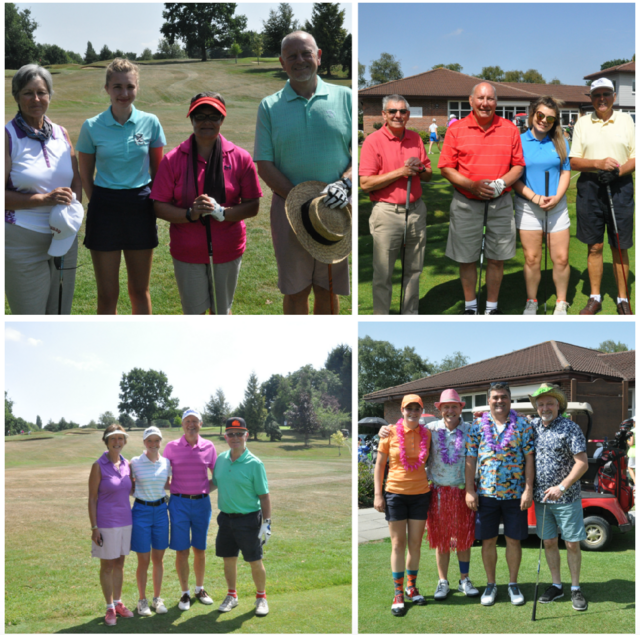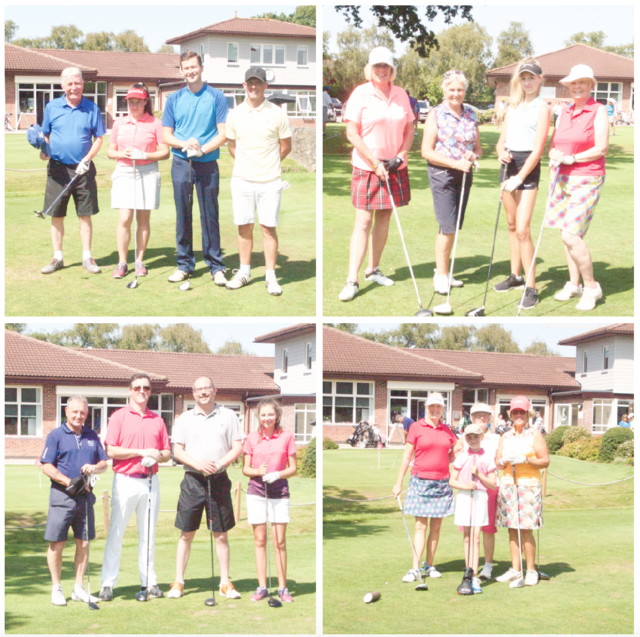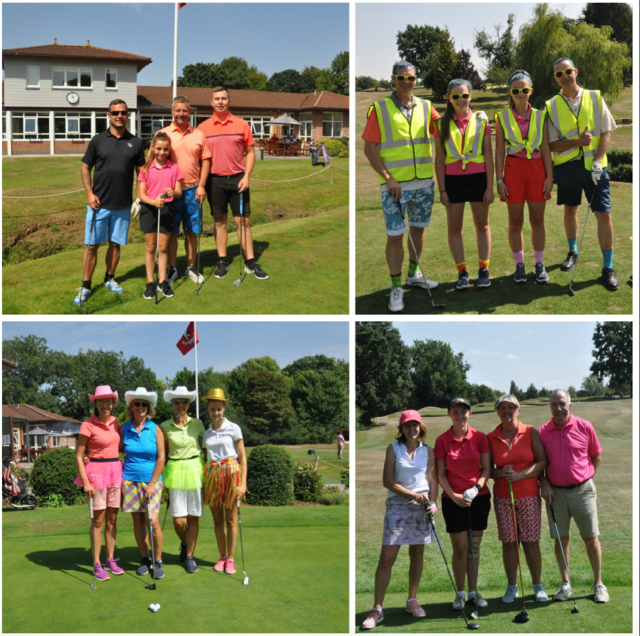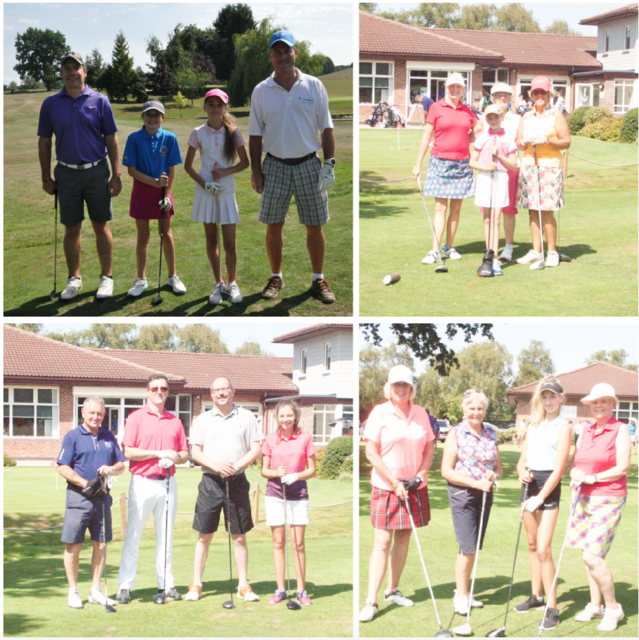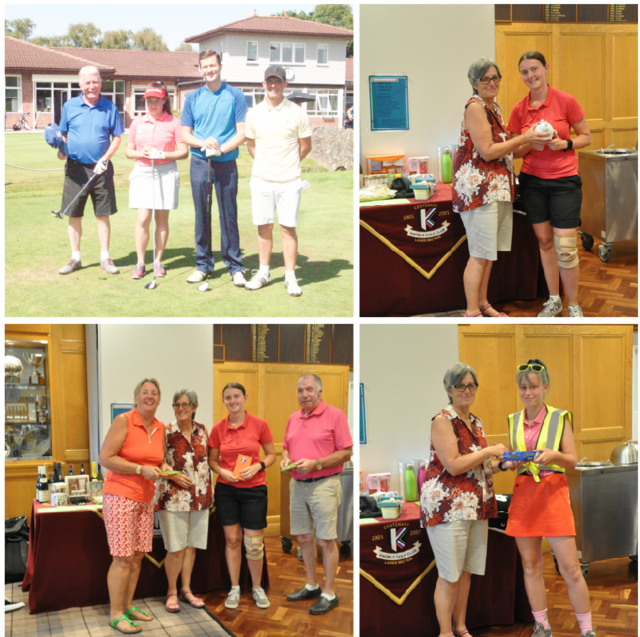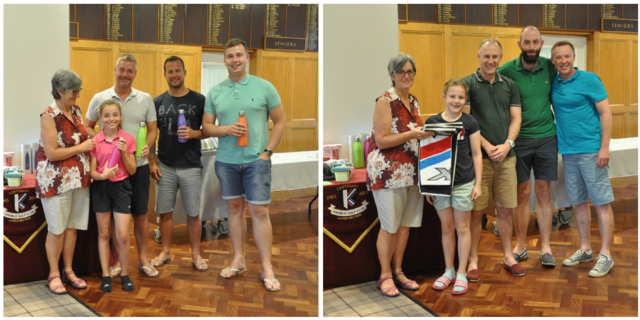 Gloucestershire Girls' Championship - 8 July - Rodway Hill Golf Club
Well girls you survived Costa del Rodway as Sue called it in her thank you speech! It was so hot and our trusty 'Water Lady' Becky Hopkins was whizzing around the course dishing out frozen water (well it was frozen at the start of her journey!) to keep you all hydrated and that must have been why you scored so well.
There were some phenomenal scores. Our newly crowned County Champion, Izzy Hopkins shot a gross 67 which has resulted in her handicap being slashed to 5.5 and our Nett Champion, Lucy Mabley also shot a fantastic score of nett 58 with her handicap being cut by 11!
Rodway Hill GC are always hospitable and welcoming, and we'd like to thank Alan, the greenkeepers and the bar and catering staff for making our day great. We'd also like to thank Sue and Robert Rawles for refereeing and starting the competition and to Becky our wonderful 'water lady' and Amanda, our treasurer.
It was good to see all the girls chatting and having a laugh whilst they waited for all the field to finish their rounds and to hear who had made it into the Gloucestershire Junior team to defend out title as SW Champions at Brickhampton in August.
Prizewinners can be found below and scores can be found on the competition results page.
L-R: Imogen Yap, Shannon Jones, Lucy Mabley, Izzy Hopkins, President Sue Rawles, Issy Lloyd, Jess Brown, Lorna Evans
County Junior Championship 2018 Final.docx
SW Junior Inter Counties - Brickhampton Court Golf Complex - 12-14 August 2018
The team selected to represent Gloucestershire is:
Megan Bartlett (Captain) - Knowle
Jess Brown (Vice Captain) - Cirencester
Izzy Hopkins - Bristol & Clifton
Issy Lloyd _ Tewkesbury Park
Kate Thurlow - Cotswold Hills
Chloe Lloyd - Knowle
Sabrina Thompson Green - Cotswold Hills
Lorna Evans - Minchinhampton Old Course
Isabel Payne – travelling reserve - The Kendleshire
This is a strong squad who will be great Ambassadors for Gloucestershire - Good Luck Girls!
Gloucestershire Girls' v Worcestershire & Herefordshire Girls' - 22 April 2018 - Stinchcombe Hill Golf Club
On a beautiful spring day at Stinchcombe Hill Golf Club, Gloucestershire Girls played their counterparts from Worcestershire and Herefordshire.
Despite the atrocious weather leading up to the match, the green keepers presented the course in fabulous condition and the girls clearly enjoyed playing in this wonderful picturesque scenery.

Led by our Vice Captain, Jess Brown, the girls were up against an experienced Worcestershire and Herefordshire team.
Whilst there were a number of close matches, unfortunately on this occasion Gloucestershire came up short losing 5-3.
Valuable experience was gained by the team of:
Jess Brown

Issy Lloyd

Issy Hopkins

Sabrina Thompson Green

Lorna Evans

Jess Baber

Izzy Ovens

Shannon Jones
and friendships were built.
We'd like to thank Stinchcombe Hill Golf Club for hosting this match and Ann Solloway and the Worcestershire and Herefordshire Girls who travelled down the M5 and we look forward to the return match in 2019.
The girls look forward to their next match against the Gloucestershire Lady Vets on the 30th of May at Rodway Hill Golf Club.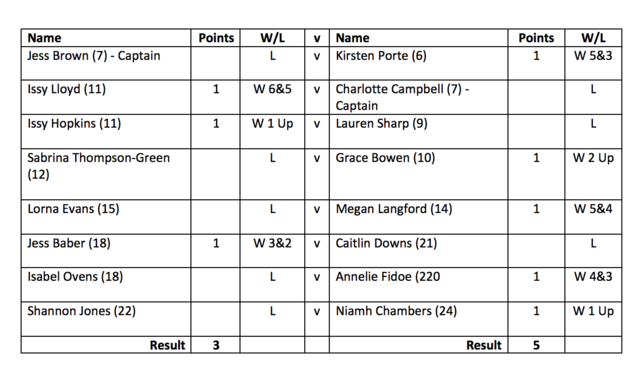 Report by Issy Hopkins