GGG - 2018 News & Results
Please email News & Results for publishing on this page to: janicemsaunders1@gmail.com
Gloucestershire Girls' v Worcestershire & Herefordshire Girls' - 22 April 2018 - Stinchcombe Hill Golf Club
On a beautiful spring day at Stinchcombe Hill Golf Club, Gloucestershire Girls played their counterparts from Worcestershire and Herefordshire.
Despite the atrocious weather leading up to the match, the green keepers presented the course in fabulous condition and the girls clearly enjoyed playing in this wonderful picturesque scenery.

Led by our Vice Captain, Jess Brown, the girls were up against an experienced Worcestershire and Herefordshire team.
Whilst there were a number of close matches, unfortunately on this occasion Gloucestershire came up short losing 5-3.
Valuable experience was gained by the team of:
Jess Brown

Issy Lloyd

Issy Hopkins

Sabrina Thompson Green

Lorna Evans

Jess Baber

Izzy Ovens

Shannon Jones
and friendships were built.
We'd like to thank Stinchcombe Hill Golf Club for hosting this match and Ann Solloway and the Worcestershire and Herefordshire Girls who travelled down the M5 and we look forward to the return match in 2019.
The girls look forward to their next match against the Gloucestershire Lady Vets on the 30th of May at Rodway Hill Golf Club.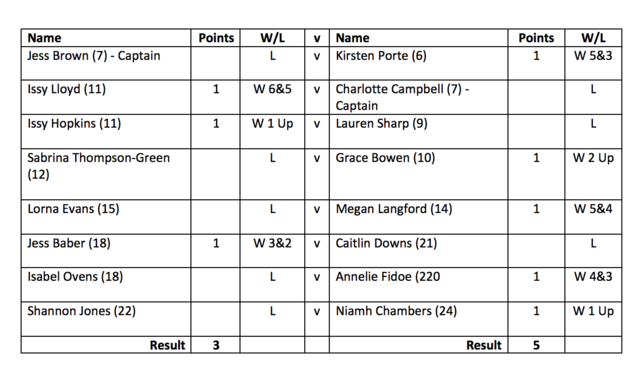 Report by Issy Hopkins