GGG - 2018 Competition Days' Results

Our first Stableford at Knowle attracted 32 girls who braved the course which had been battered by the adverse weather conditions during the previous months. Because the course was so boggy it was decided to apply winter rules and also designate all the bunkers as GUR as many of them were like ornamental ponds. Because of this the stableford competition wasn't a qualifier.
We were very lucky to have supportive hosts at Knowle GC with Lady Captain, Gill Smith and some of her ladies, Helen, Carole and Justine all helping with the starting, walking with the pre-handicappers and the presentation at the end of the afternoon.
Results were really great with many of the Knowle girls taking home advantage of the course but unfortunately because the course condition was making play difficult, we reduced the number of holes played by some of the groups to 13 holes, otherwise they would have missed their tea!
Knowle GC was a great venue to hold our first 2018 Stableford and we would like to thank everyone at Knowle who helped, the members for giving up their course for a couple of hours and to Ryan Coles and Paul French as well as the ladies who helped by supporting the girls on the course.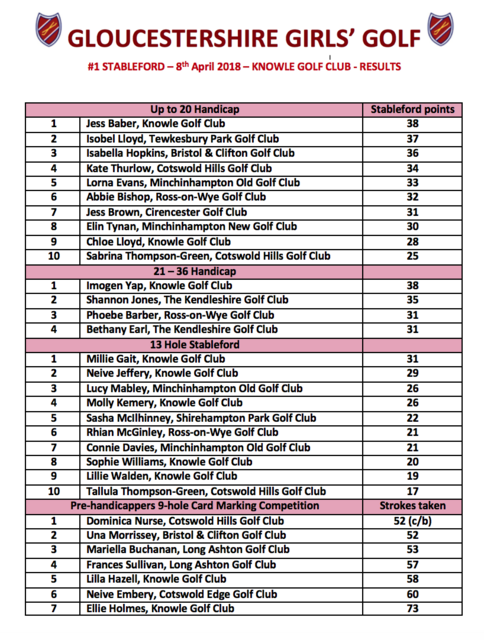 (L - R) Jess and Gill, Isobel and Gill, Imogen and Gill
(L - R) Domenica and Una with Gill, Millie with Gill, Neive with Gill