GGG - 2018 Competition Days' Results
#1 GGG Stableford & Card Marking Day, 8 April - Knowle Golf Club

Our first Stableford at Knowle attracted 32 girls who braved the course which had been battered by the adverse weather conditions during the previous months. Because the course was so boggy it was decided to apply winter rules and also designate all the bunkers as GUR as many of them were like ornamental ponds. Because of this the stableford competition wasn't a qualifier.
We were very lucky to have supportive hosts at Knowle GC with Lady Captain, Gill Smith and some of her ladies, Helen, Carole and Justine all helping with the starting, walking with the pre-handicappers and the presentation at the end of the afternoon.
Results were really great with many of the Knowle girls taking home advantage of the course but unfortunately because the course condition was making play difficult, we reduced the number of holes played by some of the groups to 13 holes, otherwise they would have missed their tea!
Knowle GC was a great venue to hold our first 2018 Stableford and we would like to thank everyone at Knowle who helped, the members for giving up their course for a couple of hours and to Ryan Coles and Paul French as well as the ladies who helped by supporting the girls on the course.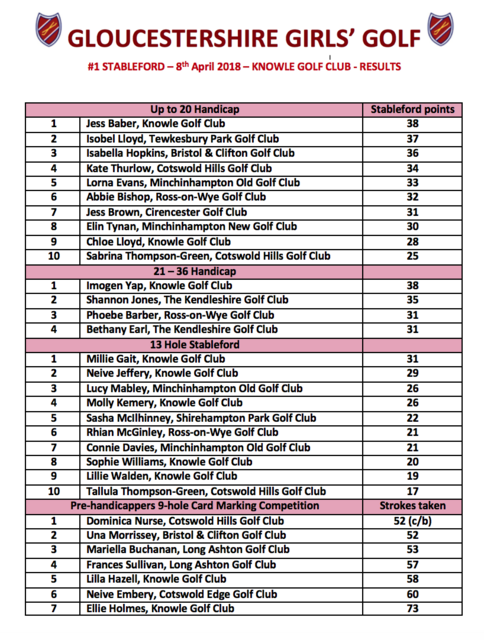 (L - R) Jess and Gill, Isobel and Gill, Imogen and Gill
(L - R) Domenica and Una with Gill, Millie with Gill, Neve with Gill
#2 GGG Stableford & Card Marking Day, 27 May - Shirehampton Park Golf Club

Following a night and morning of electrical storms and some debate as to whether our second stableford would go ahead, it actually became a really hot one! 22 girls enjoyed Shirehampton Park GC which was in excellent condition especially after the torrential drenching it had had prior to the girls going out and the temperature rose throughout the afternoon.
For a couple of girls it was their first 18 hole competition since being awarded their first handicap and they did very well to get round the course which some of the girls found quite challenging.
It was fantastic to watch the girls finishing on the par 3, 18th hole, from the clubhouse balcony with some very impressed Shirehampton Park members who were amazed at the quality of the shots and how the girls managed their game.
Shirehampton Park GC was another great venue, the hospitality afforded to us by the catering staff Jason and Kelly and Tracey and her bar team was great and a big thank you to Jon Palmer and the members of Shirehampton for allowing us to play the course. Thank you to Karen Rix who was our starter for the competition and to our President, Sue Rawles who presented the prizes.