Eileen still swinging at 90!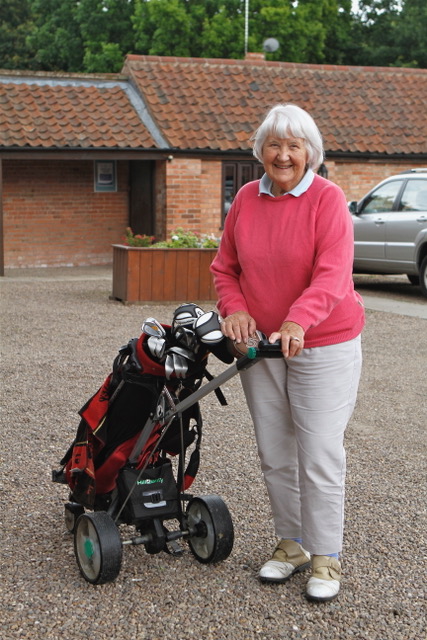 Eileen Bruce's 90th Birthday, Wednesday 20th March 2019
Eileen joined Tewkesbury Park Golf Club (TPGC) in September 1990 having moved from the North of England where she had learned to play golf at Seaton Carew.
Eileen recalls her first game was with a member called Joyce Robson and then remarkably at the age of 89 Eileen won a trophy donated by Joyce Robson's husband on her death – what a fantastic achievement.
Eileen served on the ladies committee for a number of years, including a period as Handicap Secretary at a time when computerisation was introduced –she remembers it being a steep learning curve.
Eileen also assisted with the junior golfers, which gave her great pleasure in watching them develop. One girl in particular went on to turn professional and Eileen enjoyed receiving her scorecards from around the world.
Eileen said "I have always considered Tewkesbury Park golf course to be one of the best in the county. It has given me exercise, pleasure and friendship over the years. Never a fanatical golfer, I have enjoyed the game and the company it has given me".
Throughout her years, Eileen has played golf to a high standard and even in her advanced years is one of the fastest playing ladies in our section!
Eileen has always had time for a chat and a friendly word and as a result has gained enormous respect not just from the ladies section but from everyone at TPGC.
On Eileen's 90th Birthday, her children and grandchildren hosted an afternoon Open House Celebration at The Roses Theatre, Tewkesbury. The invitation extended to her Golfing, Croquet, Bridge Playing friends, Hospital Volunteers and Staff along with her neighbours. There was plenty of cake, tea and ginger wine amidst all the balloons and cards! A really lovely occasion!
The theatre proved a good venue and was full of Eileen's many friends all the time, reminiscing on old and current times. Eileen mentioned that she thought 'no-one would turn up', how wrong she was!
Eileen looks and is so amazing, we would all love to be as active as she is at this age. We take off our 'golf hats' to her and hope she continues to enjoy life with a full diary for many years to come.