A hole in One for Ian -but Sheena Harvey topped that with 2 Holes in One!
A member of Tracy Park, Ian Willmott, made a hole in one on the 4th hole of the Crown a 158yard Par . Using a Pitching Wedge his Titleist ProV1 X never left the flag; Ian quoted "It's the only decent shot I have hit in 5 years!".
Not to be out done a lady member Sheena Harvey made 2 holes in ones in the same round on the 4th and 16th hole on the Cromwell course. The 4th hole is an uphill 118yard Par 3, unfortunately Sheena was unable to see the ball go in the hole when she hit her hybrid for her first ever ace.
On the 16th a downhill par 3 measuring 154yards, Sheena's playing partners suggested she took one more club as it was playing into a strong wind. Listening to the advice Sheena changed her club to a driver, hit a lovely shot towards the green that curled into the hole. Sheena was convinced the ball had gone over the green but fell to her knees when she looked in the hole and her Titleist ProV1 was there.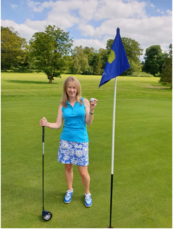 Sheena Harvey on the 16th Hole of the Cromwell Course at Tracy Park Golf Resort and Hotel