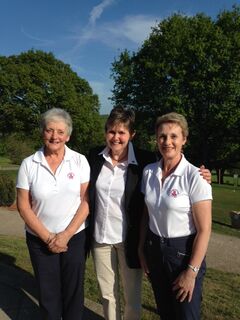 28 Teams of ladies enjoyed wall to wall sunshine as Gloucester Golf Club hosted this year's Spring Bowmaker.
Always a popular competition,clubs from all around the County were represented.
Players found the course challenging and the winning Broadway team waited patiently throughout the day as they checked the scoreboard on a regular basis expecting someone to topple them from the "top slot" with 74 points.
Gloucester Golf Club were thanked for their warm welcome and hospitality and Debbie Casling was thanked by Vice President, Sue Rawles for her efficient running of the competition whilst always managing a smile for everyone!
Brenda Corfield, Lady Captain of Broadway Golf Club said it was very nice to be receiving a prize rather than presenting them this year.
Pictured left are 2 members of the winning Broadway team.
Christine Parkinson, Sue Rawles and Brenda Corfield.
Full details of the competition can be found on the Competition page of the website.