GLCGS V Oxfordshire
Lilley Brook Golf Club - Monday 21st May 2018
Match report from Captain Barbara Smyth
The day of our first match of the 2018 season dawned bright and sunny. What a difference a year makes – this match was cancelled last year due to torrential rain! And what a difference a month makes – last month we were hacking round in a quagmire and now we have near perfect conditions!
All ladies arrived smiling each looking forward to playing on such a lovely day. There was lots of chat around the tables as ladies got to know each other and renewed acquaintances. Lilley Brook Golf Course was looking absolutely splendid in the spring sunshine and there were many positive remarks about the course from both home and away players. I didn't even hear any complaints about the big hill! And the Oxfordshire captain thanked me for choosing such a beautiful course.
Matches were closely fought, and as the captains waited for the last fourballs to arrive at the 18th green it was nip and tuck. The final result was a win for Gloucestershire by 41/2 to 31/2.
Many thanks go to Lilley Brook Golf Club for hosting us and to the catering team for a delicious meal. Thank you to my wonderful team for being so friendly, helpful and appreciative, and of course for winning the match – regardless of individual results, we win as a team and we lose as a team.
Barbara Smyth
GLCGS BOWMAKER
FILTON GOLF CLUB – 23/04/2018
The society Bowmaker was held at Filton this year. In only its second year of existence, having been introduced in 2017 by Jane Barrett, there were 24 groups of 3. Thanks go to the society members from clubs all over the county for supporting this event.
The brief spell of summery weather had unfortunately retreated, but it had dried up the course very nicely and we had a dry, if rather chilly, day for our outing. The Filton ladies, led by Helen Briggs, were extremely well prepared and organised, taking charge of the registration and food orders.
Many of our ladies had played little golf in recent months due to the wintry wet weather, so there were lots of cries of 'rubbish', 'what a disaster' etc. However, when they reached the end and saw similar scores they felt better! We are much too hard on ourselves!!
Barbara would like to thank Jane Barrett for organising the day, the ladies from Filton for ensuring that everything ran smoothly, and all of the lovely ladies who supported the event and helped create a friendly atmosphere.
WINNERS
Bowmaker: 1st Andrea Dawson, Hazel Day, Veronica Courtney (Naunton Down) 73pts
2nd Maggie Jones, Lyn Georgiou, Janice Griffiths (The Kendleshire) 73pts
3rd Steph Hewitt, Liz Meiklejohn, Josie Pearce (Filton) 72 pts
Nearest the pin: 4th Diana Woodward (Tracy Park)
8th Chris Park (Cirencester)
11th Mary Brealey (Cotswold Edge)
15th Carol Weeks (Thornbury)
GLCGS NEW CAPTAINS' DAY - Monday 9th April 2018
The day dawned grey and miserable, like many before. April 9th and hardly a blossom in sight! We were hosted at the Brickhampton Glevum course where the incessant rain had made the course very wet underfoot and no trolleys were allowed. As it was carrying only, we decided on a 3 clubs plus putter bowmaker and set off in five groups. The GLCGS new captains and committee in their cheerful red tops certainly brightened the day and we managed to get in before the worst of the weather.
It was lovely to meet all the new members of the society and enjoy a day of friendly golf and chat and hopefully it was useful for the new captains to share ideas about the year ahead.
In a tight finish, the golf competition was won by Jane Barrett (Past Captain), Maggie McDivitt (Broadway) and Jo Pinchin (Puckrup Hall).
The committee of the GLCGS wish all the new Gloucestershire lady captains a successful and enjoyable year.

GLCGA Name Badge (Brooch) Order Form - UPDATED November 2017
The updated form to order your red GLCGA name badge is attached. You can either order by post or online, and they are a relatively cheap one-off expense (£5.00 for one line, £5.30 for two if you want to add name of your golf club). It is very helpful when members wear their name badge at our events.
COLOURED GILT BROOCH ORDER FORM.docx
The GLCGS crest badge is available to purchase at the Summer Meeting, Fun Away Day and AGM or by contacting the Secretary or Vice Captain at any time.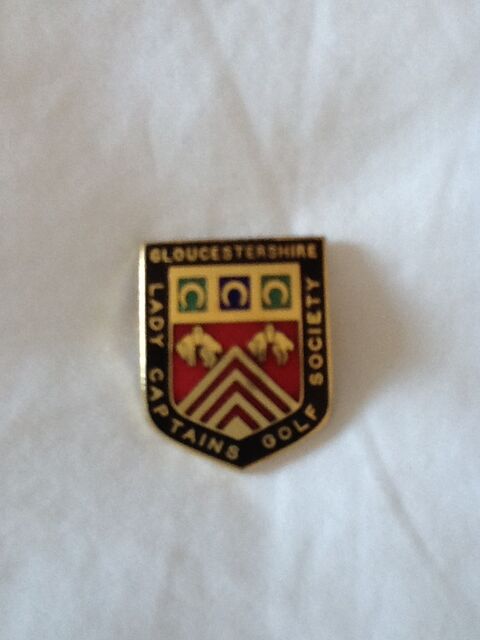 Crest Badge
---
Please look at Fixtures page for downloadable Summer Meeting, Match and Away Day Forms