GLCGS Vs Veterans 12th July at The Players



---
GLCGS NEW CAPTAINS' DAY – Monday 15th April 2019

Thankfully the day dawned clear and bright, but with a chilly wind, for our first event of the 2019 season. A huge contrast to last year's miserable conditions following a very wet spell. As previously the event was held at Brickhampton on the Glevum course which was in great condition following a warm dry spell of weather. As always were received a warm welcome and excellent service from the Brickhampton staff.
Five groups of ladies set off for our 3 player bowmaker which included 4 committee members and 11 new captains. The scores were very close and the competition was won by Brenda Oxford (Kendleshire), Sefton Hooton (Rodway Hill) and Ros Fenney (Puckrup Hall).
It was lovely to meet the new Captains and enjoy a day of friendly golf and lively discussion and several of the new captains commented on how good it was to meet other new captains to discuss various issues and share ideas and to realise that many issues applied to most new captains and not just them! It was particularly helpful to have Brenda and Gillian attend as they are both on their second time around as Captain of their clubs.
The committee wish all the new Gloucestershire lady captains a successful, enjoyable and sunny year.
---
GLCGS BOWMAKER
NAUNTON DOWNS 26/04/19
Our first event of the year was our third annual Bowmaker at Naunton Downs. The previous weekend (Easter) had brought us record April temperatures and beautiful weather so I was hopeful! However, Storm Hannah had other ideas! The day stayed dry, but it was very windy and rather cold. The ladies of the GLCGS are tough, though, and headed off resolutely to play golf with friends and admire the lovely Cotswold countryside.
When I broached the possibility of playing this year's Bowmaker at the course of last year's winners, I flippantly suggested that it would be a good chance to win it again! I didn't expect them to take me up on it!!! The team of Hazel Day, Veronica Courtney and Andrea Pegler were just one surname away from being the identical winners (last year it was Andrea Dawson). Congratulations to our worthy winners who scored 71 points on a difficult day. The runners-up were Pam Duke, Nesta Hirst and Rosemary Williams from Ross-on Wye with 68 points.
The winner of the Nearest the Pin competition on the 4th was Veronica Courtney and on the 6th it was Liz Dodd from Cirencester. Nearest the Pin in 2 on the 17th was won by Gilly Wood from Henbury. Congratulations to all these ladies for excellent shots which ended up very close. The only 2 of the day was scored by Jane Barrett from Cotswold Edge on the 6th.
Many thanks to Nick in the pro shop who managed all the results so efficiently for us, to Teri in catering for the lovely food and to Linda who served us with a smile all day. Our thanks are also due to Naunton members Chris Grady and Nicole Arkell who kindly gave up their time to help us with registration, to Bob Knight our starter for the whole field and to Barbara Watson and Pat Knight who waited to handle any problems before our committee team finished.
Thank you to all of the teams who supported our Bowmaker, which is now firmly established as an annual event. It was wonderful to have 25 teams from all over the county at Naunton Downs.
Barbara Smyth (Past Captain)
---


---
GLCGA Name Badge (Brooch) Order Form - UPDATED November 2017
The updated form to order your red GLCGA name badge is attached. You can either order by post or online, and they are a relatively cheap one-off expense (£5.00 for one line, £5.30 for two if you want to add name of your golf club). It is very helpful when members wear their name badge at our events.
COLOURED GILT BROOCH ORDER FORM.docx
The GLCGS crest badge is available to purchase at the Summer Meeting, Fun Away Day and AGM or by contacting the Secretary or Vice Captain at any time.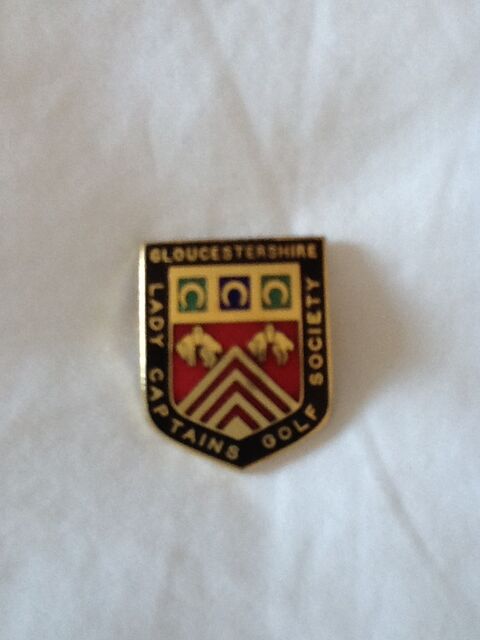 Crest Badge
---
Please look at Fixtures page for downloadable Summer Meeting, Match and Away Day Forms