GLCGS v GWENT
at Tredegar Park - Wednesday 27th June 2018
This is definitely the match which has given me the most headaches! The date was changed by our hosts after our fixture card went to print, which didn't seem much of a problem, but it continued to cause confusion. I exacerbated this by changing the date but not the weekday on the team sheet I sent out! Then I withdrew two ladies from the team when they had actually withdrawn from the Dorset match! Imagine how I felt when I arrived at Tredegar Park to see them sitting comfortably in the lounge!
What fabulous weather we had. Wall to wall sunshine and a course in Wales burnt brown by the sun! Unheard of!! Our ladies set off in their pairs with frozen water bottles, sunhats, parasols etc – we might well have been in Florida! First results didn't go so well for us but the later pairs fought back and we ended up losing the match by 5 games to 3. Hot and bothered coming in, the ladies soon cooled off with drinks in the bar and friendly banter about the matches. Tredegar Park staff and Gwent ladies were very friendly and welcoming and we enjoyed a delicious meal.
I'd like to thank my team, both winners and losers, for everyone tried their very best and it was tough out there! But most of all I would like to thank Sue Sturman and Pat Spencer from Minchinhampton, who travelled all the way to Tredegar to find that they'd been withdrawn from the team, but took it calmly in their stride and were so kind to me in the worst moment of my captaincy – so far!!
Barbara Smyth
THE SUMMER MEETING HELD AT CLEEVE CLOUD GOLF CLUB 2018

Report from Vice Captain Jackie Berry
When I wrote to all participants prior to the day and hoped for a day to enjoy Cleeve Cloud in all its glory I didn't realise, having never played there before, just how glorious the views really were! A sunny clear day greeted us on arrival and although the weather was much cooler than excepted and the wind stronger than many of us would have liked (more on that later). The cooler weather was, however, more than compensated for by the warm welcome we all received from Barbara, the Cleeve Cloud members and staff and all Barbara's willing helpers.
Barbara and her helpers had everything wonderfully prepared, her husband Ray even having erected a gazebo at our refreshment stop, unfortunately, the wind became too strong so he then had to spend time taking it down but still managed a cheery welcome to all competitors, despite standing out in the chilly wind for a long time, encouraging us to partake in drinks and delicious cake prepared by the Cleeve Cloud ladies.
Judging for the happy chatter both before and after the game all competitors seemed to have enjoyed their day greeting old friends and making new ones and we were all treated to a sumptuous buffet by the Cleeve Cloud caterers with an enormous variety of savoury and sweet offerings which were much appreciated by the incoming players.
As always Mike Mancktelow did a brilliant job, collating and displaying the results as they came in and making the whole prize giving a smooth and stress free experience. Many thanks Mike and I am extremely grateful you have agreed to do it all again next year.
A list of winners is on the website but congratulations to you all for playing so well in such difficult conditions.
Finally many thanks to our Captain Barbara for organising such a wonderful, friendly day which was enjoyed and appreciated by us all.

NP's & LD'S

Bronze

Bronze Nett

Silver Nett
'3 Days After The Summer Meeting Notice the limp flag!!'

GLCGS V Oxfordshire
Lilley Brook Golf Club - Monday 21st May 2018
Match report from Captain Barbara Smyth
The day of our first match of the 2018 season dawned bright and sunny. What a difference a year makes – this match was cancelled last year due to torrential rain! And what a difference a month makes – last month we were hacking round in a quagmire and now we have near perfect conditions!
All ladies arrived smiling each looking forward to playing on such a lovely day. There was lots of chat around the tables as ladies got to know each other and renewed acquaintances. Lilley Brook Golf Course was looking absolutely splendid in the spring sunshine and there were many positive remarks about the course from both home and away players. I didn't even hear any complaints about the big hill! And the Oxfordshire captain thanked me for choosing such a beautiful course.
Matches were closely fought, and as the captains waited for the last fourballs to arrive at the 18th green it was nip and tuck. The final result was a win for Gloucestershire by 41/2 to 31/2.
Many thanks go to Lilley Brook Golf Club for hosting us and to the catering team for a delicious meal. Thank you to my wonderful team for being so friendly, helpful and appreciative, and of course for winning the match – regardless of individual results, we win as a team and we lose as a team.
Barbara Smyth
GLCGS BOWMAKER
FILTON GOLF CLUB – 23/04/2018
The society Bowmaker was held at Filton this year. In only its second year of existence, having been introduced in 2017 by Jane Barrett, there were 24 groups of 3. Thanks go to the society members from clubs all over the county for supporting this event.
The brief spell of summery weather had unfortunately retreated, but it had dried up the course very nicely and we had a dry, if rather chilly, day for our outing. The Filton ladies, led by Helen Briggs, were extremely well prepared and organised, taking charge of the registration and food orders.
Many of our ladies had played little golf in recent months due to the wintry wet weather, so there were lots of cries of 'rubbish', 'what a disaster' etc. However, when they reached the end and saw similar scores they felt better! We are much too hard on ourselves!!
Barbara would like to thank Jane Barrett for organising the day, the ladies from Filton for ensuring that everything ran smoothly, and all of the lovely ladies who supported the event and helped create a friendly atmosphere.
WINNERS
Bowmaker: 1st Andrea Dawson, Hazel Day, Veronica Courtney (Naunton Down) 73pts
2nd Maggie Jones, Lyn Georgiou, Janice Griffiths (The Kendleshire) 73pts
3rd Steph Hewitt, Liz Meiklejohn, Josie Pearce (Filton) 72 pts
Nearest the pin: 4th Diana Woodward (Tracy Park)
8th Chris Park (Cirencester)
11th Mary Brealey (Cotswold Edge)
15th Carol Weeks (Thornbury)
GLCGS NEW CAPTAINS' DAY - Monday 9th April 2018
The day dawned grey and miserable, like many before. April 9th and hardly a blossom in sight! We were hosted at the Brickhampton Glevum course where the incessant rain had made the course very wet underfoot and no trolleys were allowed. As it was carrying only, we decided on a 3 clubs plus putter bowmaker and set off in five groups. The GLCGS new captains and committee in their cheerful red tops certainly brightened the day and we managed to get in before the worst of the weather.
It was lovely to meet all the new members of the society and enjoy a day of friendly golf and chat and hopefully it was useful for the new captains to share ideas about the year ahead.
In a tight finish, the golf competition was won by Jane Barrett (Past Captain), Maggie McDivitt (Broadway) and Jo Pinchin (Puckrup Hall).
The committee of the GLCGS wish all the new Gloucestershire lady captains a successful and enjoyable year.

GLCGA Name Badge (Brooch) Order Form - UPDATED November 2017
The updated form to order your red GLCGA name badge is attached. You can either order by post or online, and they are a relatively cheap one-off expense (£5.00 for one line, £5.30 for two if you want to add name of your golf club). It is very helpful when members wear their name badge at our events.
COLOURED GILT BROOCH ORDER FORM.docx
The GLCGS crest badge is available to purchase at the Summer Meeting, Fun Away Day and AGM or by contacting the Secretary or Vice Captain at any time.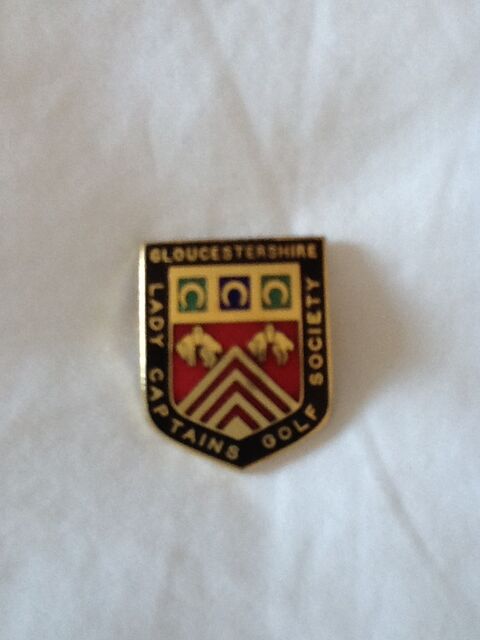 Crest Badge
---
Please look at Fixtures page for downloadable Summer Meeting, Match and Away Day Forms