Seniors
Gloucestershire Senior Ladies' Golfing Society GSLGS
Open to everyone over 50 who has played for Gloucestershire County in either the 1st or 2nd team and is not playing First Team County in 2019 in the case of the South West inter counties 3 day event in October.
Other matches are open to any lady over 50 who is keen to play scratch foursomes.
The programme of events/results for 2019 are as follows;

1. Match vs. County Senior Men - at Cirencester Golf Club on Friday 31st May 2019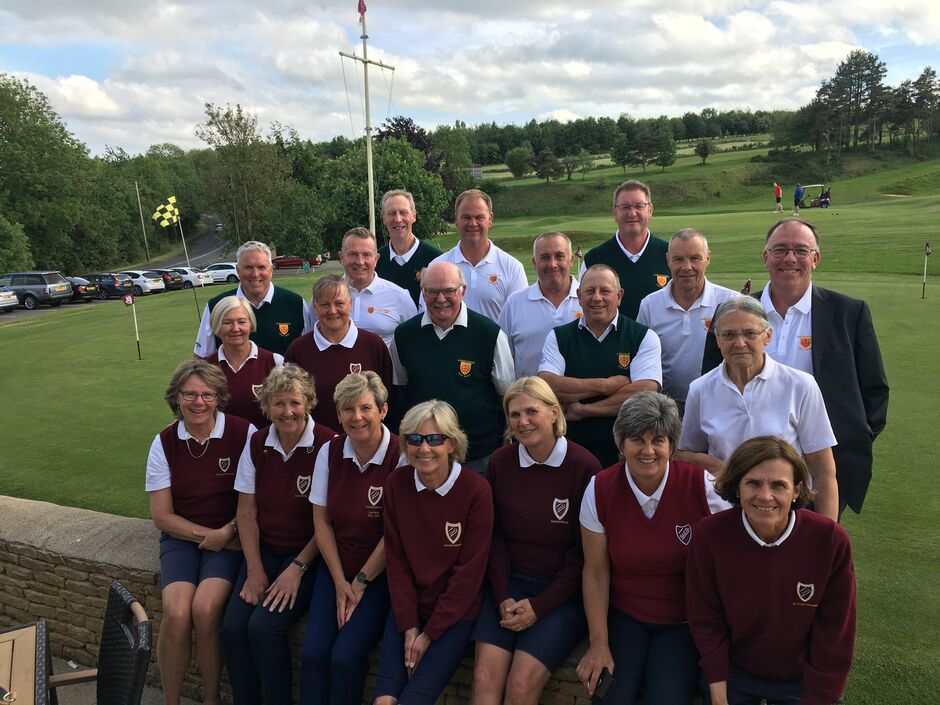 "A reversal of fortunes this year as we agreed to have a change of format and play a 4bbb stableford match play game. The weather was kind to us, albeit a bit overcast and slightly muggy, and it wasn't until we were consoling ourselves with an after match drink that the sun finally came out. Nevertheless it was a very enjoyable match played in good sprits with a lot of keen banter. Bizarrely it was their 'slightly ineligible' ringer in Tim Clink partnered with Malcolm Lewis that gave us our only victory!
Next year we hope to have this fixture a bit earlier in the season so that it gives us a good pre-season warm-up rather than being in the middle of the year when it tends to clash with other fixtures. It remains to be seen whether we keep the same format though!
My thanks go to all the players for putting up a good fight and to Cirencester Golf Club for being such good hosts and allowing us courtesy of the course which was in fine condition and a credit to the greens team. I can certainly recommend the profiteroles!"
Results
Ali Kelly & Jane Rees Lost Bob Broad & Vem Chappell 4&3
Su Worthington & Pam Tozer 4&3 Won Tim Clink & Malcom Lewis
Lousie Church & Paula Crabtree Lost Hugh Purvis & Carl Glyde 5&4
Corrinne Durber & Karen Rix Lost Steve Prosser & Steve Pope 4&3
Frances Lindley & Carolien Shepherd Lost Rob Stephens & Phil Graham 5&4
Karen Rix
Captain
30/05/19
2 . Stinchcombe - competition and lunch
The annual friendly get-together for a one day foursomes event for all those interested, regardless of handicap, to be held on Wednesday 24 th July at Stinchcombe Golf Club. Playing for the Armada Salvers. A great opportunity to reminisce and catch up with old friends!
Format - foursomes stableford (high/low combination) with start times from 9.30 a.m. This will be followed by lunch and prizes.
The total cost of the day will be approx. £30 to include golf, lunch and dessert, coffee and prizes


3. Match vs. Hereford and Worcs Seniors - at Ross-On-Wye Golf Club on Monday 5th August
Time to be confirmed. This is a new fixture this year.
4 . South West County Three Day Event - at Torquay Golf club on 30th September/1st/2nd October
A round robin event against the other South West Counties with 3 scratch foursomes matches played morning and afternoon on the Monday and Tuesday and finishing with the last match on Wednesday morning, followed by a trophy presentation.

I will do my best to contact by email all those that are eligible, to ask for availability at the start of the golfing season. If you feel I have missed anyone off the list please feel free to contact me on : rix.ashworth@blueyonder.co.uk or 07831 895284.
Kind regards
Karen Rix
GLCGA Seniors Captain