---
AGM 5th November 2018 held at Cotswold Edge Golf Club

On Monday 5th November, Cotswold Edge was busy with Ladies for the 53rd AGM of the Veterans' Section of GLCGA.
Many arrived early and I was able to welcome many of them as they arrived and they enjoyed the opportunity to chat with ladies from other clubs before settling down to an AGM which informed them of the progress made this year with updating the various policies as well as of the meetings the committee had attended.
Due to the fact that a couple of the committee were absent Eve read their reports and the chair thanked them in their absence.
The North Captains' report had plenty of chuckles included, especially as Rose recalled Bobbie's "pink hair day" and summed up her busy year as lead captain, the difference this year being that Megan had been captain of the day on a couple of occasions, a new trend that is hoped to be used more in the future.
After the Committee was elected there was warm welcome for Yvonne West from Chipping Sodbury as our new treasurer and Megan Mills became Captain North, becoming in fact, Vice captain so she can learn the ropes from Bobbie. This should smooth the path for future ladies joining the committee and unite the county vets under one umbrella.
Thanks were given to the retiring committee members, Annette Murfin, Hazel Blandford and Jacky Watson for their contributions to the Vets' Section whilst in office.
It was lovely to see the spread of Ladies receiving prizes due to the varied nature of our competitions and the splitting into several handicap categories rather than just Silver and Bronze. Our new clubs Lansdown and Alexander Park both featured in the prize winners and all competition winners are listed in the results below in the order they were played during the year, latest first.
Photos of trophy winners who were present are below; the Committee list has been updated and the 2018 fixture list entered on the website so please refer to those for planning your 2019 diaries.
Thank you to all who attended.
Chairman Sue Johns
Summer Bowmaker - Painswick ladies

Angela Woodward, Lorna Sparkes, Sarah Taylor

Autumn Trophies - Winners

Gross - Barbara Smyth - Cleeve Cloud

Bronze Gross - Val Bland - Alexander Park

Home Club Competitions -Winners

Muriel Button - Carole Hatherley- Westonbirt

Millennium Trophy - Marian Fielding -Thornbury

Brockworth Salver

Overall Winner - Vikki Caulfield - Henbury
---
North v South 2018- Minchinhampton New - Avening Course

Report from Captain South, Bobbie Woodley

Friday 5th October. It was so warm. A perfect day for a game of golf.
40 ladies turned up to play the Avening Course at Minchinhampton.
We were welcomed with bacon or egg butties and coffee in their beautiful clubhouse.
I had a few cancellations at the last minute and didn't have any reserves so thank you to Tracy Park members for stepping in.
Thank you also to Eve Clements who filled in on the day when one lady fell ill.
So, to the match. Ten Greensomes teams on each side.
Captain North, Rose Hook, and myself watched the start of each team. Wonderful tee shots. Game on.
Rose got out on the eighteenth to grab the end results.
It was so close, first and second wins to the north. Oh dear! third, fourth and fifth to the South. Good! A win for the north then a half. A win to the South and then the North. Still all square and one team to come. As none of my matches had won this year, I was desperate for a win. Rose tried to keep the result from me, but someone let it slip. The match was halved.
However we won it last year so our Ryder cup was retained by the South.
Well done to all who took part.
Our unusual meal of sausage and mash went down well, and we all drove home in the dark.

---
9 Hole Competition 10th September at Minchinhampton Old Course
Results

Visitors 1st Ilse Russell, Jean Strickland, Olive Wyatt Cotswold Edge
2nd Alison Ancrum, Dee allen, Ginny Atkinson Cotswold Edge
3rd Angela Brassie, Sally Barton, Eileen Jones Tewkesbury Park

Home Pat Phipps, Janet Headley, Frances Lay
Nearest the pin in 2 Sally Morgan Tewkesbury Park
Nearest the Pin 16th Angela Coubrough MOC
---
Autumn Trophies held at Lilley Brook Golf Club on Monday 3rd September 2018
54 ladies enjoyed a lovely day of golf at Lilley Brook – the temperature was just right and the course was looking lovely.
The enjoyment of the day was assured by the very helpful manner of all the Staff at the Club – Sandra in the Office, Simon in the kitchen, Gavin in the Pro Shop, the Starters and Spotters, particularly Malcolm Bell who rounded up the flock of ladies in his buggy and kept them moving along!! Thanks also to Rosemary Davison, the Vets Rep, who was a great help to myself and Eve in setting up our tables etc.
Thank you to Eve and Annette for giving up their time to help me on the desk and many thanks to all the ladies for their cheery and friendly attitude which helped to make the day such a success.
Trophies and Vouchers will be presented to the winners at the Vets AGM to be held at Cotswold Edge Golf Club on Monday 5th November 2018. I hope to see many of you there.
Pat Righton
County Vets Competition Secretary
Results

| | | | | |
| --- | --- | --- | --- | --- |
| Best Gross Overall | The Little Salver | Barbara Smyth | Cleeve Cloud | 89 gross |
| Best Gross Bronze Division | The Wine Coaster | Val Bland | Alexander Park | 93 gross |
| | | | | |
| Nett Prizes | Division 1 | Handicaps 0-22 | | |
| | 1st | Gill Polley | Cotswold Edge | 74 nett |
| | 2nd | Kathy Briggs | Cotswold Hills | 76 nett |
| | 3rd | Bobbie Woodley | Tracy Park | 77 nett ocb |
| | | | | |
| | Division 2 | Handicaps 23-36 | | |
| | 1st | Andrea White | Long Ashton | 73 nett ocb |
| | 2nd | Jackie Mc Carthy | Tracy Park | 73 nett ocb |
| | 3rd | Christine Parkinson | Broadway | 75 nett |
Barbara Smyth-Cleeve Cloud-

Winner of The Little Salver

The Vets Flag raised at Lilley Brook

Gill Polley-Cotswold Edge

Winner of Division 1
---
Committee versus Lady Veterans at Rodway Hill 16th August 2018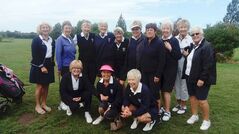 The day dawned with rain but the weather forecaster promised that by 10 it would have passed over Gloucester.
As has become the norm the ladies began arriving enjoying coffee and biscuits, chatting with old friends and looking forward to the game.
The tee off was at 11.00 and we all gathered for a team photo. The sky had patches of blue and the sun promised to come out. My partner was Megan Mills and we were playing against Judy Thomas and Liz Finch. We had a great game, it was very close but Megan pulled out some magnificent putts and a beautiful 2nd shot on the 17th which took us to 1 up for the first time in the game, she told me we could not lose, and with another lovely put from Megan giving us a birdie on the 18th we won our match. As the ladies came in some losses, and a half, it was evident that everyone had enjoyed their matches.
A simple meal of Ham Egg and Chips followed by Apple Crumble and Custard was enjoyed by all, amidst more laughter and talk of the game they had had.
The course was in very good condition considering the relentless hot weather we had enjoyed, but the recent rain was bringing it back to its former glory and thanks were given to Rodway Hill for allowing us courtesy of the course once again, thanks also went to Catering for the meal and the service given by their staff.
The Lady Vets won the match 2 ½ to 1 ½
Once again this proved to be a success, so my thanks goes to all the ladies who played and made it such a pleasure to organise, thank you.
Rose Hook
Captain North
---
Muriel Button results 2018
261 Ladies entered the Muriel Button Trophy and there were some outstanding scores as can be seen below. Thanks to all who entered and to the Reps for sending in the results so promptly.
| | | | | | |
| --- | --- | --- | --- | --- | --- |
| Overall Winner | Carole Hatherell | 23 | 54 | -11 | Westonbirt |
| SILVER | | | | | |
| 1st | Lesley Champion | 20 | 64 | -7 | Tracy Park |
| 2nd | Pat Johnson | 19 | 68 | -6 | Ross on Wye |
| 3rd | Delia Rees | 20 | 67 | -3 | Thornbury on cb |
| BRONZE | | | | | |
| 1st | Patricia Fluck | 21 | 63 | -9 | Cotswold Hills |
| 2nd | Louise Dalglish | 24 | 64 | -8 | Cotswold Hills |
| 3rd | Maureen Joy | 28 | 58 | -7 | Westonbirt on cb |
---
Summer Bowmaker at Cirencester on 8th August 2018
Vets Summer Bowmaker held at Cirencester Golf Club on 8th August 2018
With an excellent entry of 47 teams the 141 ladies gathered at Cirencester for a great day of golf. Timekeeping was good, no apparent delays, and all the ladies were back in the Clubhouse by 6.30pm – last start time was 2.30pm.
Thanks must go to all the Cirencester Staff and Members who helped to make this such a happy and successful day – Richard in the Office, Francesca behind the bar, Steve in the kitchen, the several Starters and Spotters on the course, Venetia the Vets Rep and 'busy bee' Erika who never stopped in her efforts to make sure we had everything we needed. Thank you one and all.
Finally thanks to the Committee Members who helped me on the desk – Eve and Annette.
The Trophy and Vouchers will be presented to the prize winners at the Vets AGM to be held at Cotswold Edge Golf Club on Monday 5th November 2018 at 11am. I look forward to seeing you all there.
Pat Righton
County Vets Competition Secretary
10th August 2018
| | | | |
| --- | --- | --- | --- |
| 1st | Painswick | Angela Woodwards, Sarah Taylor, Lorna Sparkes | 82pts |
| 2nd | Rodway Hill | Sefton Hooton, Ruth Onions, Barbara Forward | 80 pts |
| 3rd | The Kendleshire | Brenda Oxford, Sue Johns, Carol Hughes | 79 pts |
| 4th | Brickhampton Court | Jackie rendell, Carys Jones, Jane Lakin | 78 pts |
| 5th | Cirencester | Chris Moylan, Liz Dodd, Chris Park | 77 pts |
---
Gloucestershire Veterans v Lady Captains
Brickhampton Golf Club 24th July 2018
Another sunny day, the ladies arrived in good spirits enjoying coffee and bacon rolls. Meeting up with friends, lots of chatting and laughter, the atmosphere in the club was lovely. Soon it was time for the first team to set off to the tee, Barbara Smyth and Mary Sullivan for the Lady Captains and Judith Callaghan and Liz Reid for the Lady Vets.
As it was such a hot day I was waiting on the 9th hole with cold water and squash and as the ladies came through I realised the result would be hard fought, I was not wrong as I waited for the teams to come in on the 18th. First a loss for the Lady Vets then 2 wins, I was beginning to feel very optimistic.
As the ladies came in they were all smiling, they had enjoyed their games, and the company of their playing partners, complimenting each other on the way they had played.
Eventually we went into the dining room where we all enjoyed a wonderful roast meal was enjoyed by all despite the hot day, this was followed by Eton Mess and coffee.
Brickhampton Golf Club was thanked for allowing us to host this competition and the caterers were thanked for such a great meal.
Finally the result was given a win to the Vets 6 and 4. Many of the games were lost or won on the 18th hole. The cup was presented to the Vets Captain by Lorna Sparkes, who is still hoping that one day the Lady Captains will win.
Thank you to all you ladies for such a lovely day which I thoroughly enjoyed.
Rose Hook
Captain North
---
Gloucestershire Vets v Warwickshire Vets
Brickhampton Golf Club on 2nd July 2018
The match took place at Brickhampton Golf Club and we were made welcome immediately on arrival. The weather was fine and sunny but quite a strong breeze made the temperature bearable!
The greens were in very good condition but, as with most courses at the moment, the fairways were slightly threadbare and slick.
As with the previous match against Oxford, Warwickshire ladies only have to be 50 to qualify for the Vets. However, our ladies were not fazed by this and many close matches were played in a good spirit. My partner and I were beaten by a very nice pair who played the sort of golf you could only admire! However, we only lost 1 other match and that was on the 18th green.
The overall result was that Gloucestershire Vets won 3 matches, halved 3 and lost 2, making the final score Gloucestershire 4 and a half, Warwickshire 3 and a half.
Well done ladies.
Megan Mills
Captain of the day
---
Gloucester Veterans v Oxfordshire Veterans
Wychwood Golf club on 25th June 2018
The day didn't exactly have the best of starts when the Oxford captain discovered that the pro shop had us down for a 12.30 tee-off when we were all expecting to start at 10.30! However, after some negotiation and re-organisation from the pro, we were able to start at 11.
The weather was fine, although rather windy, and all the ladies enjoyed the course, which was in excellent condition. All but one of the matches went at least to the 16th green and one finished on the 18th. Anne Crawley had an eagle on a par 5, but we came second by 2 matches to 6.
The Oxford ladies were friendly (and young – 2 were only just 50!!) and we enjoyed the afternoon tea of sandwiches, scones and cake.
Megan Mills
Captain of the day
---
The Millennium Trophy competition has now closed.
Thanks go to the 23 clubs who sent in their results promptly. Eight clubs apologised for a no return three of whom cited torrential rain causing the competition to be abandoned on the same day.
294 ladies entered the competition this year fifty less than in 2017.
Lansdown Ladies played for the first time and as you will with great success!
There was a range of results, but all entrants are thanked for playing.
The Trophy and prizes will be presented at the Vets AGM on 5th November at Cotswold Edge. Congratulations to the winners.
| | | | | | |
| --- | --- | --- | --- | --- | --- |
| Overall Winner | Marian Fielding | 32 | 42 | | Thornbury |
| SILVER | | | | | |
| 1st | Trish Ritchie | 13 | 40 | | Lansdown |
| 2nd | Carol Symonds | 16 | 39 | | Thornbury |
| 3rd | Diane Couch | 14 | 38 | | Henbury |
| BRONZE | | | | | |
| 1st | Barbara Hemmings | 24 | 41 | | Tewkesbury Park |
| 2nd | Janet Howarth | 35 | 40 | c/b 9 | S. Herefordshire |
| 3rd | Angela Gick | 28 | 40 | c/b 9 | Lilley Brook |
Eve Clement
Assistant Competition Secretary

---
Gloucestershire Veterans v Worcestershire/Herefordshire Veterans
Puckrup Hall Golf Club 5th June 2018
This was my first match of the 2018 season held at Puckrup Hall Golf Club. There had been no last minute messages or emails from ladies unable to play so the day dawned well. The weather promised to be good which was a blessing. I arrived at Puckrup hall in good time and very soon all the ladies from both sides were arriving, chatting with friends, getting coffee and bacon rolls and looking forward to the game.
At the last minute I discovered I was needed to play and my clubs were out ready for the game. I had a lovely partner and good opposition playing partners so the game was most enjoyable, relaxing and fun. The course was in lovely condition and I was pleased to have been able to play.
After the match we all sat down for a very enjoyable buffet and everyone was chatting and laughing talking over the game they had played.
At the end of the meal I thanked everyone for coming along and welcomed the Worcestershire Captain Val Evans and the Lady President Ros Weston to Puckrup. Sadly we were beaten again but they were very close games taken to 16th or 17th hole.
Worcestershire/Herefordshire 5 Gloucestershire 3
Rose Hook
Captain North
| | | |
| --- | --- | --- |
| | | |
| A relaxed start, but wrapped up | Ready for the off | A family group |
---
Captains Report of Match Vets v Wilts. 23rd MAY 2018 at Cirencester Golf Club
It was a beautiful day for our first match of the year against Wiltshire at Cirencester. The Chef and staff at Cirencester golf club couldn't do enough for us. The course was in excellent condition. Thank you to all concerned.
We were welcomed by Venetia the club representative who came along to help.
Rosemary, the Wiltshire Captain was unable to stay but welcomed her players and left everything in the capable hands of her treasurer, Dinah. I took along Evelyn Lloyd from Tracy Park who did a worthy job of collecting in and balancing the monies.
Everyone seemed to have a very good game, most of the matches being very close, but we were beaten 5 ½ to 2 ½.
The unusual meal of pork chops and mini fried potatoes, followed by lemon tart and strawberries finished off a beautiful day.
Thank you to all who participated.
Bobbie Woodley (Vets Captain South)
---
Brockworth Salver Wednesday 16th May 2018 at Fitlton GC
On a dry but cool blustery day 126 ladies assembled at Filton GC for the first Vets Competition of the season.
This is the Brockworth Salver which was first played for at Stinchcombe Hill GC in the early 1970s. It was won by a Mrs Mary Walwyn who had been a member of the former Brockworth GC after which the Salver was named. The competition is held annually for the GLCGA Vets Members in May in the North and South of the County alternately. There were ladies from 19 clubs including 21 Supervets (aged 75+). The game was played in good spirits and the results are below.
Grateful thanks must go to the Staff and Members of Filton GC for their help and efficiency on the day – not forgetting Julia Colling, Vets Rep at Filton, for her tremendous support and organisation.
The prizes will be presented at the Vets AGM to be held on Monday 5th November 2018 at Cotswold Edge GC.
Please make every effort to attend and collect your Trophy and Vouchers.
Pat Righton

Competition Secretary
| | | | | | |
| --- | --- | --- | --- | --- | --- |
| RESULTS | | | | | |
| | | | | | |
| OVERALL WINNER | | Vicky Caulfield | | HENBURY | 39 POINTS |
| Division 1 | 1st | Judy Ponsford | | HENBURY | 34 points ocb |
| | 2nd | Yvonne Wesbroom | | B&C | 34 points ocb |
| | 3rd | Denise Laird | | ROSS-on-WYE | 34 points ocb |
| Division 2 | 1st | Esme Mannering | | CHIPPING SODBURY | 37 points |
| | 2nd | Maureen Poole | | HENBURY | 36 points ocb |
| | 3rd | Ruth Kirchmeier | | ROSS-on-WYE | 36 points ocb |
| Division 3 | 1st | Delia Allen | | COTSWOLD EDGE | 34 points |
| | 2nd | Sue Johns | | THE KENDLESHIRE | 33 points |
| | 3rd | Janet Turner | | THORNBURY | 32 points |
| Supervet 75+ | Winner | Diana Hilton | | HENBURY | 35 points |
---
V

ets Reps Meeting Monday 19

th

February 2018 at Cotswold Edge
There was a buzz as club Club Reps met for coffee before the annual meeting of Reps and collected annual cards Sue Johns welcomed everyone to the meeting especially new clubs Alexander Park and Lansdowne as well as Gloucester now a Members Club.
Eve Clements thanked all the Vets Reps for their cooperation and responses to her various emails and attachments.She thanked the Committee for their support and hard work over recent months.
Annette Murfin requested that reps sent subs in one payment by the end of March.

In her absence Pat Righton's report was given by Eve explaining the competitions. In 2018 the handicap limit would be 36 but 37-40 handicapsmay enter off 36. Once start times are issued there are no refunds, but Ladies should try to find a replacement and keep the rep and Pat informed. Results are put on the Vets web site and prizes presented at the AGM in November, so reps should encourage members to attend.
On behalf of Bobbie Woodley and herself, Rose Hook asked reps to encourage ladies to sign up for matches. It would be hoped that every lady would be offered at least one match. Reserves often get the chance to play. Reps were asked to fill in forms carefully especially email addresses. In 2018 there would be Captains of the Day. The captains are pleased to accept match lists as clubs complete them. In 2018 Reps would be sent match lists when their members were playing.

Hazel Blandford was pleased to accept orders for kit by phone, mail or email and whenever possible kit would be available at events. Sue Johns stated that the website is kept up to date with information, events and results.

The revised Constitution, Buggy Policy and General Data Protection Regulation (GDPR) statement had been circulated but there were no questions. In future when Vets were organising venues for events with Club Secretaries they would also notify reps to avoid clashes.
Reps were informed that by the AGMin November nominations would be welcome for a Treasurer, Kit Organiser and Vice-Captain North and asked to encourage their members to contact the committee for more information and then to stand.
Thanks to all who attended and for the kind comments made about the meeting. Thanks also to Cotswold Edge Golf Club for hosting the meeting.
---
Vets' Uniform

To see what our uniform is and how to order please click the link below.

---
AGM 2017 Held at Cotswold Edge on Monday 6th November
On Monday 6th November, Cotswold Edge was packed with Ladies for the 52nd AGM of the Veterans' Section of GLCGA.
Many arrived early and chatted away over coffee and biscuits as they caught up with friends from other clubs before settling down to a smooth flowing AGM with Annette Murfin as Acting Chair and Eve Clement as Acting Secretary.
Members responded positively to Eve's combined report from the committee and the fact that Annette stated that there would be a reduction in subscriptions for 2018 to £1.
The Captains' reports elected plenty of chuckles especially as they emphasised the pleasure obtained at matches with plenty of chat and laughter over the meal table regardless of the weather or results.
After the Committee was elected there was just one new face, Bobbie Woodley, who is welcomed as Captain South, which means job descriptions can now be revamped as needed.
It was lovely to see the spread of Ladies receiving prizes due to the varied nature of our competitions and the splitting into several handicap categories rather than just Silver and Bronze.
Despite suffering from side effects from a flu bug I was still able to enjoy being elected as Chairman and the Committee took note of all the comments made under AOB which were followed up in the Committee meeting held directly afterwards.
Photos of trophy winners who were present are below; the Committee list has been updated and the 2018 fixture list entered.
Chairman Sue Johns
Brockworth Salver

Jean Hardinges

Henbury

Vets' Champions 2017

Barbara Smyth & Lyn Cocking

Cleeve Cloud & Thornbury

Silver & Bronze

Summer Bowmaker Winners

Cotswold Edge

Janet Duberley, Dee Allen

& Elaine Wheeler

Millennium Trophy Winner

Olive French

Stinchcombe Hill
Return to Vets' Section Home Page