Vets Results
Veterans MATCH V GLOUCESTERSHIRE PAST CAPTAINS 12TH JULY 2019 at the PLAYERS GOLF COURSE
Again, a beautiful day. Wall to wall sunshine.
There were a lot of cancellations on both sides making it quite a challenge to get teams, but thanks to the wonderful golf ladies of Gloucestershire teams were assembled with some to spare and all were present on the day, Thank you to all who stepped in at short notice. The bacon baps went down very well,
The intriguing course was made more interesting by the lack of sign-posting due to course alterations, but all players returned to the club-house in time for the meal. Many balls were lost on this day due mainly to the terrain which had a habit of taking your ball far away from where you thought it landed
The highlight of the day was a hole in one at the 6th by Sue Rosbotham. Congratulations Sue. (she didn't even see it go in)
Unfortunately, there was lack of communication within the club and our meat pie and profiteroles turned into roast chicken and chocolate fudge cake, still very enjoyable.
The result was a loss 6 ½ to 3 ½ which sadly also meant the loss of the Rose Bowl Trophy for this year.
Bobbie Woodley (Captain 2019)












Hole in one Sue Rosbotham!


Jackie receives trophy


on behalf of the past Captains


Oldest lady playing Joyce looking very sprightly


after a hot round of golf

---
Veterans Match V Warwickshire at Shirley on 1st july 2019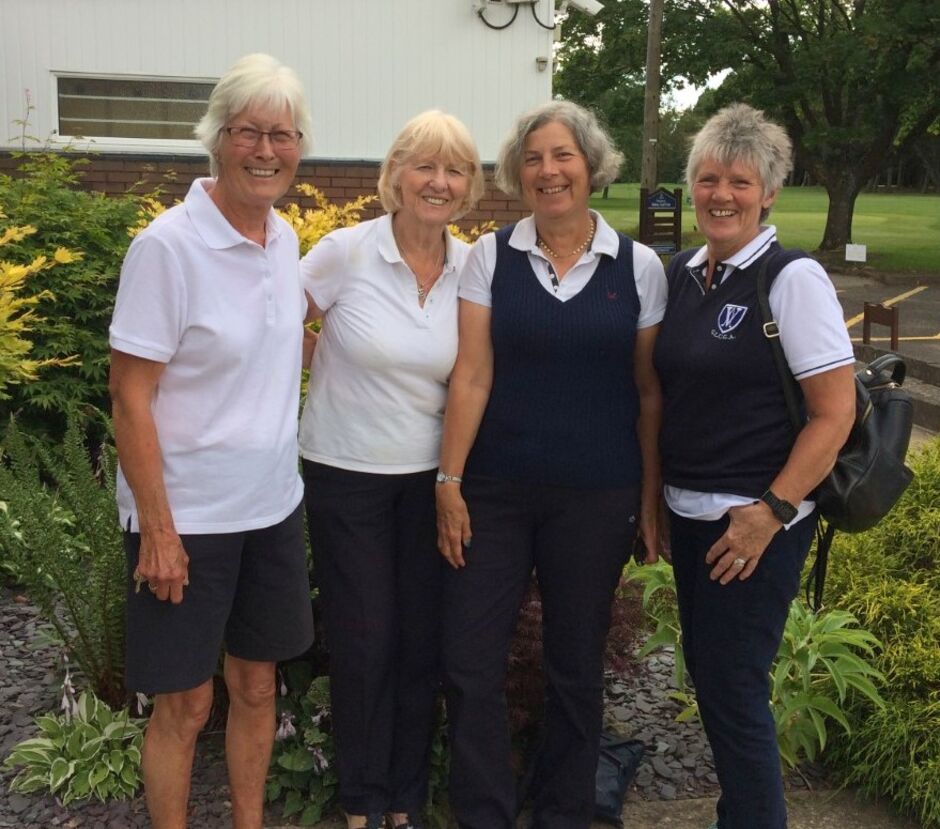 Friendly faces as one match is ready for the off.
The match against Warwickshire was another enjoyable one. The weather was fine but windy. The course was in good condition, but apart from 2 very impressive holes, wasn't as spectacular as some.

Warwickshire Vets only have to be 50 and 4 of them had handicaps of 10 and under, and the highest was 24. I played in this match and one of the ladies played off 9 and was a joy to watch. We lost the match 7 - 1. Two of our pairs halved their matches. The Warwickshire ladies were all very sociable and once more we enjoyed a lovely meal.
Megan Mills, Vice Captain
---
Veterans Match V Somerset at Mendip Spring 27th June 2019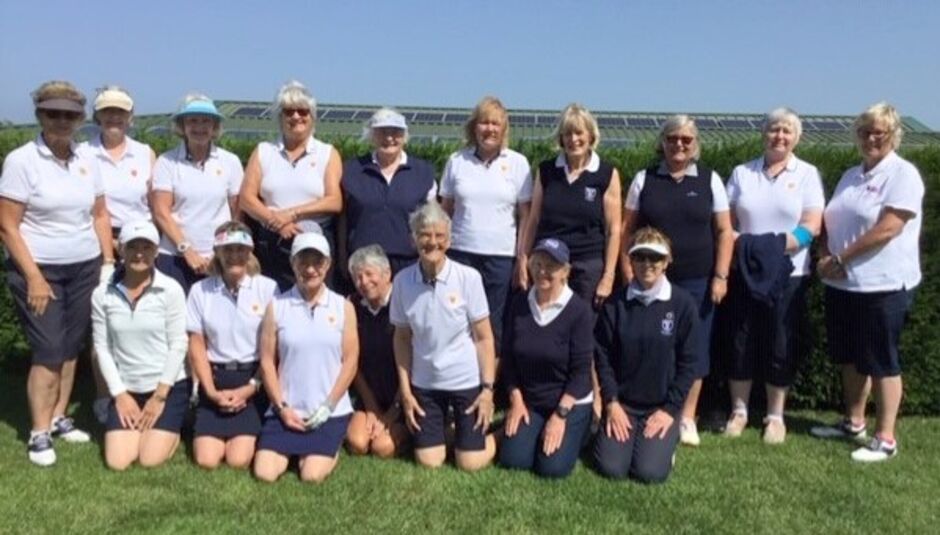 We had a lovely time at Mendip Spring. Everyone was really friendly and all the ladies were chatting with each other right from the start.
I went through a heavy shower on the way and it began to drizzle just as we were about to start, but it cleared up and the match was played in dry but quite windy conditions. The course was in excellent condition and all the ladies enjoyed it. Some found it challenging and many balls were lost! It was our closest match yet although we lost 4 1/2 to 3 1/2.
Bobbie and I didn't play the course but we played their 9 hole course with the captain and lady president.
The most enjoyable day ended with a delicious meal.
Megan Mills, Vice Captain


---
Veterans Match V Oxfordshire at Gloucester 18th June 2019
After many wet days and matches being cancelled I woke up to a lovely sunny morning, checked the BBC weather forecast and yes a shower or two and then cloudy after midday when the match started. How wrong can the BBC get? And they want us to pay for our licences. Even the dog licence was removed permanently.
Gloucester Golf Club were wonderful! Bacon butties were delivered as ladies arrived, and special diets no problem.
Liz Wheeldon, stand-in for the Oxford Captain and I had been conversing over two years and we finally met and were friends immediately.
At noon the first match got underway with the rain. There was the occasional lull but that is how it continued. Well done everyone for playing and coming in so cheerfully.
A special Thank You to Ann Way from Tracy Park who came to help me and ended up playing in the rain because we ended up 1 short. Thank you also to Alexis Hill from Brickhampton who didn't receive my e mail but gathered up her golf clubs and arrived in time to play. She did joke that she wished she hadn't answered her phone. (at least I think she was joking). Everybody enjoyed the course, especially the back 9 which is very challenging. It is now a members' club and Green Fees are only £20 during the week.
The meal of lasagne chips and salad or ham egg and chips, followed by cheesecake or apple crumble went down a treat before Liz announced the winners. We lost 6 and 2.
---
MILLenium Stableford held at clubs during may
| | | | | | |
| --- | --- | --- | --- | --- | --- |
| | | Hcp | Points | | Club |
| OVERALL WINNER | Pam Mallinson | 28 | 43 | | Cirencester |
| SILVER | | | | | |
| 1st | Francis Friend | 19 | 42 | | Broadway |
| 2nd | Lynda Pearce | 16 | 39 | | Cotswold Edge |
| 3rd | Sarah Nannestad | 20 | 38 | | Westonbirt |
| BRONZE | | | | | |
| 1st | Penny Telling | 24 | 40 | | Lansdown |
| 2nd | Carla Peters | 40 | 38 | off 36 | Thornbury |
| 3rd | Sue Marchand | 27 | 37 | | MGC New |
| | | | | | |
| 9 HOLE | | | | | |
| 1st | Catherine Tanner | | 22 | | Chipping Sodbury |
| 2nd | Sheila White | | 16 | | Henbury |
| | Margaret Smith | | 16 | | Chipping Sodbury |
Eve Clements
Assistant Competition Secretary
---
Vets Match v Monmouth Held at Woodlake Park Golf Club on Monday 3rd June 2019
The day began with heavy showers and it looked as if a wet time would be had by all. However, by the time we were due to tee off, the showers had all but disappeared.
We were warmly welcomed by the acting captain and each opposing pair was introduced. It had already been decided that we would play off full handicap, which saved time working out points!
The course was long and challenging and hardly any of the fairways (if any) were flat, but it was in good condition and there were some spectacular holes. The views from all over the course were also spectacular. Although we lost the match 1 ½ to 6 ½ , most of the matches went to the 17th or 18th hole.
We were expecting a one course meal of chicken breast stuffed with cheese and leeks, potato gratin and seasonal vegetables followed by coffee for £10, but they also produced a lovely home made cheesecake for dessert.
I think most of our ladies enjoyed the experience. The Monmouth ladies had never played a Vets, (or seniors as they call themselves), match against another county before and they enjoyed it so much they are looking for other counties to play next year.
Megan Mills
Vice Captain
---
BROCKWORTH SALVER held on Wednesday 8th MAY 2019 at Minchinhampton Old Course
On a very wet day 79 ladies assembled at Minchinhampton Old Course for the first Vets Competition of the season.
This is the Brockworth Salver which was first played for at Stinchcombe Hill GC in the early 1970s. It was won by a Mrs Mary Walwyn who had been a member of the former Brockworth GC after which the Salver was named. The competition is held annually for the GLCGA Vets Members in May in the North and South of the County alternately.
Today there were ladies from 17 clubs including 5 Supervets (aged 75+). Despite the horrid weather all the ladies were very upbeat and cheerful and the results are below. Thanks must go to all at the host Club, Minchinhampton Old, for their warm welcome and willingness to serve all our needs, particularly their Chairman, Eve Clements, who was on the go all day making sure that the whole event ran smoothly. A special mention must go to the 3 Starters who stood out in all weathers to send the ladies on their way.
The prizes will be presented at the Vets AGM to be held on Monday 4th November 2019 at Cotswold Edge GC. Please make every effort to attend and collect your Trophy and Vouchers.
Pat Righton
County Vets Competition Secretary
| | | | | |
| --- | --- | --- | --- | --- |
| OVERALL WINNER | | BRENDA SMITH | CIRENCESTER | 40 POINTS |
| Division1 | !st | Andrea Dawson | Naunton Downs | 37 points |
| H'Caps 0-22 | 2nd | Mel Lee | Cotswold Edge | 34 points ocb |
| | 3rd | Sue Rosbotham | Minchinhampton Old | 34 points |
| | 4th | Amanda Chong | Rodway Hill | 33 points |
| Division 2 | 1st | Jackie McCarthy | Tracy Park | 38 points |
| H'Caps 23-36 | 2nd | Jackie Lemin | Thornbury | 34 points |
| | 3rd | Fran Andrews | Broadway | 33 points |
| | 4th | Jan French | Rodway Hill | 31 points |
| Supervet 75+ | | Megan Mills | Cotswold Edge | 26 points |
---
Vets Reps Meeting Monday 4th March at Cotswold Edge
On Monday 4th March the committee met with 28 Vets representing their clubs for their annual meeting. There were several Reps attending for the first time. After coffee Chairman, Sue Johns, welcomed everyone and introduced the Committee. The committee then outlined their roles and the links with reps.
Secretary, Eve Clements thanked Reps for their support already in 2019 and hoped that paperwork had been printed satisfactorily, queries addressed that the Guidelines are self-explanatory. Hard copies of paper work can be sent on request. Members cards had all now been received by clubs and more were available when needed. The status of Vets NQ under the World Handicap System is being investigated by England Golf
She thanked the Reps for being a valuable link between members and the Committee and they were welcome to contact her with queries as they arise.
Treasurer Yvonne West reported thatsubs are due by 31st March but this does not preclude additional ladies joining during the year. Members lists can be sent in on a spread sheet if it helps
Competitions Pat described the Vets competitions , two at home, three trophy competitions on host courses and one 9 hole event.
Silver players are up to 20 handicap and Bronze players 21-36 . Ladies with handicaps 37-40 may enter but play off 36.
Once the Start Times have been sent out there are no refunds so players are asked to find a replacement but please let Pat know of the changes .
Reps were asked to be very clear when copying out the email addresses and other details of the ladies entering the Competitions. Please give Christian names.
Prizes are presented at the AGM in November, so Reps are asked to encourage Ladies to attend.
Captain Bobbie invited reps to encourage ladies to play in matches and submit lists to her or Vice-Captain Megan by 31st March. They would then meet to sort teams and give everyone at least one game.
Sue reported that the County Website is undergoing an update which will include the Vets pages..
Kit orders can be sent in at any time. A small stock of kit will be held but orders supplied to order.
A lively question and answer session followed including a request to introduce new 9 hole competitions along side the home competitions. The committee is working on the fine detail and reps will then be informed
A list of closing dates for events has now been sent to Reps.
If anyone requires more membership cards to please advise the secretary..
The Website will be updated with details of trophies asap
The Buggy policy remained as in 2018
The meeting closed at 12 noon with we hoped Reps leaving with a clearer idea of their responsibilities than when they arrived.
---


AGM 5th November 2018 held at Cotswold Edge Golf Club
On Monday 5th November, Cotswold Edge was busy with Ladies for the 53rd AGM of the Veterans' Section of GLCGA.
Many arrived early and I was able to welcome many of them as they arrived and they enjoyed the opportunity to chat with ladies from other clubs before settling down to an AGM which informed them of the progress made this year with updating the various policies as well as of the meetings the committee had attended.
Due to the fact that a couple of the committee were absent Eve read their reports and the chair thanked them in their absence.
The North Captains' report had plenty of chuckles included, especially as Rose recalled Bobbie's "pink hair day" and summed up her busy year as lead captain, the difference this year being that Megan had been captain of the day on a couple of occasions, a new trend that is hoped to be used more in the future.
After the Committee was elected there was warm welcome for Yvonne West from Chipping Sodbury as our new treasurer and Megan Mills became Captain North, becoming in fact, Vice captain so she can learn the ropes from Bobbie. This should smooth the path for future ladies joining the committee and unite the county vets under one umbrella.
Thanks were given to the retiring committee members, Annette Murfin, Hazel Blandford and Jacky Watson for their contributions to the Vets' Section whilst in office.
It was lovely to see the spread of Ladies receiving prizes due to the varied nature of our competitions and the splitting into several handicap categories rather than just Silver and Bronze. Our new clubs Lansdown and Alexander Park both featured in the prize winners and all competition winners are listed in the results below in the order they were played during the year, latest first.
Photos of trophy winners who were present are below; the Committee list has been updated and the 2018 fixture list entered on the website so please refer to those for planning your 2019 diaries.
Thank you to all who attended.
Chairman Sue Johns
​

Summer Bowmaker - Painswick ladies

Angela Woodward, Lorna Sparkes, Sarah Taylor

Autumn Trophies - Winners

Gross - Barbara Smyth - Cleeve Cloud

Bronze Gross - Val Bland - Alexander Park

Home Club Competitions -Winners

Muriel Button - Carole Hatherley- Westonbirt

Millennium Trophy - Marian Fielding -Thornbury

Brockworth Salver

Overall Winner - Vikki Caulfield - Henbury



---