2022 GGG STABLEFORD & card marking competition Results


#2 GGG stableford & card marking day, 22 may - long ashton golf club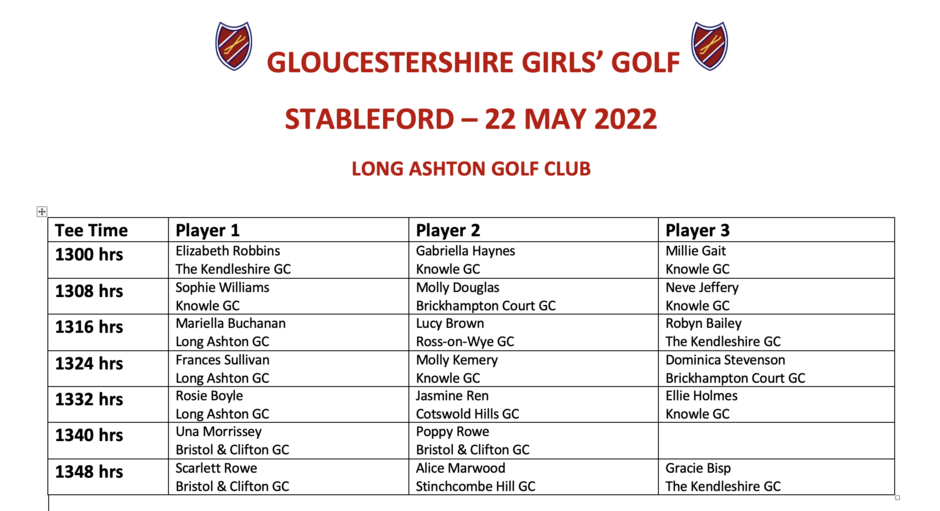 #1 GGG STABLEFORD & CARD MARKING DAY, 10 APRIL - ROSS-ON-WYE GOLF CLUB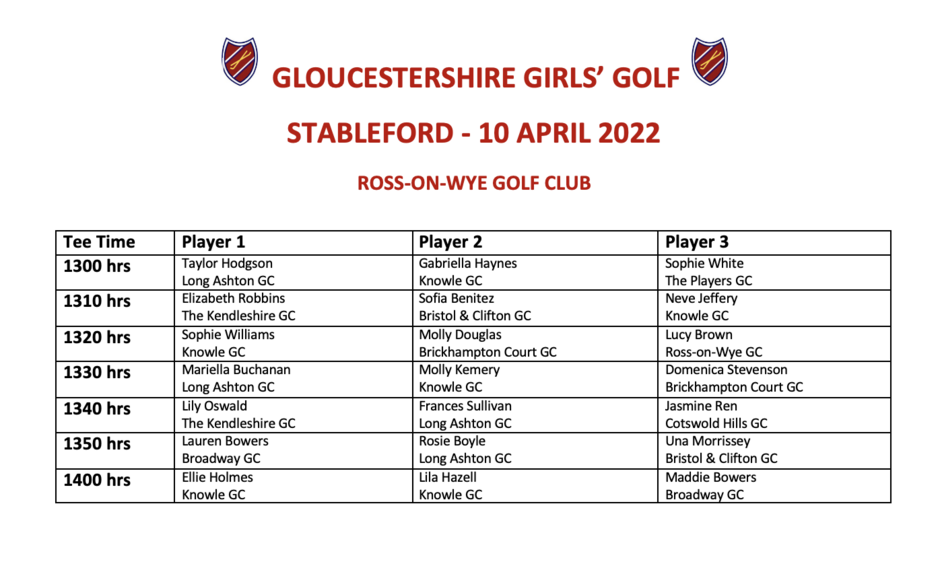 LEFTIES RULE AT ROSS-ON-WYE!
After two years of having to cancel our visit to Ross-on-Wye GC for our stableford competition due to the pandemic, we eventually got there and we weren't disappointed! The weather was glorious, the course was stunning and the food and drink was thoroughly enjoyed by everyone.
Many of the girls had never played Ross-on-Wye GC and they loved the course with its undulations and tree-lined fairways. The scores certainly showed that they felt comfortable, with some of the girls playing way under their handicaps in the first competition of the season for Gloucestershire Girls' Golf.
In Division 1, leftieTaylor Hodgson of Long Ashton GC scored 41 stableford points, followed by Sophie Williams (Knowle GC) with 38 points, and Sofia Benitez of B&C GC came 3rd with 35 points on c/b from Frances Sullivan of Long Ashton GC.
In Division 2, it was the final group that brought in the winner with Ellie Holmes (also a left handed player) from Knowle GC who scored the highest stableford points with a phenomenal 45 points to pick up the win, followed by Una Morrissey of B&C GC who was runner up with 38 points on c/b from Rosie Boyle of Long Ashton GC.
Congratulations to all the winners and to all the players, on completing the first of the stablefords for the 2022 season - it looks like it's going to be a great season!
Thanks go to Ross-on-Wye GC, to the management team and the club's members for allowing us to play the wonderful course, to the greenkeepers who maintained the course in tip top condition, to the catering and bar staff who kept not only the girls fed and watered but the parents/chauffeurs who travel and support the girls and to Mike Jeffery who was our starter for the day.
For full results go to:
https://www.glcga.co.uk/competition.php?compid=3353
#2 GGG Stableford & Card Marking Day, 22 May - Long Ashton Golf Club
#3 GGG Stableford & Card Marking Day - 17 July - Shirehampton Park Golf Club
#4 GGG Stableford & Card Marking Day - 14 August - Lilley Brook Golf Club
#5 GGG Stableford & Card Marking Day - 18 September - Minchinhampton Golf Club