Our History

Past & Present
We have a great history!
One of our clubs, Minchinhampton, was amongst the six which met in London in 1892 to discuss the formation of a ladies' golf union…. many years before our male counterparts were successful in making a similar move.
It was a Gloucestershire girl, Lady Margaret Scott (pictured left),

who won the first British Open in 1893.

When the National County Club was formed in 1900, Gloucestershire

was one of the fourteen clubs listed. And here is that original list!
So by the turn of the century ladies' golf was alive and healthy in Gloucestershire. We had produced a champion and were well involved with the organisation of the game.
Originally the purpose of a County organisation was solely to promote a County team. But very quickly competitions were introduced to cater for the club golfer as well as the elite. They were social as well as golfing occasions ….. after all, golf was the fashionable game! Now we have a number of County competitions offering enjoyment for all sections of our membership, including our thriving Girls' section.
Our first official Minutes in 1903 showed just 20 members, representing a handful of clubs. We now have 37 affiliated clubs. Delegates from those clubs meet four times a year. Those delegates do not simply listen to reports and nod their heads, they are voting members. They shape the policies and agree, or otherwise, the county spending.
Geographically ours is a large county, although, numerically, we are comparatively small. So we are justly proud of the number of our players who have, over the years, been selected for our National teams.
We are proud too of our contribution to the 'management' teams – amongst them Peggy Reece and Jenny Clink each of whom served as Chairman of ELGA.
Jenny Clink has recently taken office as the 2019 President of England Golf.

The Centenary Fund was set up by The Association in order to be able to help Club members (over 18 years of age) who may need some financial assistance in continuing to play golf.



| | |
| --- | --- |
| | |
| Peggy Reece | Jenny Clink |
If this has whetted your appetite for things past – take a look at our centenary book 'A Celebration ….. of Ladies' Golf in Gloucestershire', published in 2003, price £10, and available from your County delegate or direct by emailing administrator@glcga.co.uk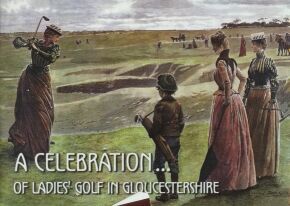 Please click below for a history of our County Officers
uploads/glcga/File/2019 documents/County Officers History (2).xlsx