Our History
Past & Present
We have a great history!
One of our clubs, Minchinhampton, was amongst the six which met in London in 1892 to discuss the formation of a ladies' golf union…. many years before our male counterparts were successful in making a similar move.
It was a Gloucestershire girl, Lady Margaret Scott (pictured left),

who won the first British Open in 1893.

When the National County Club was formed in 1900, Gloucestershire

was one of the fourteen clubs listed. And here is that original list!
So by the turn of the century ladies' golf was alive and healthy in Gloucestershire. We had produced a champion and were well involved with the organisation of the game.
Originally the purpose of a County organisation was solely to promote a County team. But very quickly competitions were introduced to cater for the club golfer as well as the elite. They were social as well as golfing occasions ….. after all, golf was the fashionable game! Now we have 18 County competitions offering enjoyment for all sections of our membership, including our thriving Juniors' section.
Our first official Minutes in 1903 showed just 20 members, representing a handful of clubs. We now have 38 affiliated clubs. Delegates from those clubs meet four times a year. Those delegates do not simply listen to reports and nod their heads, they are voting members. They shape the policies and agree, or otherwise, the county spending.
Geographically ours is a large county, although, numerically, we are comparatively small. So we are justly proud of the number of our players who have, over the years, been selected for our National teams – the latest being Shelby Smart, selected for the Girls' Home Internationals with Bethan Popel as reserve.
We are proud too of our contribution to the 'management' teams – amongst them Peggy Reece and Jenny Clink each of whom served as Chairman of ELGA.
| | | |
| --- | --- | --- |
| | | |
| Peggy Reece | | Jenny Clink |
If this has whetted your appetite for things past – take a look at our centenary book 'A Celebration ….. of Ladies' Golf in Gloucestershire', published in 2003, price £10, and available from your County delegate or direct by emailing admin@glcga.co.uk or j-may3@sky.com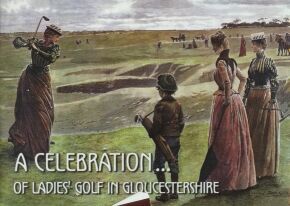 ---
County Officers 2014
Jennifer May

President

Annette Murfin

Chairman

Carole Stratford

Vice President
Debbie Casling

Secretary

Liz Finch

Acting Treasurer

Eve Clements

Chairman GGG
Jan Pickersgill

Captain

Corrinne Durber

Vice Captain
APPOINTED OFFICERS

Caroline Shepherd

Training Officer

Vicky Watkins

SW England

Golf Representative

Sheila Whybra

Handicaps Advisor

Lorna Sparkes

County Golf Partnership Representative

Gail Howells

County Golf Partnership Representative

Alexis Hill

Minute Secretary
---
Show Your Support for the County and our Teams

.....
Wear the Badge!
Some years ago -- at South West County Week held at Wrag Barn in 2005 -- our very good friends on the Wiltshire Team nicknamed our County Team The Gloucester Old Spots. The name stuck -- remember the photographs of the 2011 County Finals at Thorndon Park and again at East Devon in 2012 -- pigs on players' bags, pigs peeping from their pockets, pigs everywhere!
Now we have a Gloucestershire Supporters' lapel badge .... a burgundy pig with white spots.
So, how about showing your support for our county by wearing the badge?
The cost is £3 each. Ask your County delegate about them or contact The Secretary or Jenny May
email administrator@glcga.co.uk