Seniors
2021 RESULTS:
GLCGA Seniors v GGU Seniors

Knowle Golf Club - Thursday 15th April 2021
| | | | | |
| --- | --- | --- | --- | --- |
| 1.30pm | Jane Rees & Linda Carruthers | 5&4 | Brian Mitten & Darryl Wheeler | |
| 1.38pm | Alison Kelly & Emma Brereton | | Steve Yorke & Vernon Chappel | 2&1 |
| 1.46pm | Karen Rix & Paula Crabtree | 1up | Rich Wood & John Wright | |
| 1.54pm | Jan Pickersgill & Corrinne Durber | 1up | Bob Broad & Nick Morris | |
| 2.02 | Wendy Bond & Caroline Shepherd | A/S | Steve Prosser & Phil Graham | A/S |
Match Result - Won 3 1/2 - 1 1/2

Our season opener was a very friendly but well-contested match at Knowle versus the County senior men. Captain Nick Morris had requested a 4 Ball after such a long lay-off during the Covid lockdown, and we happily agreed if we could play handicap as we can never field as many very low players as they do. There was a bit of shock at the mandatory shots for the ladies for the difference in standard scratch but it was all agreed so off they went to the 1st tee.
I caught up with the first match on the uphill 4th just in time to witness Jane chipping to a tap-in par … and then Linda chipping in for a birdie 3! Brian and Darryl were already looking a bit desperate and it was clear that Jane was on form and Linda was a wild card on her current handicap. Another highlight on the 4th was Wendy's long putt from the back of the green to clinch a par.
Knowle is a hilly course and hard to get to grips with unless you have distance, high carry and accurate approaches which our team demonstrated in abundance. Most of the matches were real dogfights on handicap and the result was a testament to their grit and determination as the men know the course very well.
The lovely takeaway cafe on the clubhouse patio provided much needed refreshments and the chance for a bit of much-missed socialising - albeit only in our separate groups. Sadly no photos this time due to Covid rules precluding getting up close and personal.
Frances Lindley
Co-Captain
Gloucestershire Senior Ladies' Golfing Society GSLGS

The Seniors Section is for players over 50 who are interested in scratch matchplay in Medal, Foursomes and Greensomes formats. Originally created for 1st and 2nd team ex-county players for the SW Inter-County Tournament, the Section is now open to any member of a GLCGA affiliated club over 50 who is keen to continue playing scratch team golf - selection to be made on handicap and availability.
2019 results:


1. Match vs. County Senior Men - Cirencester Golf Club - Friday 31st May 2019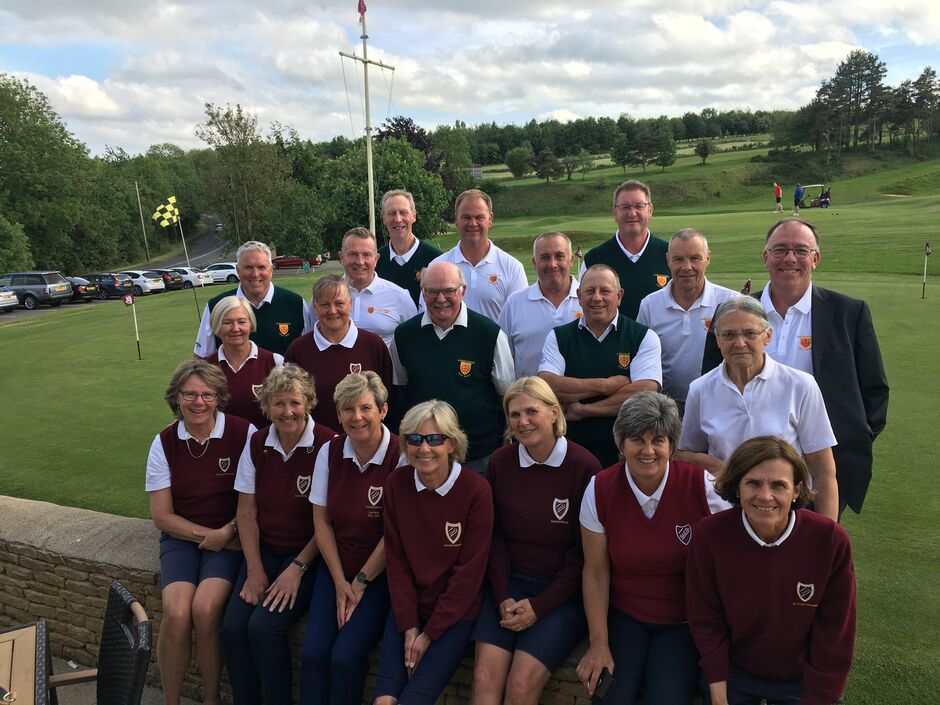 "A reversal of fortunes this year as we agreed to have a change of format and play a 4bbb stableford match play game. The weather was kind to us, albeit a bit overcast and slightly muggy, and it wasn't until we were consoling ourselves with an after match drink that the sun finally came out. Nevertheless it was a very enjoyable match played in good sprits with a lot of keen banter. Bizarrely it was their 'slightly ineligible' ringer in Tim Clink partnered with Malcolm Lewis that gave us our only victory!
Next year we hope to have this fixture a bit earlier in the season so that it gives us a good pre-season warm-up rather than being in the middle of the year when it tends to clash with other fixtures. It remains to be seen whether we keep the same format though!
My thanks go to all the players for putting up a good fight and to Cirencester Golf Club for being such good hosts and allowing us courtesy of the course which was in fine condition and a credit to the greens team. I can certainly recommend the profiteroles!"
Results
Ali Kelly & Jane Rees Lost Bob Broad & Vem Chappell 4&3
Su Worthington & Pam Tozer 4&3 Won Tim Clink & Malcom Lewis
Lousie Church & Paula Crabtree Lost Hugh Purvis & Carl Glyde 5&4
Corrinne Durber & Karen Rix Lost Steve Prosser & Steve Pope 4&3
Frances Lindley & Carolien Shepherd Lost Rob Stephens & Phil Graham 5&4
Karen Rix
Captain
30/05/19
2 . FOURSOMES EVENT FOR THE ARMADA SALVERS - Stinchcombe HILL GOLF CLUB - 24TH JULY 2019
The annual friendly get-together for a one day foursome stableford (hi/lo combination) event for all those interested, regardless of handicap - A great opportunity to reminisce and catch up with old friends!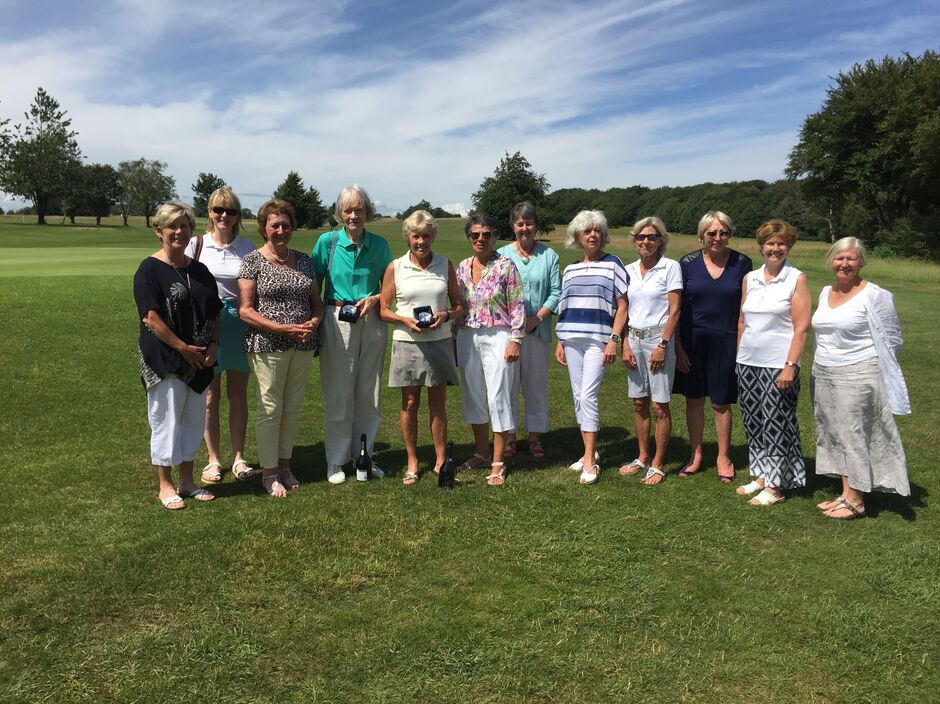 A small but perfectly formed group of ex-County Senior Ladies got together at Stinchcombe Hill GC today to play the annual friendly hi-lo foursomes for the Armada Dishes, presented by Val Sprott. (Loving that pose Glo!)
Ann Manley from Henbury GC and Marion Jackson from Bristol & Clifton GC were the winners with 34 points followed closely by Alison Hooper from Henbury GC and Frances Lindley from Minchinhampton GC on 33 points. We were unfortunately missing several players through injury and fears over the hot weather but I have to say the Club looked after us extremely well and our early start at 9.30 and quick round in just under 3 hours meant that we were in and admiring the lovely weather from the very nice shade of the bar before it got too hot! Not bad for a bunch of oldies!
Karen Rix
Seniors Captain - 24/7/19

3. Match vs. Worcestershire & herefordshire Seniors - at Ross-On-Wye Golf Club - 5th August 2019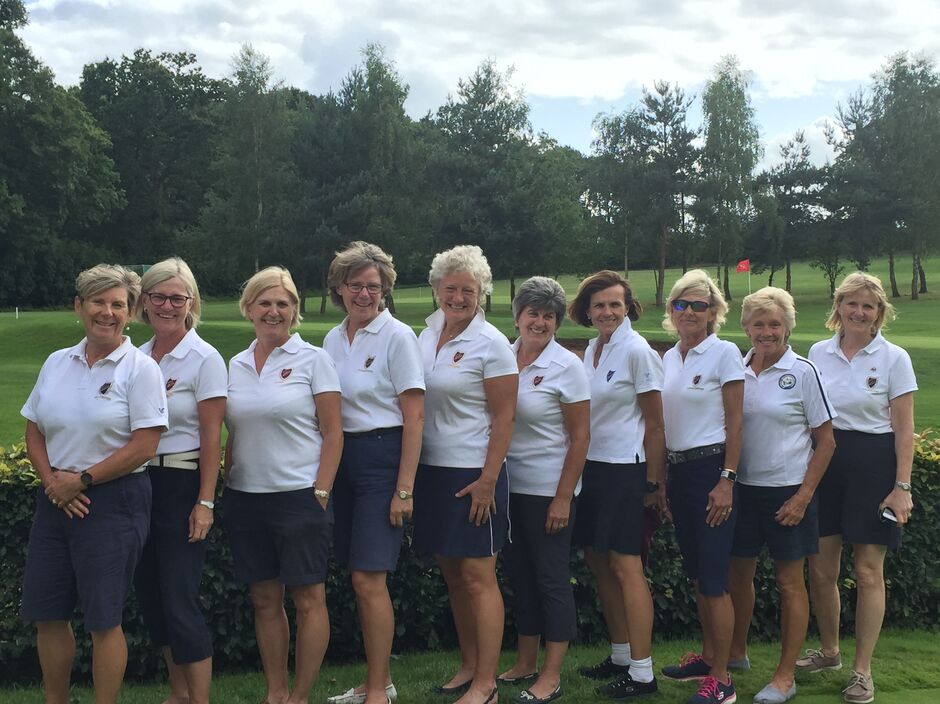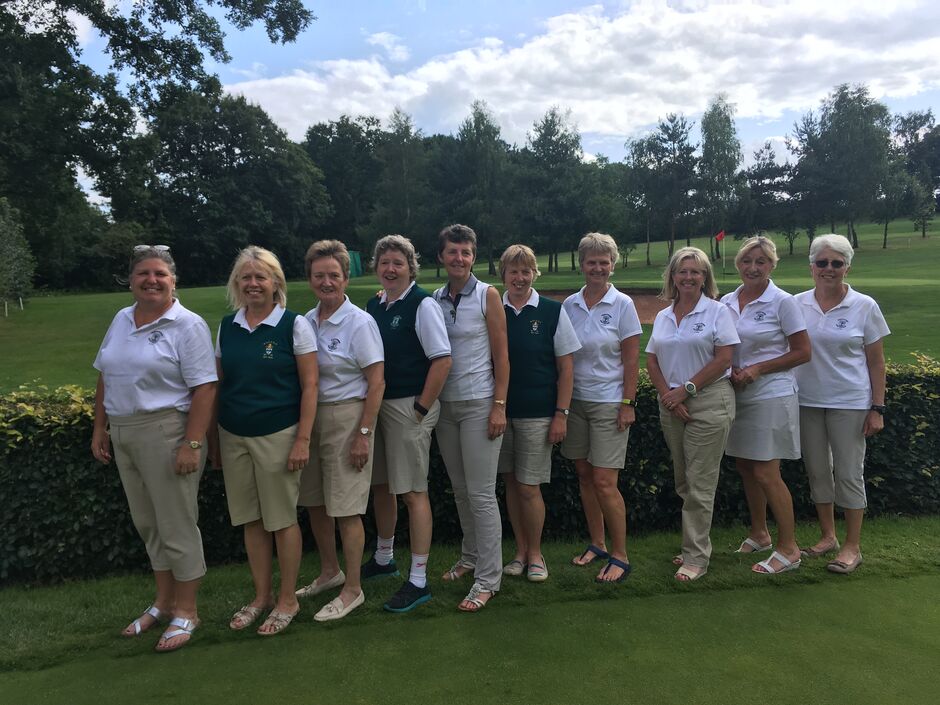 Team Gloucestershire Team Worcestershire & Herefordshire
This was our first ever 'Seniors' fixture against Worcestershire & Herefordshire and it was a really pleasant surprise for me as Seniors Captain to find out that my opposition Captain had also been my opposition 1st team Captain back in 2011/12. So, it was only fitting that we played together and did a lot of catching up.
As we had all travelled a long way we felt it better to opt for a Greensomes format but taking a minimum of 6 drives each so we all got more of a game. Ross was in lovely condition and the weather was just right so it was a perfect day for our first encounter.
The first pairing of Corrrine and Caroline were up against their best pair with Denise being a home player and the local knowledge paid off as they were victorious 3&1.
Paula and Emma had a closely fought match coming home winners 2&1 and Andra and Ali fought all the way to the last halving their match. Ann and Louise and Jan and I both managed good wins on the 16th, cleverly avoiding the trek up the last hill on the 17th.
Mine and Jan's match in particular had a major highlight on the 7th as 2 very close tee shots from us (which would have got at least one 2!) was trumped by Angie Taylor's hole in one. A big thank you goes to their Lady President who organised a glass of celebratory fizz for us all after the match.
All in all, it proved a very interesting and enjoyable day as we now understand how vets/seniors work in the Midlands areas and our fixture for next year has already been booked for Sunday, 5th July at the Herefordshire where I am sure next year the H&W ladies will be up for revenge!
Interestingly their matches are normally 8 pairs a side so I will be needing more players next year so all you over 50's who fancy playing scratch matchplay please let me know!
Karen Rix
Seniors Captain - 6/8/19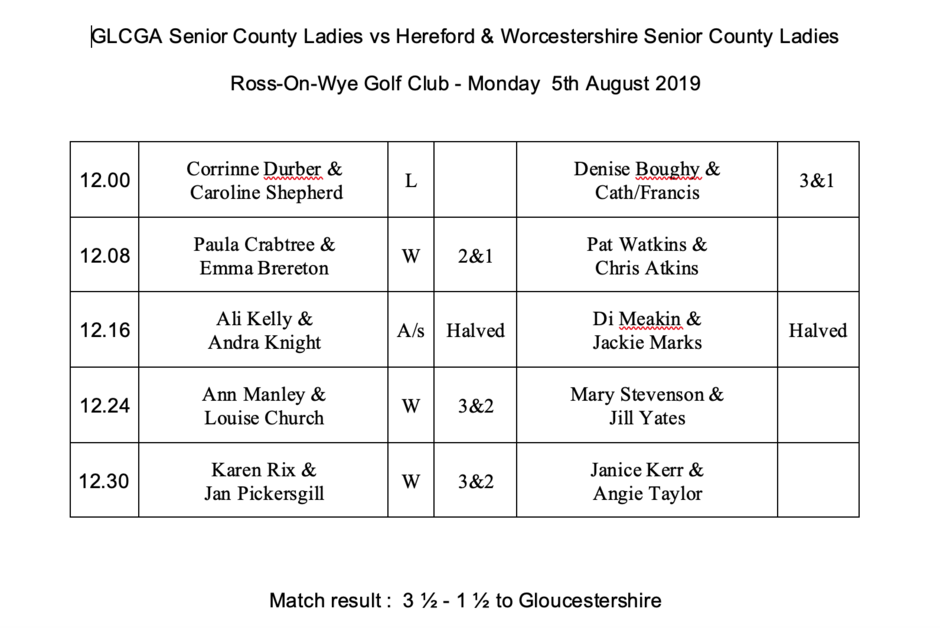 4 . South West County Three Day Event - at Torquay Golf club on 30th September/1st/2nd October
A round robin event against the other South West Counties with 3 scratch foursomes matches played morning and afternoon on the Monday and Tuesday and finishing with the last match on Wednesday morning, followed by a trophy presentation.
I will do my best to contact by email all those that are eligible, to ask for availability at the start of the golfing season. If you feel I have missed anyone off the list please feel free to contact me on : rix.ashworth@blueyonder.co.uk or 07831 895284.
Kind regards
Karen Rix
GLCGA Seniors Captain
Seniors 6 Counties at Torquay Golf Club

Unfortunately the Seniors or Elderberries as some like to call us did not fair as well as the girls at Delamere. Devon were hosting the tournament at Torquay Golf Club and a more friendly welcome we could not have wished for. The weather was biblical in parts but we managed to complete which was a miracle and we were all impressed with condition of the course and how it held up in view of the amount of rain that fell. I think the gale force winds at other times helped!
Our first match was against current holders of the 'baffie' for the previous 2 years, Dorset, which we narrowly lost 2-1, with one match going down the 18th. We then won against Devon, with another match going down the 18th. We then finally lost out to Wiltshire with 2 matches going down the 18th. All very close stuff. Devon, however overturned Dorset in their last game on Tuesday and as Wiltshire had halved with Dorset, Devon were the overall winners and we got the wooden spoon :( However it is some consolation that we were the only ones to bet the winners!

We were also unfortunately missing 2 teams this year in Somerset and Cornwall as the lack of 'ex County' seniors that want to play is drying up due to the sheer success of the junior development programmes going on in the counties (and long may that continue!). Therefore we have as a group now finally decided that we will open this up to all seniors over 50 wishing to take part in competitive scratch foursomes golf regardless of whether they have or are still playing mainstream 1st team golf. We hope therefore that next year will will back to a full 6 counties taking part.