Vets - News & Results
Brockworth Salver - All Tee times are also in the Dairy for the 17th of May
BROCKWORTH SALVER at Forest Hills on 17th MAY 2022

9.02 Carol Brain Lydney Janie Thomas
9.10 Shirley James Forest of Dean Jane Baldwin Angela Turnell **
9.18 Rose Hook Rodway Hill Diane Hawkins Eileen Martin
9.26 Ruth Onions Rodway Hill Jill Keates Barbara Forward
9.34 Sefton Hooton Rodway Hill Amanda Chong Marilyn Alberts
9.42 Jennie Field Rodway Hill Alison Miller Melinda Sprake
9.50 Jan Hollingworth Alexander Park Julie Crisp Siobhan Hickie
9.58 Mary Sullivan South Herefordshire Jill Wargen Lynn Relph
10.06 Tracy Price South Herefordshire Sue Rosbotham Minchinhampton Old Gill Miles
10.14 Liz Finch ** Brickhampton Court Sue Bosket ** Viv Pitts
10.22 Evi Harrison Brickhampton Court Sue Lear The Kendleshire Helen Cole
10.30 Liz Allen Cirencester Liz Dodd Chris Moylan
10.38 Deborah Davis Naunton Downs Barbara Watson Judy Parry
10.46 Gill Ashton Naunton Down Sue Parkinson Hazel Day
10.54 Debbie Pringle Cotswold EdgeMegan Mills ** Mary Griffiths

11.02 Michelle Craker Cotswold Edge Janet Duberley ** Hilary Paveley
11.10 Jackie Emerson Cotswold Edge Anne Crawley Stinchcombe Hill
11.18 Pat Spencer Minchinhampton New Sue Sturman
11.26 Maxine Allen Minchinhampton New Caroline Banks Pat Bugby
11.34 Margo Petkovic Minchinhampton New Sue Reid Kaye Rosser
11.42 Jan McCartney Cleeve Hill Carole Lloyd Judith Callagham **
11.50 Chris Park Cirencester Muriel Telling Deb Mills
11.58 Judith Elford Henbury Sheila Smith-Justice ** Jean Hardinges
12.06 Joan Igglesden Henbury Yvonne Jorden Hilary Barnes
12.14 Cheryl Sinnett ** Henbury Doris Culpan Jan Schollar **
12.22 Sue Johns ** The Kendleshire Brenda Oxford Sue Flower
12.30 Brenda Cochrane Thornbur Gill Brooks Prue Taylour
12.38 Carla Peters Thornbury Arlene Main Delia Rees
12.46 Bobbie Woodley ** Tracy Park Ann Way Judy McKeating


Gloucestershire Ladies County Golf Association
Veterans' Reps Meeting 14th February 2022
Eve Clements opened the meeting explaining that in the absence of a Chairman the Committee is sharing the meeting to explain their roles. Eve welcomed everyone especially the new Reps and thanked Stinchcombe for hosting. The Committee were introduced, and Reps were reminded that new ladies to join the committee were sought to take on a role, currently a Web manager immediately and a Treasurer for November 2022.
Eve thanked the committee for their diligence and said it is a small Committee, who express opinions and share ideas always with the Reps and Vets interests at heart. They communicate and work well together. The Committee spoke about their roles.
Secretary said Reps are the very important link between the Membership and the Committee and are appreciated for their support. She hoped they felt supported by the Committee. 2022 paperwork had mostly been circulated so Reps should be set up for 2022. Hard copies of paperwork have been sent on request and questions answered.
Members lists can be sent in on your spread sheet or the one provided. As we did not collect this information in 2021 due to prevailing conditions, this is particularly important to be received by March 31st, 2022. Of course, we welcome new members throughout the year. Membership cards have been replaced by a double-sided page that can be emailed to members.
Following the AGM the committee has agreed that divisions for Pat's competitions played on the day will remain in equal divisions dependent on entry but the only way to fairly manage competitions played at home is to retain the 20.5 boundary. The Committee felt it is important to give the World Handicap System a 'proper' year to settle before making changes on handicap limits.
A thank you letter has been received from the GGG Junior Organiser for the Vets gift of £250. This is to be matched by a benefactor. Outstanding colours were awarded for playing in 4 matches.
The latest challenge around match costs would be addressed later.
The 2022 AGM is at Forest Hills on Monday 7th November.
Treasurer, Yvonne West, There has been little movement in the accounts since the AGM, mainly administrative costs, uniform income and expenditure, and one club has successfully paid their subs on line. It is most important as we move into subs / competition entries payments that all entrants and reps follow the guidance issued regarding club identification and competition reference codes when paying online. Any problems please get in touch.
Competition Secretary, Pat Righton sought forgiveness from those who had heard her message before. The Competitions are all Non-Qualifying.
The Brockworth Salver – an Individual Stableford played in 3s to be held on Tuesday 17th May at Forest Hills GC.
The Summer Bowmaker – teams of 3 with the best 2 scores to count, to be held on Thursday 11th August at Chipping Sodbury GC. Teams may be mixed from more than one club. This year prize money will come from Vets funds so the cost for this Competition will be £12 pp.
The Autumn Trophies – an Individual Medal with a Stableford element included, played in 3s, to be held on Wednesday 14th September at Cirencester GC.
In the Brockworth Salver and the Autumn Trophies a Supervets Section for the Over 75s. is included. Please highlight these Ladies on the Entry Forms. Entries for all 3 Competitions close 4 weeks prior to the Competition itself ie 17th April, 11th July and 14th August. The number of prizes is dependent upon the number of entries.
Starting times will be sent to Reps 3 weeks before the date of the Competition and they are requested to advise ladies accordingly. Once start times have been announced there will be no refunds if anyone drops out. Please urge your ladies to try and find their own replacements and let Pat know their details asap. Do not worry if clubs do not have 3 ladies to enter together as there are often single and double entries to match up with.
Ball draws will continue as previously at £1 per ticket. Please bring cash with you for these
If clubs are sending in Entries several months in advance it is in order to postdate cheques to the closing date as cheques are banked when the Competition has closed. Anyone needing to phone Pat on her home number should be aware that BT Call Guardian monitors her calls
She reminded Reps to complete their own details at the top of all the Entry Forms and to remind Ladies to give the name of their Club if sending individual entries. Instructions for paying by BACS are included on all the Entry Forms and these should be on Vets Notice Boards together with Club Codes to assist with the Banking process.
Assistant Competition, Secretary Eve Clements, manages the home based Millennium Stableford Trophy played in May and Muriel Button Medal played in July. Entry does vary and is weather dependent. It is useful if clubs can schedule these early in the month so there may be an alternative date if bad weather overtakes the planned date.
9-hole competitions run alongside the 18- hole competitions and this is growing. It serves to encourage ladies to keep playing, as well as new ladies and those experiencing temporary difficulties and provides an opportunity to be involved in the Vets. It has brought in new Vets and does make us more inclusive.
For those not yet playing 9-hole competitions it is very simple for clubs to register these with England Golf and receive a 9-hole handicap index. Usually, the front or back 9 but it can be a combination of holes.
Thanks to Reps for getting results to Eve by the 8th of the following month. Non returns are helpful. In the last two years systems at clubs have changed and more money is coming from Clubs. Please indicate on your returns if the money is to follow.
The 9-hole Vets competition returns to Rodway Hills in 2022 on Thursday 22nd September. It is a small event but with Vets support could grow! We meet, play 9 holes have coffee and cake, a presentation and enjoy good company. If it encourages more ladies to come along teams of 3 can include an experienced player.
Captain Megan Mills is responsible for organising matches, picking teams and keeping in touch. She thanked Chris Park for arranging the matches and trying to get good deals. In 2022 matches will be at Stinchcombe, Clevedon, Minchinhampton Old, Gloucester, Lilley Brook, Forest of Dean, Tracy Park and Solihull .
In 2019, 130 ladies from 23 clubs signed up, in 2021 there were 80 ladies from 19 clubs, so we hope for a better response in 2022. She requested that once asked to play in a match confirmation was sent within 10 days.
Megan re- emphasised points she had raised at the AGM.
(a) When you sign up for matches, would you please put the dates in your diary, even if you are named as a reserve, and if you find, during the year, that you are no longer able to commit yourselves, please let Megan know.
(b) Everyone is assured of at least one match, but it would be easier if Ladies signed up for at least two, stating your preference. It would be helpful too if everyone could put their order of preference in the matches they choose.
(c) If you are unable to play, please let Megan know rather than ask someone at your club to take your place. There may be a reserve waiting and eager to play.
(d) Please ensure that names, contact numbers, and email addresses are correct and legible. An omitted dot, underscore or hyphen can make a difference!
Please encourage your members to sign up for matches. They are friendly matches and a good opportunity to play on different courses and make new friends. Megan looks forward to seeing and playing with Vets in 2022.
The Website has been updated by Sue Johns on the GLCGA site. A Manager is sought to enter results and news throughout the year. Training and support are available.
Kit Manager Judith Elford had been welcomed to the committee and was thanked for the enthusiasm she is injecting. Kit can be purchased in single units.
Match meals Reps had been made aware in advance of rising costs and changes in club policies towards these events and asked to gain opinions about what is required by players. Matches are important and there had been a sympathetic response. There had been a delay from clubs to get prices and a significant increase and change to the packages being offered. The Committee would be meeting after this meeting to discuss the matter in detail. At the AGM it had been made clear that match meals would be subsidised from the Vets account beyond a £20 meal cost, but this may have to change although every effort would be made to meet 2022 increases from the Vets account. Returning Vets subs to £2 a year could help address the matter. Opinions are being sought from opposing counties as to their positions. The meeting gave general approval for the Committee to reach a practical solution for 2022 and beyond. Conclusions from the Committee meeting would be shared with Reps.
*At the committee meeting it was agreed matches in 2022 would be subsidised over £25.
Question and answers followed. Match sheets would be forwarded to reps as soon as possible.
The meeting concluded at 11.45 with thanks to all who had attended.
---
vets agm 2021 held at forest hills on 1st november 2021
Many thanks to all who managed to attend and apologies for the delay in posting results and tidying up website. we are still looking for someone that I can show the ropes to, but are waiting for GLCGA to update the site.
Fixtures are all on the main diary and on our Fixtures page as is a link to the Kit page with details on how to order.
Below are the results for the whole year plus a couple of pictures of winners. I am hoping that those who took photos of their ladies would send a copy of them to me for inclusion.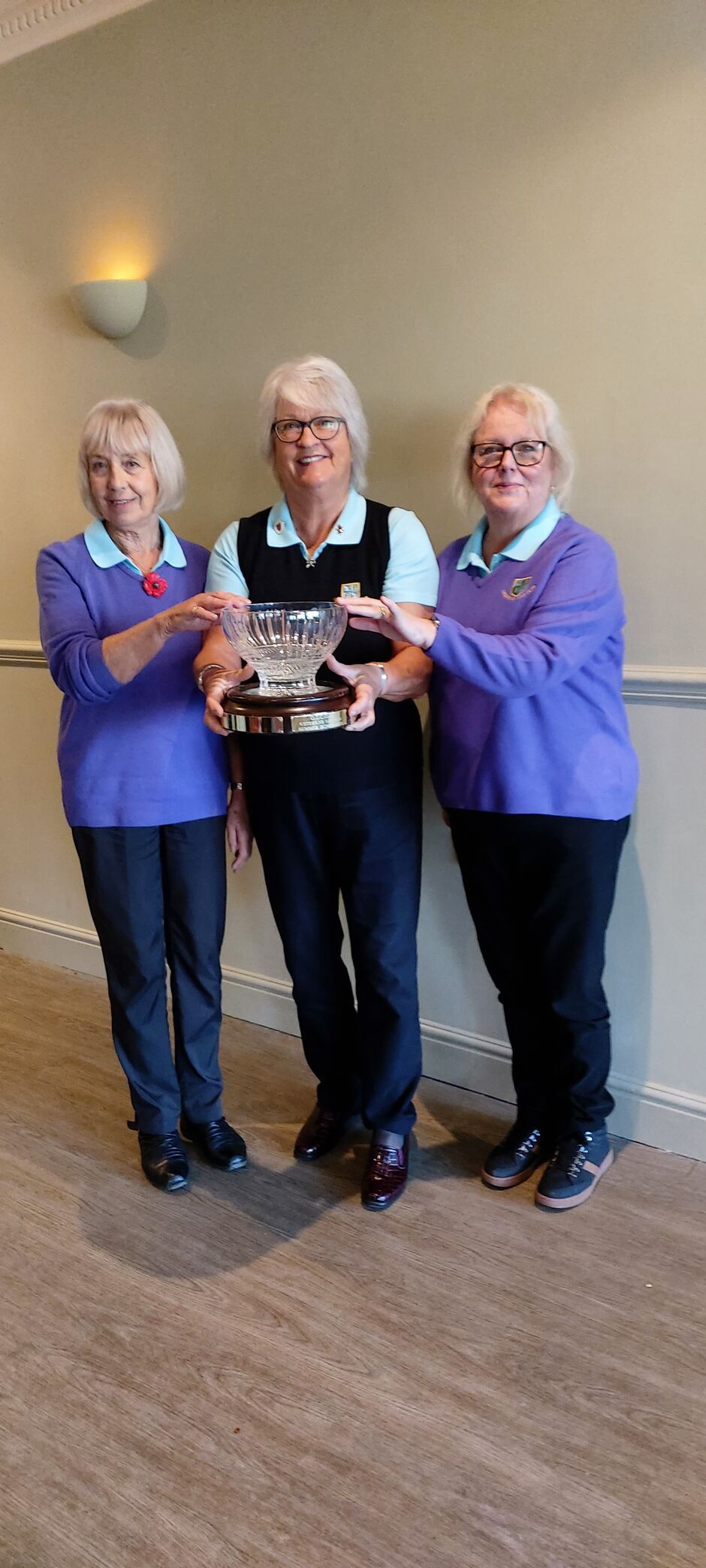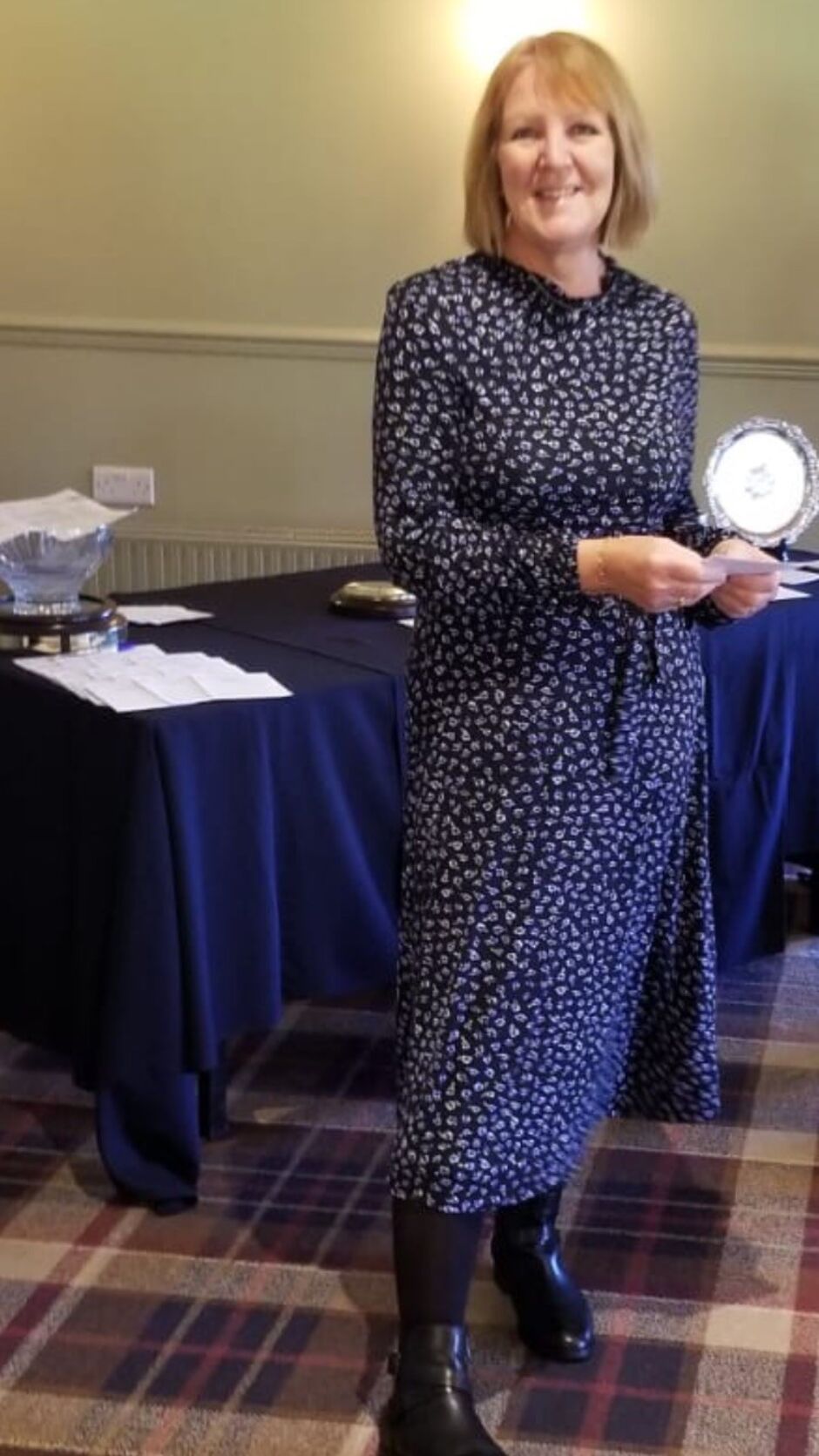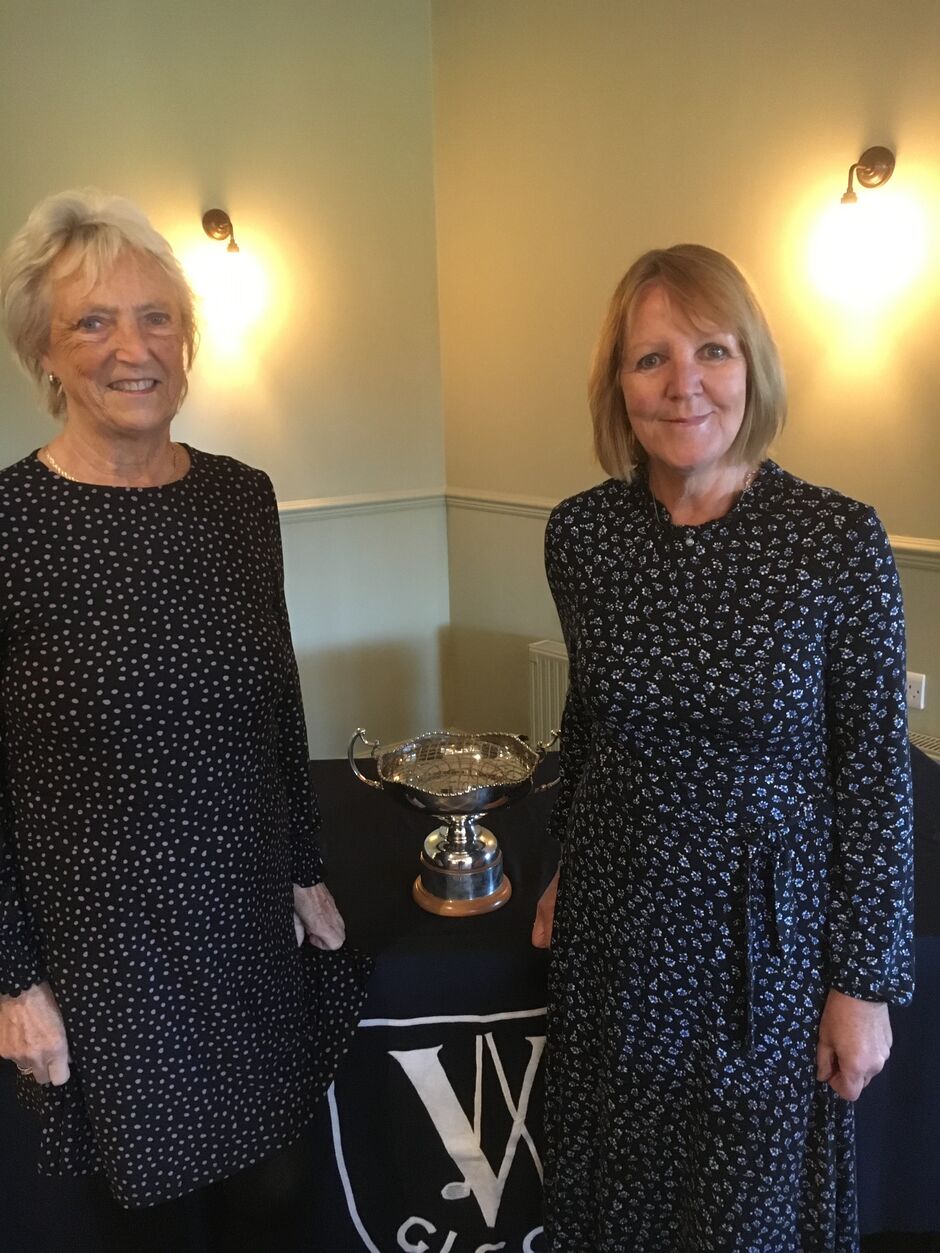 Summer Bowmaker - 1st Thornbury GC

Barometer Murial Button - Jill Jordan

9 hole Millenium Trophy - Julie Parker Minchinhampton Old Course GC

Murial Button - Linda Apperley Minchinhampton Old Course GC

Well done all.










---
---
2021 Results
Summer Bowmaker Results
1st Thornbury Judie Barton Hill, Lynne Rutter, Jackie Jackson 78 points
2nd Cirencester Jan Stephens, Sue Bremner, Jane Muncer, 76 points
3rd Brickhampton Lizzie Claridge, Val Menzies, Jean Bailey 75 points ocb 36
4th Rodway Hill Carol Lane, Sefton Hooton, Amanda Chong 75 points ocb 35
5th Alexander Park Steph Nixon, Cath Dallimore, Siobhan Hickie 75 points ocb 34
6th Chipping Sodbury Karen Neal, Pauline Fletcher, Linda Williams 75 points ocb 31
---
Millennium Trophy
Overall Winner Carla Peters Thornbury 43
Silver 1st Helen Gould Long Ashton 42
2nd Maxine Allen Minchinhampton New 38
3rd Cathy Dallimore Alexander Park 36
4th Carol Symonds Thornbury 35 ocb
5th Liz Odell Minchinhampton New 35
Bronze 1st Sarah Nannestad Westonbirt 38
2nd Sue Beswick Bristol and Clifton 36
3rd Alison Miller Rodway Hill 35 ocb
4th Pat Johnson Cotswold Edge 35
5th June Hanson Cotswold Edge 34 ocb
---
Muriel Button
Overall Winner Jill Jordan Lilley Brook -7ocb
Silver 1st Tracy Waring Chipping Sodbury -5 ocb
2nd Delia Rees Thornbury -5
3rd Tess Dick Cotswold Hills -3
4th Louise Folkes Broadway -2
Bronze 1st Caroline Williams Thornbury -7
2nd Sarah North Long Ashton -5 ocb
3rd Jane Carpenter Thornbury -5
4th Margaret Harvey Henbury -3 ocb
---
Millennium Trophy 9 Holes
1st Julie Parker Minchinhampton Old 23 pts
2nd Lin Arney Cotswold Edge 20 pts
3rd Linda Apperley Minchinhampton Old 18 pts
---
Muriel Button 9 Hole
1st Linda Apperley Minchinhampton Old 22 pts
2nd Val Bayston Lilley Brook 21 pts s
---
Brockworth Salver
Overall Winner Lin Wright Tracy Park 34pts ocb
Division 1 1st Megan Mills Cotswold Edge 34 pts
2nd Lorraine Liebenberg Lansdown 32 pts
3rd Di Garry Lansdown 31 pts
Division 2
1st Helen Crequer Cotswold Hills 34 pts
2nd Judith Elford Henbury 30pts ocb
3rd Margaret Ruxton Lansdown 30 pts
---
Autumn Trophies
Little Salver Mel Lee Cotswold Edge 91 gross ocb
Division 1 1st Mary Mayes Minchinhampton Old 91 gross
2nd Lin Wright Tracy Park 93 gross
WineCoaster Ali Buncher Cotswold Edge 104 gross
Division 2 1st Alison Shergold Cotswold Hills 107
2nd Bobbie Woodley Tracy Park 109 ocb
Super Vet Margaret Harvey Henbury 29 pts ocb
---
north v south at forest hills
wednesday 29th september 2021
North v South  What a super ending to our season!
After a real struggle to field 2 teams of 20, the ladies came up trumps, as they have with all of the matches. I would like to thank the Reps and their ladies for their support throughout the season.
The weather was kind to us with only a very short shower. There was a lovely atmosphere from the beginning before the match started, with many ladies renewing past friendships.
The management couldn't have been more helpful in the days leading up to the match, as were the staff on the day. The food was good and the service generally excellent.
Congratulations to the North who won the match by 7 1/2 to 2 1/2. The course was in excellent condition and enjoyed by most of us. All the fours seemed to get on well and enjoyed each others' company. One of the things which pleased me most was that this was the first experience of a Vets match for some of the ladies and they enjoyed it enough to want to play again next season!
Megan Mills, Captain
---
Vets v juniors at minchinhampton oc
tuesday 31st august 2021
I have never played in this match before, but I had heard how brilliant the Juniors were. They were a joy to watch. For those of you who know the course, one of the girls who I was playing against used a 3 wood on the 17th tee and drove through the green. Brilliant! The cows were a bit of a novelty to ladies who hadn't played there before and were intrigued by the gift of a rubber glove to salvage the ball from anything the cows left behind! It was a hard fought match but we managed to win by 3-2.
There was a good atmosphere in the clubhouse afterwards where we sat together round 2 tables. The food was lovely and age was no barrier to the friendly chatter.
Megan Mills Captain
---
Vets Match v Past Captains at Thornbury
Friday 13th august 2021
The format of this match was Greensomes with 20 players on each team, which made a change from 4BBB. There was a lovely atmosphere both before and after the match as most of us renewed friends and acquaintances from the opposite team. Eating afterwards was an experience! The food was very nice but it was rather crowded with people from a wedding reception and an alliance match all milling about in the clubhouse!
We WON this match by 7-3. Well done everyone.

Megan Mills, Captain
---
Vets v Warwickshire at Cirencester
Wednesday july 28th 2021
We were very warmly welcomed and the course was in excellent condition. The weather was kind to us and stayed fine all day though rain was forecast.
Everyone enjoyed their games, there was lots of banter about who missed putts and where some players found the course difficult although it looked so easy due to the slopes.
The overall result was Gloucestershire lost 3 ½ to 4 ½ ( possibly due to some age gaps with Warwickshire starting Vets at 50 years of age - just a little excuse for me).
Thank you very much to Megan for doing the cards and organising the day
A great day and match was had by all.
Chris Park
Vice Captain
---
vets v Somerset at gloucester
Tuesday 29th June 2021
We had a most enjoyable day in spite of losing 2-5. A couple of the Somerset ladies had single figure handicaps and all but 2 of the rest were 20 or less. The course is hilly and quite challenging, particularly the back 9. All the fours seemed to get on well which to me was far more important. Somerset only ever field 7 pairs, which was a bit of a relief as several ladies dropped out! On the 18th hole, a lovely downhill hole, one of the Somerset ladies and I teed off as normal and played the rest of the hole with a putter - needless to say the match had finished and it was great fun.
I must mention a Gloucester lady, Shirley Ellis, who didn't play, but was a tremendous help. She helped by checking everyone in and collecting the money. She also acted as liaison between players and the kitchen afterwards. She played 9 holes with the Somerset captain and they got on really well.


Megan Mills, Captain
---
Vets v committee match at forest of Dean
Wednesday 16th June 2021
Arranged 2 years ago, it was a relief and pleasure to actually arrive at Bells Golf and Country Club and to find all arrangements were going to plan. We were made extremely welcome by the club and had a very pleasant day all round.
I apologise to the 24 ladies for not capturing the moment with photos (unless anyone has taken any) as by time checked everyone in and doublechecked the shots allowed time had flown. The ladies had responded to appeals for replacements at last minute and what a lovely group of smiling faces enjoyed their choice of baps and drinks before the game.
A beautiful day and the course was in great condition, although one hole was a bugbear, that number 10. NB If you visit the club in the future it will not be so daunting the pro assured me.
The shots allocated were all extremely close and the scores reflected this as 3 matches were decided on last hole. This year the team chosen by Megan from the vets just won 3 1/2 to 2 1/2.
Thank you to all.
Sue Johns, Chair
---
Match v Oxford Seniors at Burford

Due to the lack of communication, this match was hastily arranged, and I am grateful to everyone who rallied round to play. However, the day was well worth the hassle. The course was lovely and in excellent condition and the food was delicious. All the Gloucestershire ladies said how much they enjoyed the day and how friendly all the Oxford ladies were.
In spite of the Oxford ladies becoming Vets (or Seniors as they call themselves) at the age of 50, some of us being at least 20 years older, we only lost the match by 3 and a half to 4 and a half.
Megan Mills, Captain
---
Vets match v Wiltshire at Ogbourne downs
Monday 17th May 2021
Although we lost our match against Wiltshire at Ogbourne Downs 3-5, we all enjoyed the course and the hospitality.
2 teams only lost on the 17th and 1 on the 18th.
We did not enjoy the violent hailstorm or the one flash of lightning and clap of thunder in the distance!
Megan Mills, Captain
---