Club News
We need to hear from you with snippets of news from your club!
Golfing feats, social occasions, quirky stories ..... they can all find a place here.
---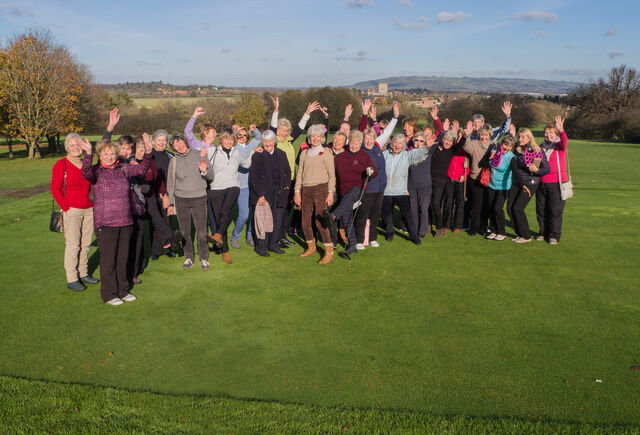 Tewkesbury Park Ladies joined new Lady Captain Sally Morgan for her Drive In on Wednesday 8th November.
Sally has chosen Footsteps as the charity for her year in office. They are a local charity which provides support for anyone affected by pregnancy related issues, the loss of a baby or for those struggling with infertility.
For more details please go to www.footstepscandc.org.uk
Not 1 but 2 HOLE IN ones for Kendleshire Ladies in same week
1) Brenda OXFORD whilst playing an open at Knowle, Hole 8 Par 3 August 8th
2) Sue FLOWER whilst playing in a medal at The Kendleshire, Hole 6 Par 3August 13th
Well done to both ladies.
---
AmAm Success for Cotswold Edge and The Kendleshire
Under the leadership of Jane and Jess Cotswold Edge teams came in with a winning score of 94 and third place of 89, only being split by The Kendleshire team under Ali's captaincy coming in with 92.
Well done girls.
Having team colours in shades of pink might have made the difference as the news report pointed out (goes with the pigs they won).
---
The Bristol Golf Club presents Ascot Ladies Charity Day
Friday 23rd June: Buffet, Nine holes, wear your Sunday Best.
For full details please contact Maria McNally on 07791314937 or maria.mcnally53@hotmail.co.uk or click on link below.
Ascot Ladies Day 2017 - poster[2867].pdf
---
Cotswold and District League Winner Cirencester played Bristol and District Alliance Winner Bristol & Clifton on the 19th march at Cirencester Golf Club for the CHALLENGE BOWL initiated a few years ago.
This match was played in great spirit despite a rather cold, strong wind developing through the day.
Cirencester welcomed supporters and teams with a welcome cup of coffee and warm danish pastries at the start and the opportunity to partake of a warm drink/soup at half way house.
With the highest handicap being 12 all matches were extremely close, the majority going to the final hole.
The teams sat down to a meal of soup and chips to warm them up and the winning team was announced by the Chairperson of the Cotswold and District League, Jane, and the challenge bowl presented to Emma Brereton as Captain of the Cirencester team. She and her team were over the moon as this was the first time for winning their league and then to win the challenge bowl was the icing on the cake.
Bristol & Clifton Ladies are determined to regain the bowl at the earliest opportunity I am sure as they already have their name on it several times.
---
Tewkesbury Park
Lady Captain's Charity 2017

Lady Captain Angie Brassey retrained after 29 years in PE and did a 2 year course in Educational Special Needs, specialising in the second year in Visual Impairment. This then took her into a job at the RNIB (Royal National Institute for the Blind) New College in Worcester where she enjoyed teaching PE to blind and partially sighted children.
Angie told us that many of the children found great enjoyment in a variety of different sports and this often provided much needed exercise and 'relief' from a sometime partially restricted life. However, in order for the students to take part safely they needed extra staff, coaching and specialist equipment.
This is where British Blind Sport comes into play by providing the extra funding needed to support the children and take them on from the school/college situation to regional, national and international competitions.
Lady Captain of Tewkesbury Park Angie Brassey, pictured here with Vice Captain Sally Morgan, has chosen British Blind Sport as her charity for 2017.
The charity details are :
---
The Kendleshire Golf Club
Lorraine Lewis Captain 2017
I am proud to be Captain for this year whilst the club celebrates its 20th anniversary of opening. A special week of celebration starts on the 6th May and includes 5 Opens . Full details and entry form are on the website. www.kendleshire.com
My chosen charity is Paul's Place, which is local to the Club and aims to promote independence , in a safe social environment for disabled adults. http://www.paulsplace.org.uk/ .
Also White Lodge Centre supporting disability . They have started up a new club on Saturdays for disabled persons over 18 which allows carers time off. www.whitelodgecentre.co.uk
I have held my first competition a Christmas Roll up , everyone joined in the fun dressing for the occasion as you can see.

Looking forward to a great year at The Kendleshire Golf Club.
---
The Players
Visited The Players recently- well when you do you are sure of a big surprise!
New changing rooms for the ladies with 2 large showers, 4 toilets and 2 sinks plus hairdryer. Really nice and I am sure the juniors and teams will make good use of them.
More changes on the way with the extension for members(including the balcomy overlooking the 18th) and a pro shop next to the entrance of the courtyard.
---
MEMBERS' BUSINESS WEBSITES
Some of our members have golf related businesses. Here are their details and websites.
RED TEE BREAKS: Golf Tour operator with a difference, with focus on the lady golfer. Golf holidays are arranged with you, the lady golfer, in mind! The company works with you to make sure you get what you want from your holiday, whether that's in the UK or overseas, whether you are coming as a member of a group or whether you choose to join one of their events as a single person.
This year the company has a great competition scheduled. Poster
Visit the website for more details
ARCHIVED NEWS
---