GLCGS v wiltsire

tracy park golf club 27/07/21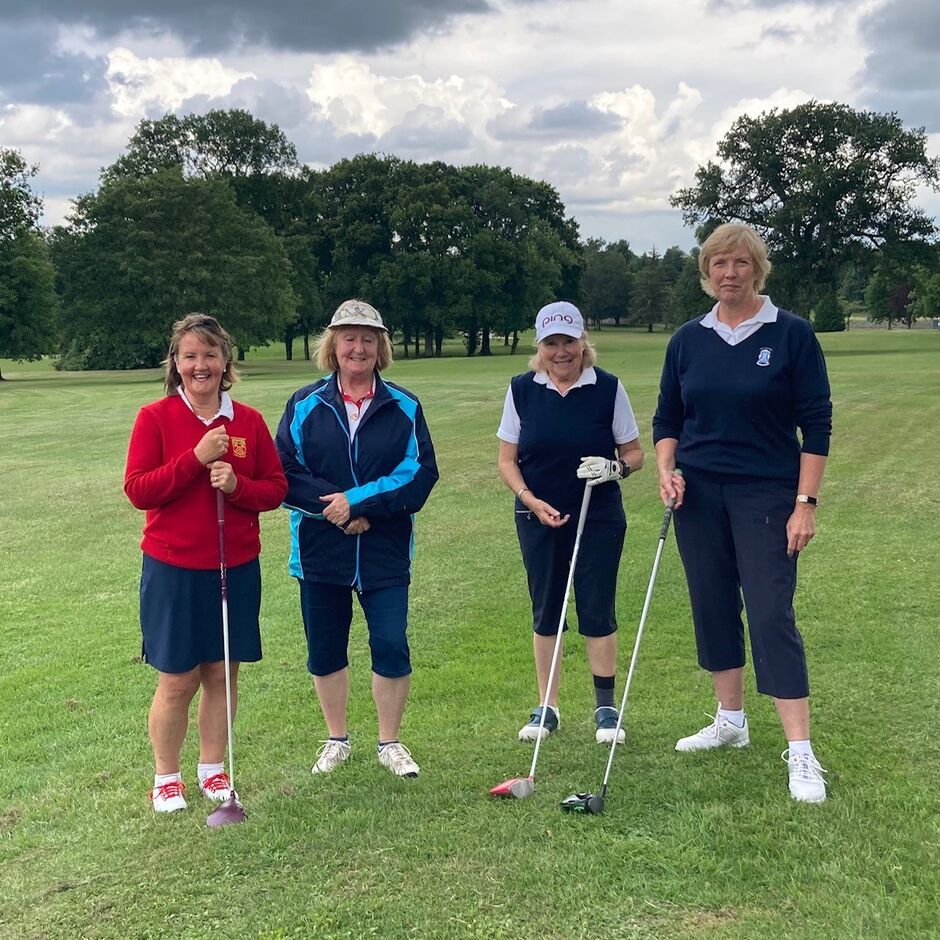 Our second match of the year did not have an auspicious start, as I had muddled the dates. However, thanks to the ladies of Wiltshire rearranging various events we were able to play a full team on each side.
As someone who had never played Tracy Park before (which is why I picked it) I thought the course (Cromwell) was beautiful. The bunkers could have done with some work and the greens are suffering from diseased areas, but they were running true which was a good thing bearing in mind the slopes on them. It reminded me of The Himalayas at St Andrews, the Ladies Putting Club putting green.

https://www.standrewsputtingclub.com/history/

There are some beautiful trees to cause problems – I am threatening to add to my 13 clubs by putting a chainsaw in my bag!!! There is a great variety of different holes and plenty of ditches to keep you on your toes. I understand the other course (The Crown) is equally nice, and somewhat flatter.
The forecast was not good, but we only suffered one heavy storm and then dried out before the end of the golf. A good job we weren't later as the heavens opened!!
As the results came in it was obvious that most of the matches were fairly close and the final result was a draw.
We enjoyed a very nice meal afterwards and it was great to be sitting at 2 long tables again – quite a novelty after the last 18 months.

Jan Axten-Rice



GLcgs V dorset

YEOVIL GOLF CLUB 08/07/21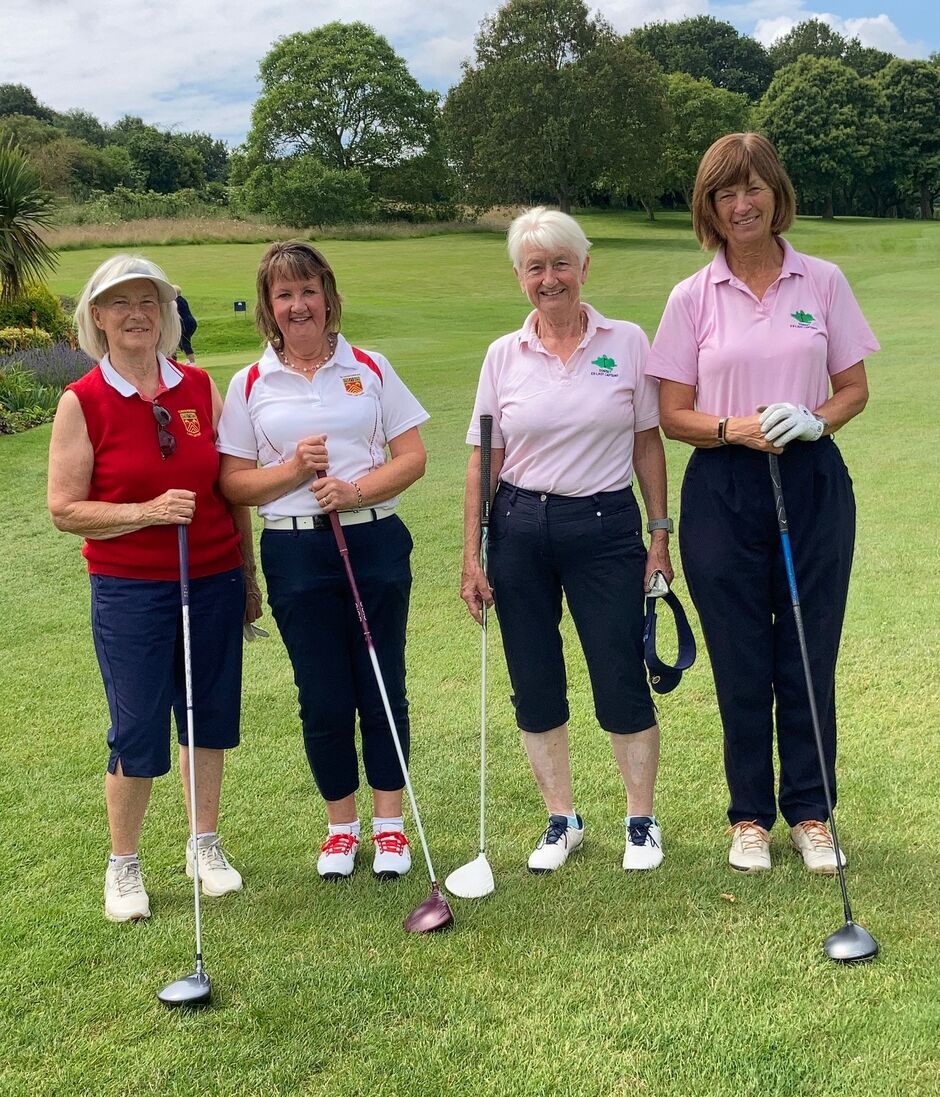 This was my first match as Lady Captain and with the uncertainties regarding overseas travel, the initial entries were low. But the Society, as I knew it would, rallied to my emergency plea a couple of months ago and I ended up with a full complement, plus several reserves. Thank you all so much.
My query with regard to this match was why we were playing at Yeovil Golf Club. After all, my geography teacher would have been horrified if I thought Yeovil was in Dorset! It turns out that it is actually exactly on the border, and the course itself is in Dorset! What a beautiful course it is too. Parkland with lots of different and interesting holes and beautifully mature trees. It was quite hilly too, so I think we all felt we'd had a good walk by the end of the round.
We received a very warm welcome from the Dorset ladies, who had organised some lovely weather. After the last week or so of torrential rain it was lovely to be playing in shirt sleeves in the sun. My playing partner Helen Treasure and I had a ding-dong of a match, as did several other pairs, with one spectacular win by Barbara Smyth and Pat Furley (7 & 5).
The day was rounded off with a lovely meal and it was good to hear the volume of chat around the room. It was so satisfying to be able to get back to some normality at last.
As for the result, sadly we lost 5-3, but as we were all playing a course we didn't know against ladies who had mostly played the course several times, I feel we acquitted ourselves very well. Let's see how they get on with the Chipping Sodbury ditches next year!!
One tip - I was reliably informed that Sherborne Golf Club, which is only a few miles away, is also a lovely course, so a trip to that area for a couple of rounds might be worth considering if you are looking for a mini break.
Jan Axten-Rice
2021 SUMMER MEETING
WE'RE BACK!! (our first event since 2019!)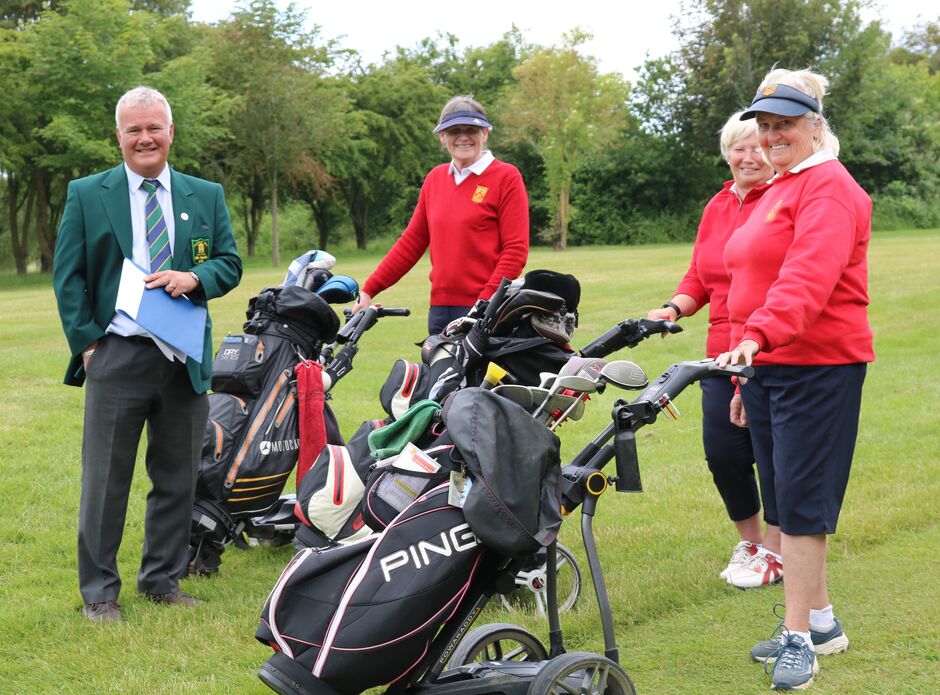 ---
I received a text from Jan around 7am to say a bright sunny day had dawned at Puckrup Hall after a mixed forecast, and, with fingers crossed, fine weather continued all day - 39 ladies took part from 18 Gloucestershire clubs.
Lady Captain Jan had wonderful support from her members. The starter, previous Men's Captain Gary Eckersley, did a grand job of directing us all on to the first fairway. Plenty of ball spotters were in all of the necessary places around the course, which was in excellent condition.
Mike Mancktelow sorted the cards and results as he does every year, thank goodness!
The Halfway House was full to the brim with lovely homemade sweet and savoury delights from Jan and her lady members, plus cold drinks, tea and coffee. All were enjoyed by the playing ladies passing by the 8th and 13th holes. £120 was raised to be split between the Cheltenham Scanner Appeal and Dementia Care.
Afterwards there was a very relaxed and sociable atmosphere and it was lovely to see so many people taking advantage of the sunshine with a glass of wine or two on the terrace.
The day could be summed up as a great success due to the hard work and organisation of our Captain Jan. Thank you for hosting such an enjoyable event!
Mel
CLICK ON THE LINK BELOW TO SEE PRIZEWINNERS
PRIZE LIST SUMMER MEETING 2021