First Team
Gloucestershire first entered a team in the Inter County Championships in 1900 (See About Us).
Since then the GLCGA has had numerous fortunes, with 2005-06 being its most successful years, when the team gained runner-up spot in the England National Finals on both occasions, only being beaten on countback. Then came a run of six consecutive years reaching the Finals and, in 2016, SUCCESS!
Under the captaincy of Andra Knight, the very young team defeated Yorkshire 5-4 on the final day to win the coveted trophy at Waterlooville Golf Club.
It was a magical, historic day!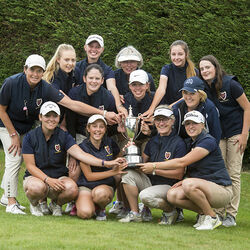 THE WINNERS!
Photograph by Leaderboard Photography
---
The team for the 2016 Finals at Waterlooville GC is: Becky Gibbs, Alex Giles, Charlie Hiatt, Ali Kelly, Ebonie Lewis, Caley McGinty, Claudia Ovens, Bethan Popel, Alex Saunders and Ffion Tynan.

---
In 2016 SW Inter-County Match Week will be contested in Somerset at The Mendip Golf Club from 4th to 8th July.
Our team (handicap order):
Bethan Popel (+3) - Long Ashton
Ebonie Lewis (1) - Knowle
Alex Saunders (1)- Bristol & Clifton
Becky Gibbs (2) - Bristol & Clifton
Jane Rees (2) - Minchinhampton
Jemima Gregson (2) - The Kendleshire
Alex Giles (4) - Long Ashton
Charlie Hiatt (4) - The Kendleshire
Claudia Ovens (5) - Cotswold Hills
Grace McLaughlin (5) (reserve) - Minchinhampton
Take a look at the 2016 Training and Squad page for short biographies and pictures of the team