2022 Team Results
2nd TEAM MATCH VS somerset LADIES TEAM, knowle GC - 5 june 2022


Sunday 5 June saw the first official match for the second team in 2022, taking on the Somerset second team at Knowle.


We felt confident going into the day with a strong team, consisting of:
Jess Brown
Kirsten Westgate
Elin Tynan
Megan Bartlett
Rachael Howell
Kate Thurlow


The weather was not what we were hoping for, but being a bank holiday weekend in England, what could we expect?! The girls were happy, at least, to try out the new waterproof jackets!


Fantastic golf was played in the morning foursomes, with Jess and Kirsten coming up against a barrage of birdies from their opponents - they came back strongly for a while, but the Somerset top pairing were not letting up. Elin and Kate came back strongly in their match, having been 3 down, to win on the last, securing our point from the foursomes in the morning.


Having come back from 2-1 down many times before, the atmosphere at lunch was very positive, with everyone ready to go out and win their point. Everyone fought hard against some strong opposition, and with about an hour left of play, it looked like we might just get the win, but with three matches going down the 18th all swinging the other way in the dying moments, it just wasn't to be.


We still have our match against Wiltshire to come on Sunday 4 September, hosted by Wiltshire at Cumberwell Park - which should make great practice for the inter-counties tournament which is also held there in 2023.


Having already won their match against Wiltshire, Somerset will go on to compete in the second team finals at Tiverton in October.


1ST TEAM MATCH VS WORCESTERSHIRE & HEREFORDSHIRE LADIES TEAM, THE BRISTOL GC - 3 APRIL 2022

Some of the GLCGA Ladies Squad played against Worcestershire & Herefordshire Ladies 1st team in a friendly match, played at The Bristol GC.
Unfortunately one of the W&H team had to pull out last minute so that meant that the first foursomes match was played with 2 Glos players playing against the single W&H player.
In the morning session, W&H came out on top going into lunch with a 3 point advantage.
In the afternoon session, the format was the same as is played at Inter Counties with 2 Foursomes matches and 3 singles matches. Gloucestershire won 2 of the matches with the other matches all hotly contested, but with W&H already securing a lead in the morning, the overall result gave them a 6.5 point to 2.5 point win.
Thanks go to The Bristol GC for their hospitality and to all the supporters who turned up to cheer on Team Gloucestershire.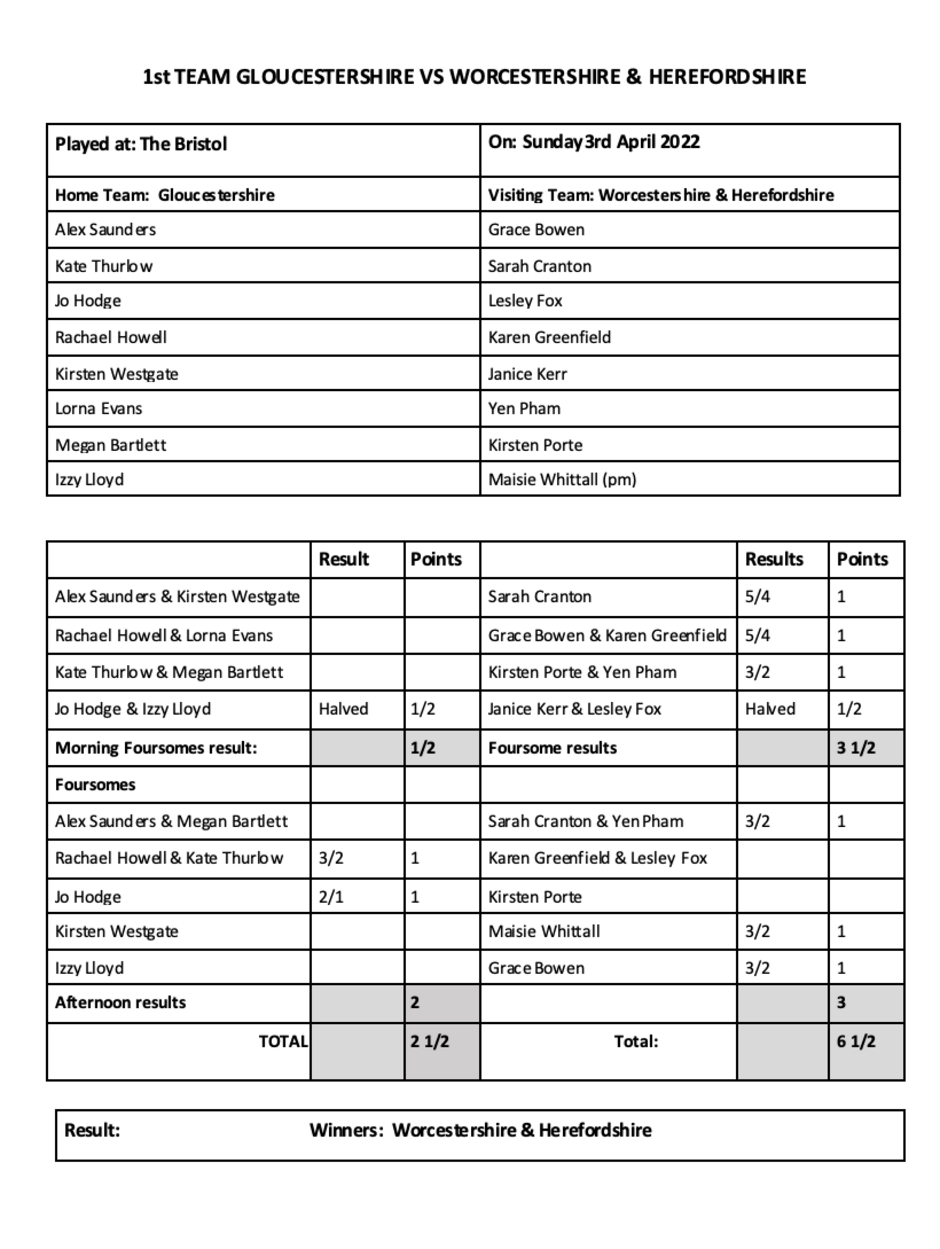 2nd TEAM FRIENDLY MATCH VS WORCESTERSHIRE & HEREFORDSHIRE - 27 MARCH 2022
Our first match of the season was a friendly against Herefordshire and Worcestershire at The Herefordshire, on 27 March.It was Mothering Sunday and the clocks had gone forward, so this fixture has been amended in the diary for next year! Not an easy wake up for golf!
We seemed to be in a different climate to the rest of the UK with fog and what felt like freezing temperatures in the morning, but a welcome bit of sunshine arrived in the afternoon to cheer us up and spur us on for the singles.
The team for the day was:
Kirsten Westgate, Elin Tynan, Mainisha Lawrence, Chloe Lloyd, Kate Thurlow, Sophie Dodds
It has been great to welcome Kirsten and Mainisha to the team this year and they both contributed points to the score on the day.One of the benefits to these matches is the opportunity to try out foursomes pairings and we had three totally new ones on the day.
Kirsten and Kate
Elin and Mainisha
Chloe and Sophie
Despite some close games we just came up short losing the foursomes 2-1. As ever with Gloucestershire, we really turned it around in the afternoon singles - at one point looking like we were going to win, but in the end halving 3-3.
As ever with H&W, it was a tough match but despite narrowly losing by 5-4, the team were very positive and it was a great atmosphere all day.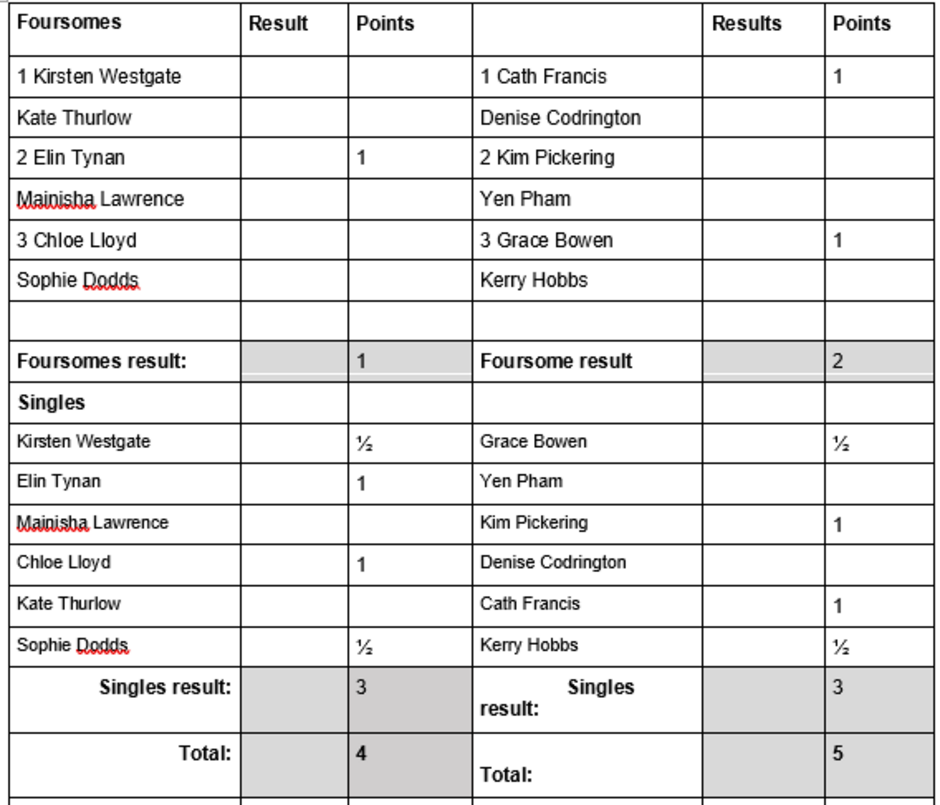 1ST TEAM FRIENDLY MATCH VS BRISTOL & CLIFTON MEN'S TEAM - 13 MARCH 2022
On an overcast Sunday (13 March), some of GLCGA's ladies squad took on some of B&C's men's team in a foursomes format.
Leading the charge were Alex Saunders (B&C) and Megan Bartlett (Knowle) who received 5 shots from their playing partners Andy Rudge and Ross Adamson. This match was closely fought with only ever 1 shot difference in the score, but the girls couldn't clinch the win and lost 2&1.
The next pairing of Jo Hodge and Chloe Lloyd (both Knowle) played against Lewys Charles and Carey Ashworth who was subbed in on the last minute and who had to give 3 shots to the girls who went on to win 1UP.
Another home club player, Issy Hopkins (B&C) and Kate Thurlow (Cotswold Hills) were paired to play the men's captain Duncan Smith Captain and Chris Rowe and they had to give the girls 2 shots. Unfortunately the girls couldn't compete with these two men who were putting in from all angles with even 40 footers dropping. The girls lost 6/5
Lorna Evans (Minchinhampton) and Mainisha Lawrence (Brickhampton Court) played against B&C's Chairman Richard Bromilow and Nicholas Wessels who had to give them 6 shots. The girls won 2/1.
The final pairing of Rachael Howell and Izzy Lloyd played against Sam Partidge and Liam Rice who had to give the girls 2 shots. The girls won their match on the 18th, 1UP which meant the overall result was a 3:2 win to GLCGA!
The match was played in a very good spirit with much chatting and laughter, and was followed by tea and cakes.
A big thank you to Bristol & Clifton GC for their hospitality and a special thanks to Ian James for arranging the match and we look forward to returning next year.
1ST TEAM FRIENDLY MATCH VS COTSWOLD HILLS MEN'S TEAM - 20 FEBRUARY 2022
How lovely it was to catch up with the squad, our first time this year. Sadly only 10 out of the 19 squad members could attend but they all agreed it was very beneficial and great to see everyone. We were very pleased to welcome Caley as she had just returned from the USA and was able to join us.
Our County Coach Jamie held a very interesting morning session which took place in a lovely warm clubhouse - doing some team building exercises and rewriting the 'Code of Conduct' which had been drawn up by the squad some years ago, which we all agreed needed updating.
After lunch, we ventured out to play 9 holes against Cotswold Hills Men's 1st team.
The pairings were:
Caley and Alex vs Wes and Ash
Jo and Izzy vs Mike and Owen
Rachael and Chloe vs Charlie and Lawrie
Kate and Mainisha vs Dave and Will.
Some great golf was played in 50 mph winds and then the rain also arrived causing more extremely challenging conditions. Poor Jo was hit by ball on the shin, just hope the lump isn't too big today! All matches went to the 9th with the men beating us 3:1. It was good to come back into the clubhouse to dry out.
A great day was had by all.
We're now looking forward to our next Squad Day which is on Sunday, 13 March at Bristol & Clifton GC when we'll be playing against B & C's men.