2021 GGG STABLEFORD & card marking competition Results
#1 GGG Stableford & Card Marking Day, 11 April - Ross-on-Wye Golf Club
Competition Cancelled due to COVID restrictions
#2 GGG Stableford & Card Marking Day, 23 May - Lansdown Golf Club
On a miserable, wet, windy and cold Sunday, 14 girls arrived at Lansdown Golf Club to compete in the first Stableford of the 2021 season. The weather was dry when all the girls started but got progressively worse and being so high up, the girls were exposed to very cold conditions! The brave parents who walked out to watch their daughters (under duress I imagine) also had to deal with dire conditions and whilst the girls were generally kitted out in waterproofs, some of the parents need to heed the advice of their daughters and wear more layers and waterproof clothing. There were escapades on the course with Neve's trolley blowing over and her umbrella snapping, but I have to say even though some of them looked like drowned rats when they finished their rounds, most of them came into the clubhouse with smiles on their faces!
Even though conditions were dire at times, Molly Kemery won with an amazing 36 points - however when she came in to the clubhouse you wouldn't have thought she had scored even 20 points! Congratulations go to all the girls who competed in awful conditions - who would have thought it was May but let's hope June will bring some warmer weather or at the very least some dry weather.
A big thanks to Lansdown GC for allowing us courtesy of the golf course, to Rod, the Club Captain for being our starter for the day and to the catering, bar and admin staff who all helped to make our day a very successful one.
Full results can be found HERE
0-20 HI Winner: Molly Kemery, Knowle GC
21-36 HI Winner: Frances Sullivan, Long Ashton GC
37-54 HI Winner: Ellie Holmes, Knowle GC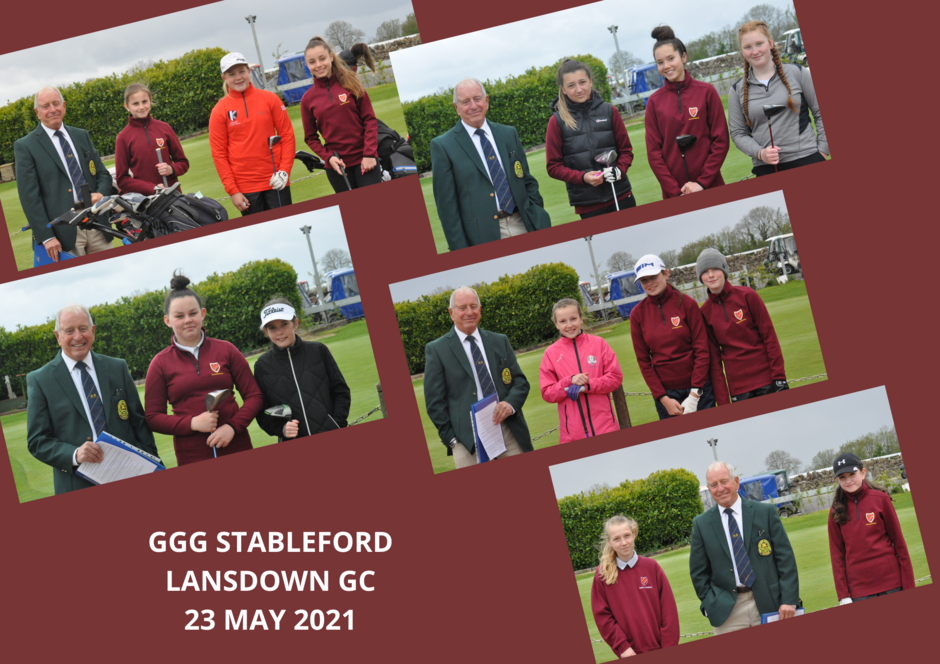 #3 GGG Stableford & Card Marking Day - 13 June - Stinchcombe Hill Golf Club
Phew that was a very hot afternoon at Stinchcombe Hill GC and a complete contrast to the last stableford at Lansdown when umbrella's were needed to protect the girls from the rain, but today it was to protect them from the sun! Olive French who was the County Junior Organiser when Alex was a junior kindly started the 16 girls who competed in the stableford. They tee'd off in the high 70's degree heat and it seemed to get even hotter during the afternoon but it was good to see that they all heeded our advice to put lots of suncream on and bring lots of drinks to stay hydrated.
In all that heat, the girls seemed to thrive and there were some incredible scores in both handicap categories, with Molly Douglas (Brickhampton Court GC) winning Div 1 with 38 points and Dominica Stevenson, also from Brickhampton Court winning Div 2 with an amazing 42 points - another good score was posted by Rosie Boyle from Long Ashton GC who scored 41 points in Div 2.
There will no doubt be some significant handicap cuts for these girls.
Stinchcombe Hill GC were great hosts and kept all the County girls and their parents fed and watered and for those dad's who dropped their girls off to the event, they could even watch the football in the clubhouse so it was a win:win for both girls and dad's alike!
Thanks go to Olive French for starting the girls and her husband Peter for supporting the girls and to all the staff at Stinchcombe Hill GC for providing us with a fantastic venue and great hospitality and food - the girls thoroughly enjoyed their afternoon.
Full results can be found HERE
0-20 HI Winner: Molly Douglas, Brickhampton Court GC
21 - 36 HI Winner: Dominica Stevenson, Brickhampton Court GC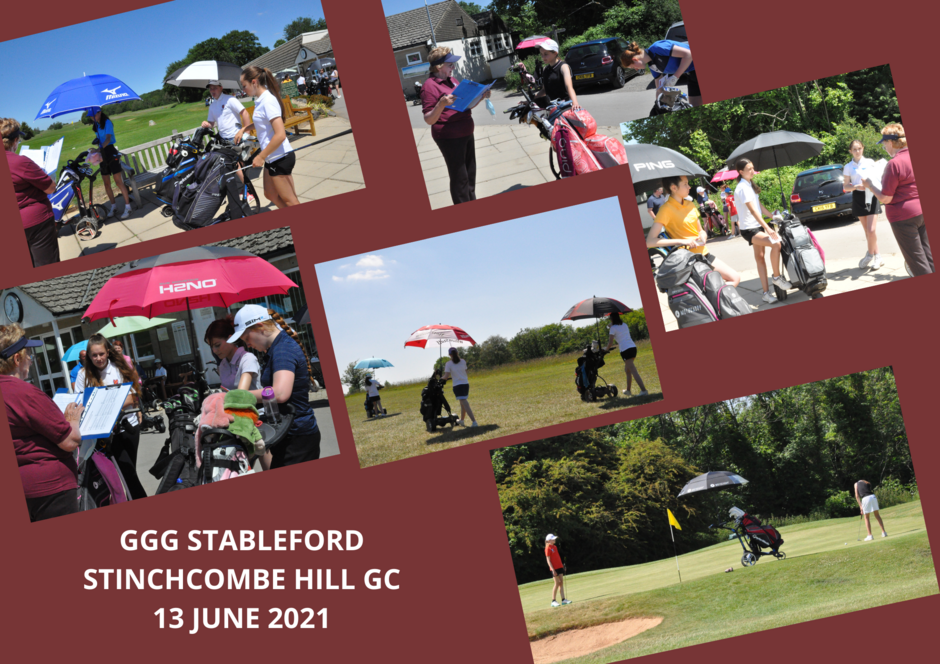 #4 GGG Stableford & Card Marking Day - 11 July - Cotswold Hills Golf Club
Well long before England made it to the finals of the Euro's we had planned our stableford at Cotswold Hills GC and with a number of the girls fanatical football supporters, we were wondering whether some of them would decide not to compete to ensure they were home well in time to watch the match. However, they didn't let us down and everyone who had registered, played, but they woofed their food down afterwards so that they could head home in readiness for the kickoff.
The day started dry but by the time the majority of the field were on their final holes, the heavens opened and for a couple of the groups they had to endure playing in very different conditions from when they started and eventually completed their rounds looking like very soggy golfers but still with smiles on their faces!
Our winner in Div 1 was Bristol & Clifton's Sofia Benitez with 36 points, who won on countback from Molly Douglas from Brickhampton Court. In Div 2, Mariella Buchanan (Long Ashton) won with 37 points and in Div 3, Ellie Holmes (Knowle) won with a whopping 41 points and she was one of the ones who had to endure over half of her round in the rain, so an incredible result in those circumstances.
Our thanks go to President Vicky Watkins who was Starter for the day, to everyone at Cotswold Hills GC especially Caroline Griffiths, the Club Manager, who had to step in and chef for the day as the usual chef was unwell and to Tom and his team who kept us watered and welcome throughout the afternoon. The course was in great conditon and the girls all enjoyed their rounds, even with the rain!
Full results can be found HERE
0-20 Handicap Index: Sofia Benitez, Bristol & Clifton GC
21 - 36 Handicap Index: Mariella Buchanan, Long Ashton GC
37-54 Handicap Index: Ellie Holmes, Knowle GC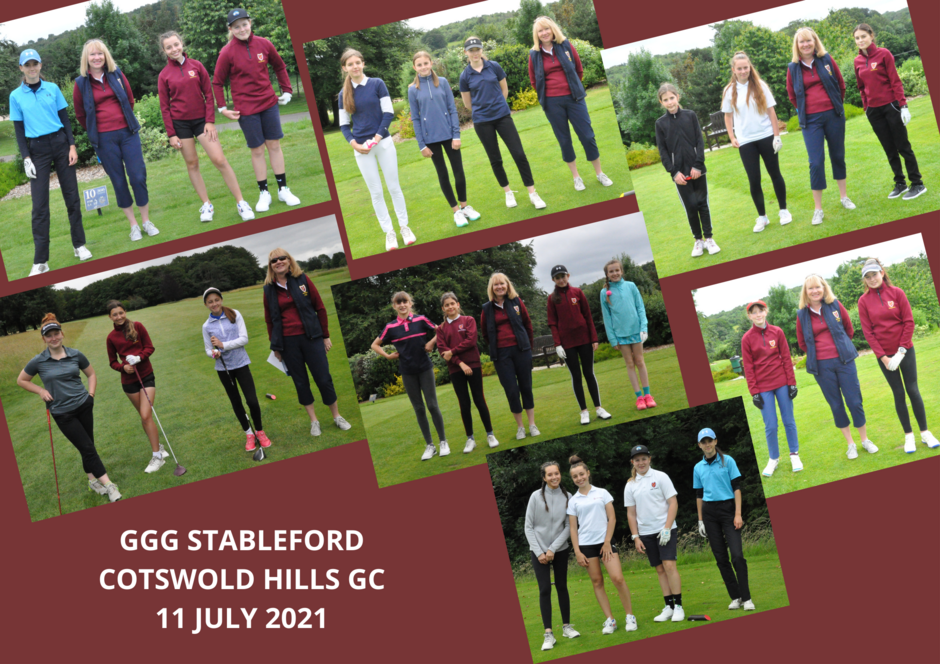 #5 GGG Stableford & Card Marking Day - 12 September - Chipping Sodbury Golf Club
0-20 Handicap Index
21 - 36 Handicap Index
37-54 Handicap Index