SWICM Week - Day 4 versus Dorset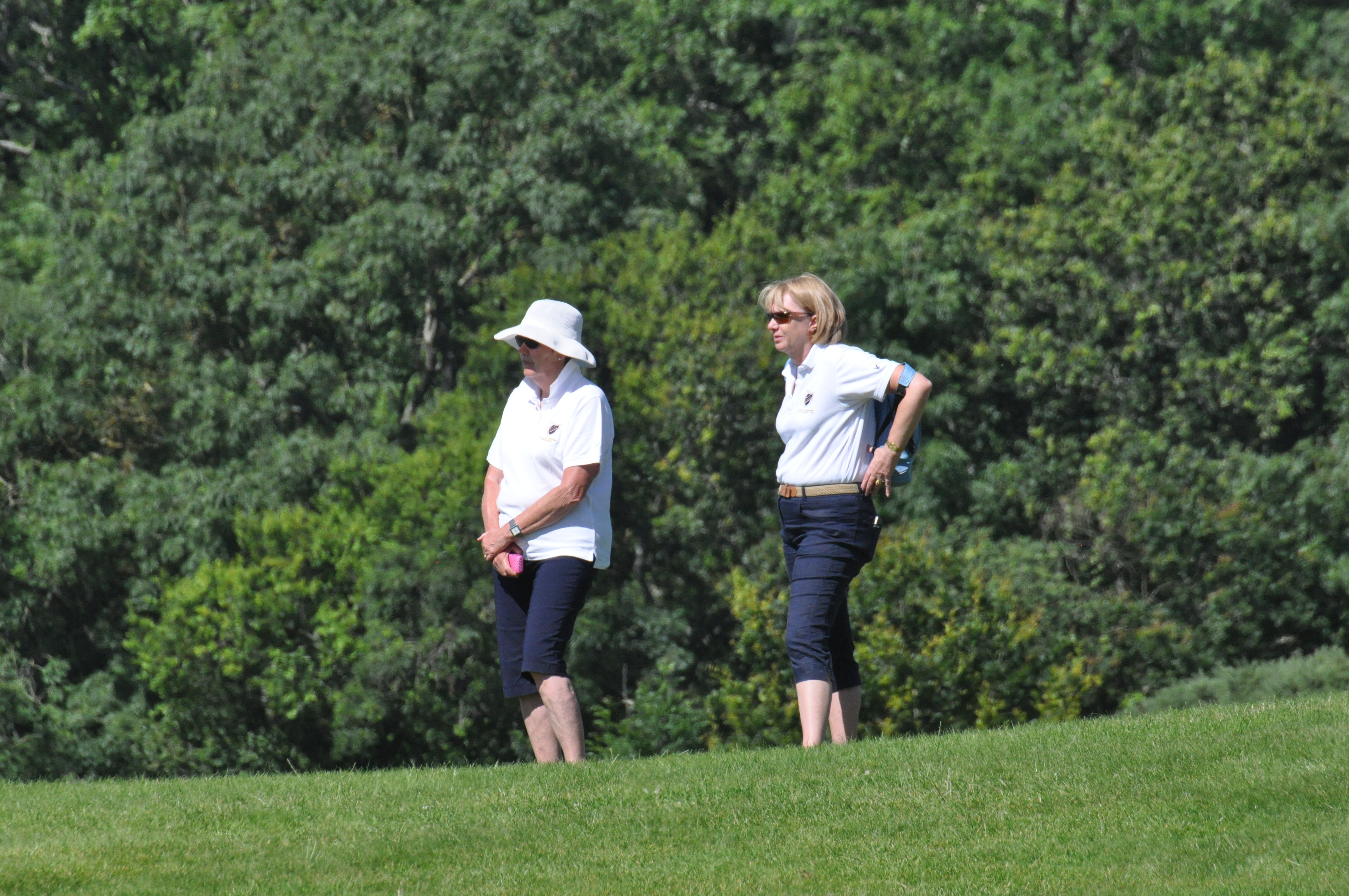 Day 4 versus Dorset
Sunny days in Devon playing golf will seem idyllic to most seasoned golfers, but when you've had 3 tough days of competitive golf, where you've needed to draw on every bit of energy you have and deliver results, another day could for some seem one step too far, but #TeamGlos stepped up to the tee again and delivered.
The morning session saw ASquared paired again and going out first. They were matched against one of Dorset's rising stars and a seasoned golfer but ASquared were soon 2 up through 3 but the Dorset team were not going to make it easy and they pegged them back and soon were 1 up through 8. ASquared obviously had a team talk with ex-Coach, Kirsty Taylor and ex-Captain Andra, because they then came back picking up the 11th and continued winning holes until they finished their match on the Par 3 15th. A great 4&3 win for ASquared.
In the middle match, 'Speedy Gonzalez' Caley and Issy were paired together. A new pairing which brought a great result. Playing against Dorset stalwart Jane Southcombe and Goergina Wrixon, they took no prisoners and at the turn were 5 up. It wasn't long before they had won 8&6 with a long way back to the club house!
The final pairing of Ebz and Megs were 2 up after 2 but they found themselves 1 down through 5. After a stiff talking to, they started to play proper golf and they won the 8th to go back to A/S. Megan found that her driver does work if you slow things down a little and from the turn they gradually pulled their match around and won on the 16th (4&2) after Dorset buried their ball in the greenside rubbish never to be found!
Another good mornings work!
In the singles the selection was mixed up a bit with Claudia leading the way, followed by Jess, Caley, Granny Saunders, Sam and Ebz.
Claudia tee'd off and was gone at the rate of knots down the fairway and by the time she got to the turn she was 2 up and there was over a 2 and half hole gap between her and Jess. She dropped a shot on the 11th but recovered on the 12th, however she lost the next two holes to go back to A/S and went 1 down at the 16th. Determined as ever Claude won the 17th and was A/S going onto the 18th tee where they halved the hole and their match.
It was good to see ex-Coach Kirsty come out of retirement and on her day off she caddied both the morning and afternoon sessions and was on Jess' bag for her singles match. Jess had a steady start winning the 6th and 7th holes to go 2 up. She lost the 11th and 12th but bounced straight back to win the 13th and 14th. She eventually won on the 16th with a 3&2 win.
Caley was having a tougher time of it, playing fellow SW Regional Squad member Louise Burke. Louise was playing exceptionally well and both girls were well under par. Caley went 2 down early on in her match and she never quite got it back as every time she birdied a hole, Louise seemed to do the same. It was an extremely tight match with Caley clawing back a shot to be dormie 1 down going onto the 18th tee. However it wasn't her day today and she lost to a very strong opponent 1 down.
Granny Saunders took an early lead with an eagle on the first and just played steadily throughout. She was 4 up at the turn and soon finished her match on the 12th hole winning 7&6.
Behind Granny, Sam was playing some phenomenal golf having only 11 putts on the front 9 - even the Dorset supporters complimented the Gloucestershire supporters on having such a talented golfer in their team (you can pay me later Sam!). Sam's game was just too good for the Dorset girl and Sam soon closed out the match on the 14th hole, winning 6&4. Sam only had 8 putts on the back 9 - 14 holes, so her putter was red hot this afternoon and long may this last!
In the back match Ebz came up against a very steely player who had many years' experience. Initially she was 1 up against Ebz and it wasn't until the 7th that Ebz got it back to A/S. Ebz then found some momentum and won the 9th and by the 11th she had won another hole. Ebz opponent just didn't give up and she won the 13th, taking the match back to 1 up to Glos. Ebz won the next 2 holes making her 3 up going up 16. The 16th seems to bring drama with trees and a hazard up the right but both players drove well and it was Ebz 2nd shot that she put in the greenside bunker whilst her opponent was short of the green. Ebz took a lovely shot out of the bunker and it was all down to the putting. Ebz putted to a gimme length and Di missed the putt, so it was a halved hole, but a 3&2 win for Ebz.
With 4.5 points secured from the afternoon session, it was a great win against Dorset and #TeamGlos went into dinner 7.5:1.5
Tomorrow we face Somerset, who are also on 8 points for the week and we know it will be a very tough day for us but the team are focussed and they will dig deep to defend their title - it's been a long week and to go into the last day having won all their matches is such a great achievement. C'mon #TeamGlos let's go out and do it - remember "Believe You Can and You Will" #OneTeamOneGoal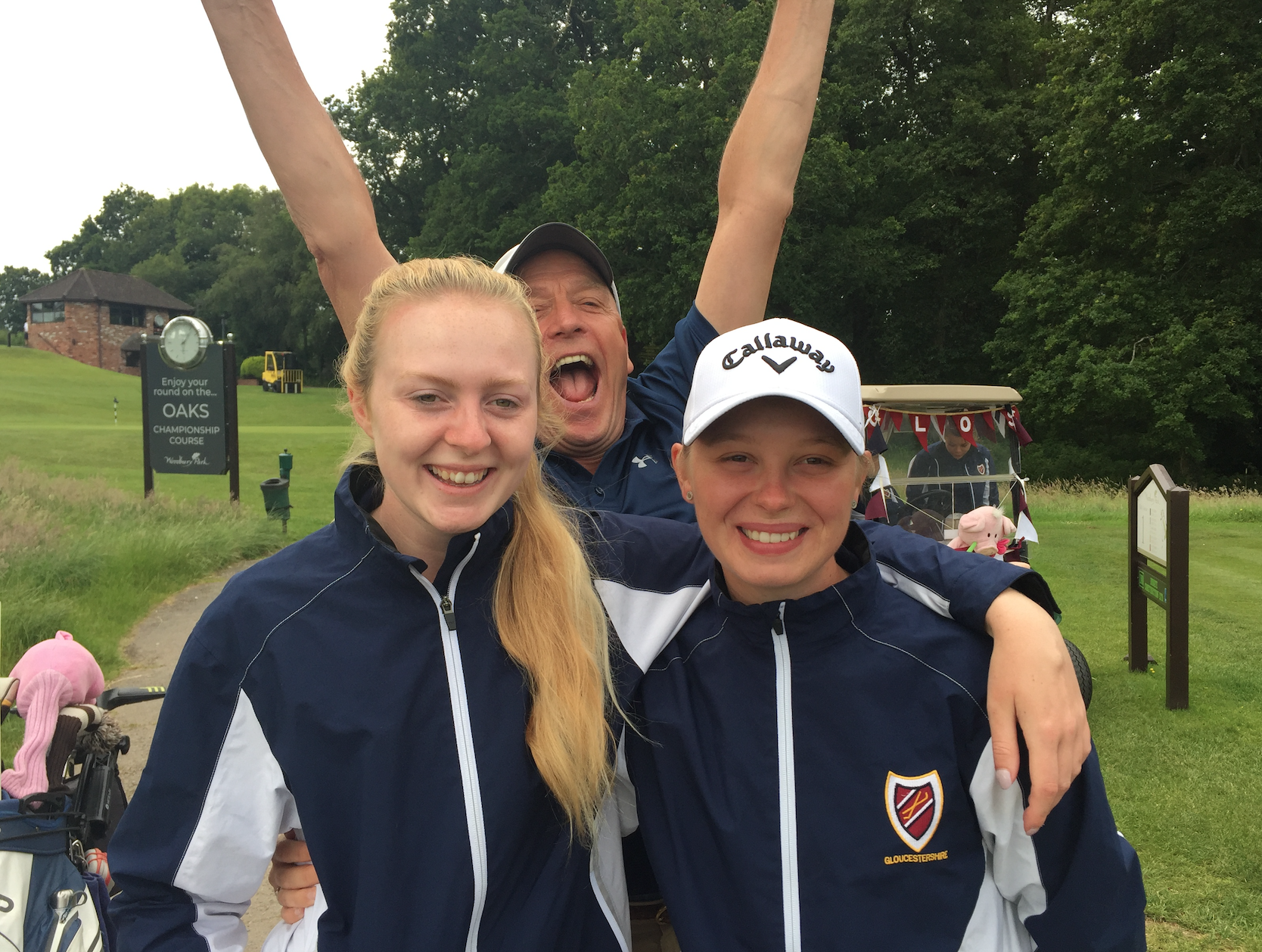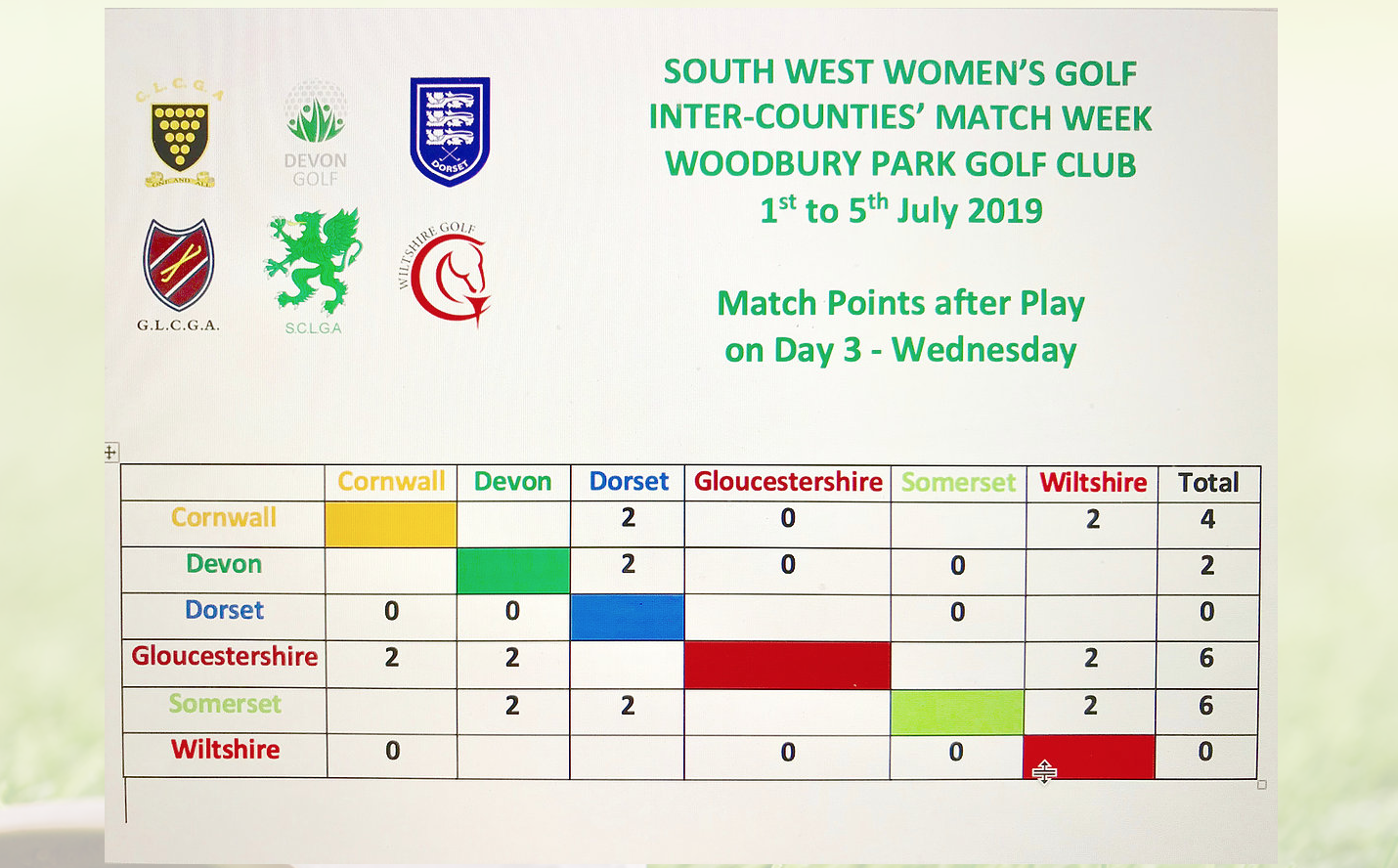 DAY 3 versus Cornwall
Hump day arrived and from previous years, it's always a challenging one, where the team realise the physical and mental pressure they have experienced over the previous two days and there's three more days to go and there's no let up!
On top of Hump day, came the additional pressure of playing against Cornwall, who have always pushed us in previous years in our efforts to win County Week. Captain Su along with Vice Sandra and Coach Andy decided to change up the foursomes a bit and in the morning session, we saw Claude partnered with Caley and Ebonie with Charlie - both tried and tested foursomes pairings from previous years along with Alex Squared.
Claude and Caley tee'd off first and were soon up through 4 but were pegged back by 6 to A/S and then found themselves 1 down through 7. They then won 2 holes on the trot to get back to 1 up through 9 and were dormie 3 up and won on the 16th with a 4&2 result.
Behind then Alex Squared were doing equally as well and with ex County player Bethan Popel on one of their bags, they also came in with a 4&2 win. 2 points in the bag - could we make it a clean sweep?
Ebonie and Charlie were slower starting and they found themselves 2 down through 3 but after a stiff talking to, they started to relax and turn the game around and by the time they got to the 12th they were 3 up However they found water on the 13th but they still halved the hole with a drop using their 'get out of jail card'. On the 14th the Cornish pairing clawed one back, the 15th was halved and then the dreaded 16th gave us hell!! First of all the Cornish pair found themselves needing a ruling as they had landed their drive on the pathway going up the right side of the fairway and then Team Glos needed a ruling as Ebz had to take a difficult shot through the trees, which unfortunately didn't clear but hit another one and ricocheted at a right angle straight into the hazard. However, unbelievably the hole was halved in 7 and we went to the 17th dormie 2 up. We lost the 17th, so it was onto the 18th- the Par 3 with the green surrounded by water. With a big gallery around the green and on the clubhouse terrace Cath from Cornwall put her shot to about 30' left of the pin and then it was Charlie's time. A very nervous Charlie stiffed her shot to within 8' of the pin to rapturous applause - what a crunch shot. Jan from Cornwall lagged her putt to within 3 feet, but Ebonie lipped out and the hole was conceded - so another point in the bag - who would have predicted us going into lunch 3:0 up against Cornwall?
Knowing that Cornwall would want revenge, the order included our 6 very seasoned players in Ebonie, Caley, Claude, Sam, Alex G and Alex S. We didn't want to be complacent and it was important for us to get our points early doors.
Ebonie was faced with Megan Giles who was quick off the blocks with Ebonie soon finding herself 3 down through 3! She pulled one back at the 5th, 7thand 8thto get it back to A/S but then lost the 9th. She won the 11th, 14th, 15th and the 16th to clinch a 3&2 win.
Caley was even quicker off the block - in fact it was definitely Usain Bolt fast - she was birdying holes all over the place and there was little that her opponent could do and at the turn she was 5up. By the 11th she was 6 up and at the 12th when the Cornish girl went in the bunker Caley took the hole to finish her match 7&6 - great win and phenomenal golf!
Behind Caley, Claude was plotting her way steadily around the course and through the turn was 1 up. By the 11th she had gone 2 up but was pegged back to 1 up through 16 and found herself going down the 17th where she finished her match to win 2&1. Another point for Gloucestershire.
Sam had a tough match and although she was 2 up at one point, her opponent came back towards the end of their match and Sam went down the 17th 1 down. She halved the 17th so it was over to the 18th to determine whether she could get a halve. Unfortunately Sam put her shot short on the bank and her opponent stiffed her shot, nearly holing it, and it ended up about 8' away from the pin. Sam chipped up the bank but was not close enough, so Sam conceded the match to lose 2 down.
Alex Squared who were bringing up the rear of the field were always up in their matches and Granny Saunders won on the 15th (4&3) and Gilo won on the 14th (6&4) so another two good results.
This match result was fantastic as we have always had to battle extremely hard against Cornwall over the years. Last year we halved our match against them and this year I don't think anyone would have thought we would have brought home as many points - this is testament to the resolve of our team - everyone was willing them to do well and they delivered. A fine day's work from all the players, their team mates who were out on the course supporting them and the management team. Hump day came and yes it was exhausting but it was also exhilarating watching some phenomenal golf. Bring on Dorset now.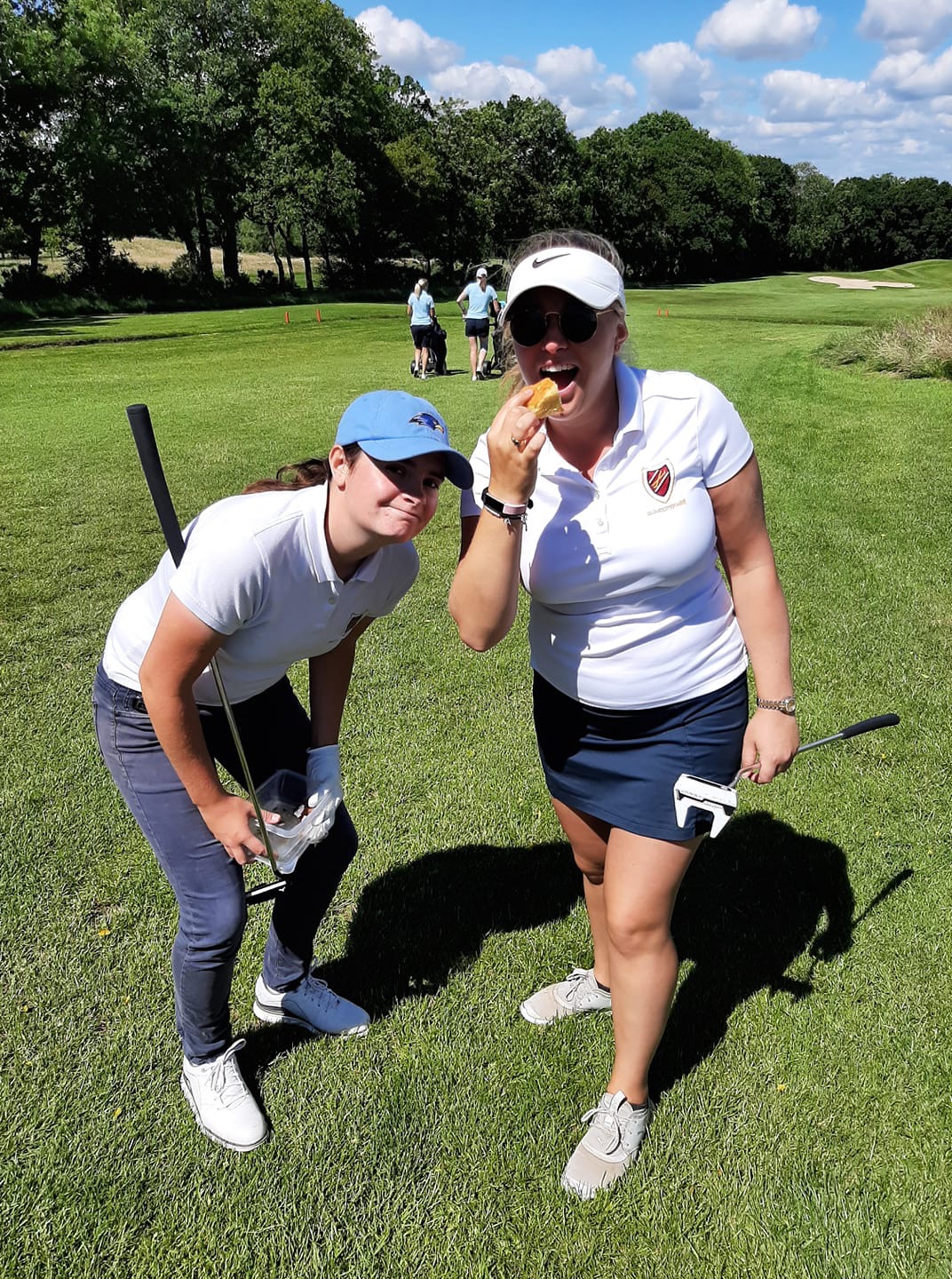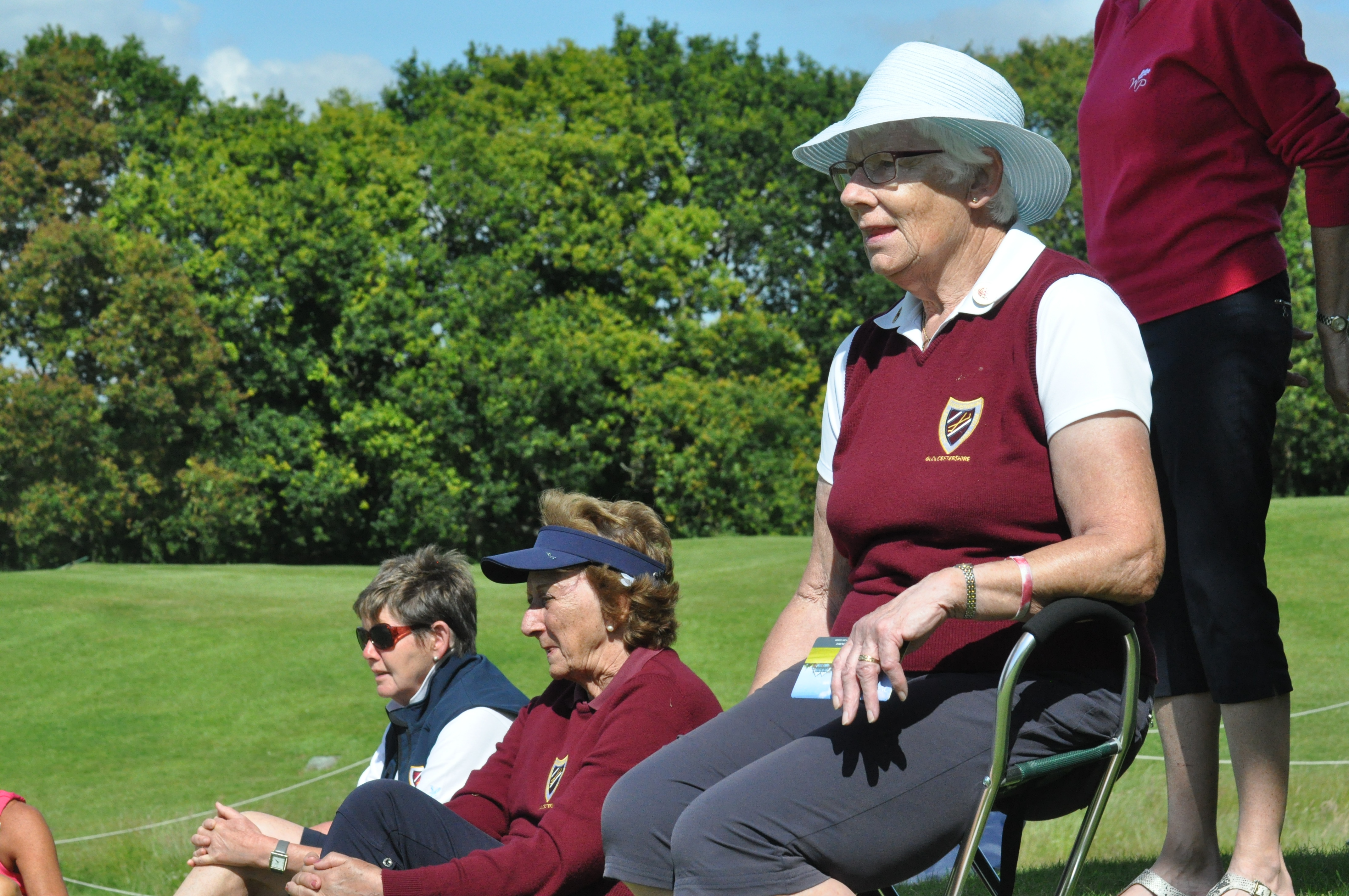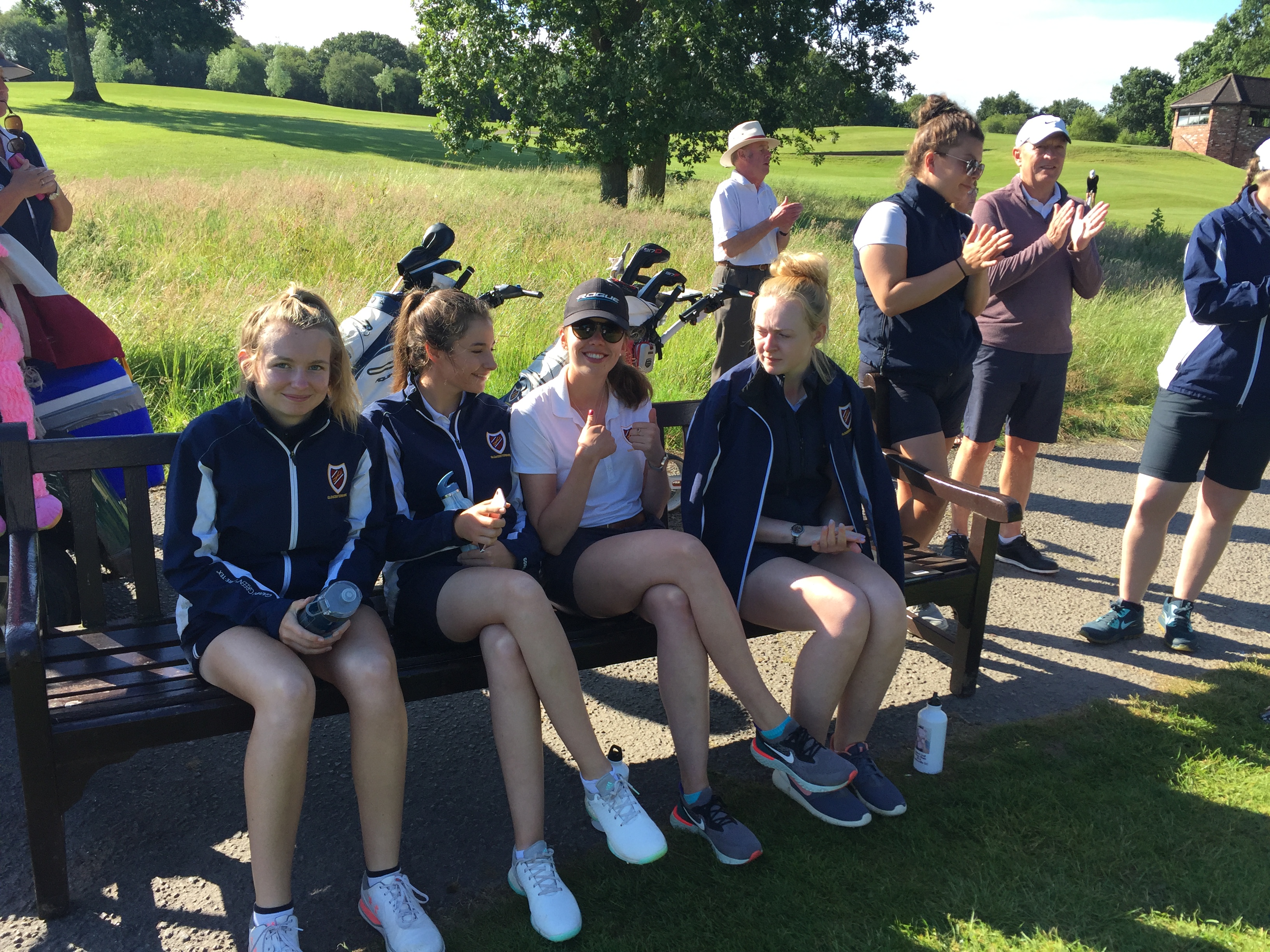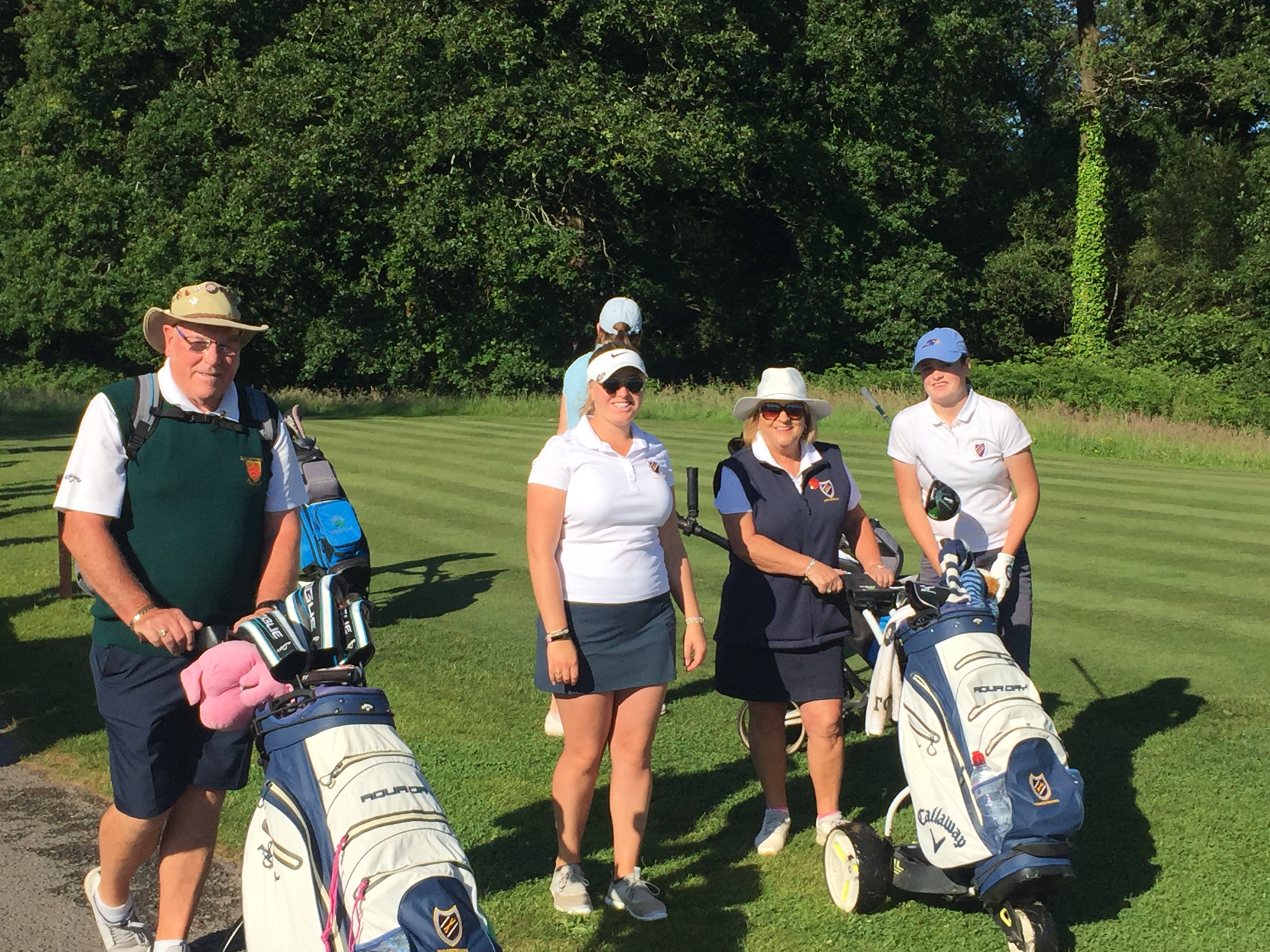 DAY 2 versus Devon
With another beautiful day forecast, the foursomes matches set out in sun even at 8.30am and it got way hotter as the day progressed.
Taking the lead Alex Squared soon took charge of their opening match both playing extremely solid golf winning on the 17th 3&1. Both counties were well under par for their round but our girls were just too good. Sam and Issy went out second - a new pairing and the first time for 'rookie' Issy playing in a foursomes match against a strong Devon pairing. Although they found themselves down early on in the game, with some great golf pulled it back and consolidated their positive position and never looked back winning on the 17th - another 3&1 win. In the final pairing of Ebz and Megs, the girls went up early on and steadily increased their lead to win on the 14th with a 6&4 win giving Team Gloucestershire all 3 of the morning points.
Knowing that Devon would be keen to claw back some points in the singles matches, it was decided to put Caley, Claude, Charlie and Jess out first as they had all been rested in the morning. Bringing up the 5thand 6thpositions were Granny Saunders and Alex G.
Caley got off to a great start and never looked back bringing in an early point 5&4 with 6 birdies on her card - even with a still slightly swollen hand! She's made of tough stuff that Miss McGinty!
Claude was faced with one of Devon's old stalwarts who never allowed Claude to gain any momentum eventually beating Claude on the 16th 4&2.
The next few matches, Charlie, Jess and Granny Saunders yo-yoed with Charlie halving her match on the 18th to bring us up to 4.5 points which meant we only needed to get another half a point out of the remaining three matches for the overall match win. Unfortunately both Jess and Granny lost on the 17th in very close fought matches (1 down and 3&1 respectively). So we needed Alex Giles to bring home the last half point and coming up the 16th she was 1 up. She won the 16th to go dormie 2 which meant we had at least the half point we needed to make it 5 points in the bag, but this wasn't good enough for Alex G and although she lost the 17th, she brought home the full match point winning 1 up on the 18th.
Another good day on the golf course, with a 5.5 : 3.5 point win for us. Cornwall tomorrow and another tough day on the course is expected. We need to go out and focus on our game and play like we know we can, #OneTeamOneGoal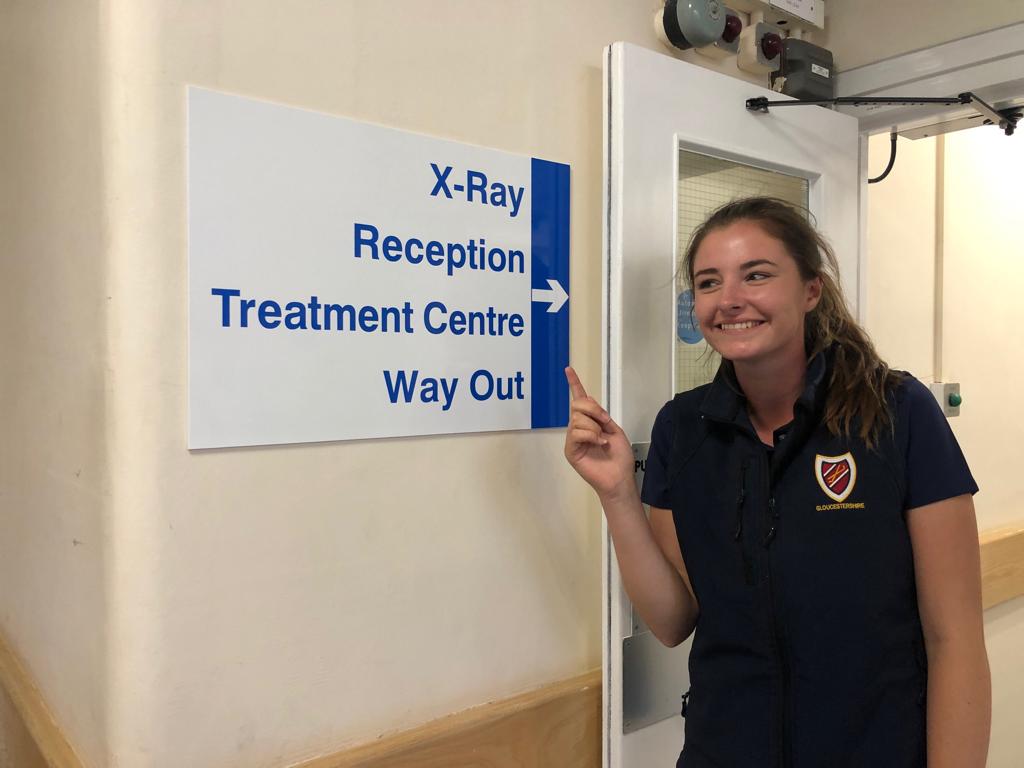 DAY 1 versus Wiltshire
In the foursomes, our first pairing of Alex Squared soon found themselves 3 up but on the back nine they struggled with a couple of their balls finding water and they soon lost their lead forcing them to play the 18th when they were 1up. This meant they needed to win the 18th to secure a halved match which unfortunately they couldn't manage but it was a brilliant game played in the best spirit. The middle pairing of Claudia and Caley were always up in their match even though Caley had been bitten yesterday by a horse fly on her hand and was impeded because she couldn't feel her hand at one point, but this didn't stop her chipping in for a birdie on the long par 3 15th hole to win their match. In the final pairing of 'rookie' Megan and seasoned campaigner Ebonie, they gelled well together and were always up and eventually brought the point in again on the 15th.
So the morning session finished 2:1 to Gloucestershire.
During lunch Caley's bite became more and more inflamed and it was decided to rest her so that she could go off to hospital to get it checked out. This meant that Su had the opportunity to blood 2 more 'rookies' in the singles in Jess and Issy.
Leading the way was Claudia who plotted her way around the course, finding her opponent as equally steely and resilient as herself. The match went right to the 18th and her opponent stiffed her shot to within 3 feet of the flag and won the hole and the match.
In the 2nd match, Sam was faced with a very on form Wiltshire opponent who gave nothing away and although she battled hard as usual, Sam found herself 5 down through 12, pegging one hole back but eventually lost on the 14th.
The 3rd and 4th matches with 'rookies' Jess and Issy respectively started nervously, going down early in their matches, but they soon found their confidence, turning their matches into wins on the 18th and 17th respectively.
Meanwhile Charlie had quietly plotted her way around the course, against a seasoned Wiltshire player and again once she found rhythm, took control of the match and won it on the 17th.
Whilst this was all happening, Ebonie playing anchor, had secured her points with a convincing 4&3 win to give Gloucestershire an overall 6:3 opening win.
The one thing you always need to remember is never underestimate Wiltshire who always play their hearts out – they didn't take their foot off the pedal and pushed us all the way.
Pleased to say that Caley was advised to take antihistamine for her horse bite and we're hopeful that she'll be back on form tomorrow when we take on hosts Devon.
Woodbury Park golf course is proving to be a very stern test for all the teams and even though the weather is sunny and warmish the wind is playing a real factor in the matches as it swirls around the course.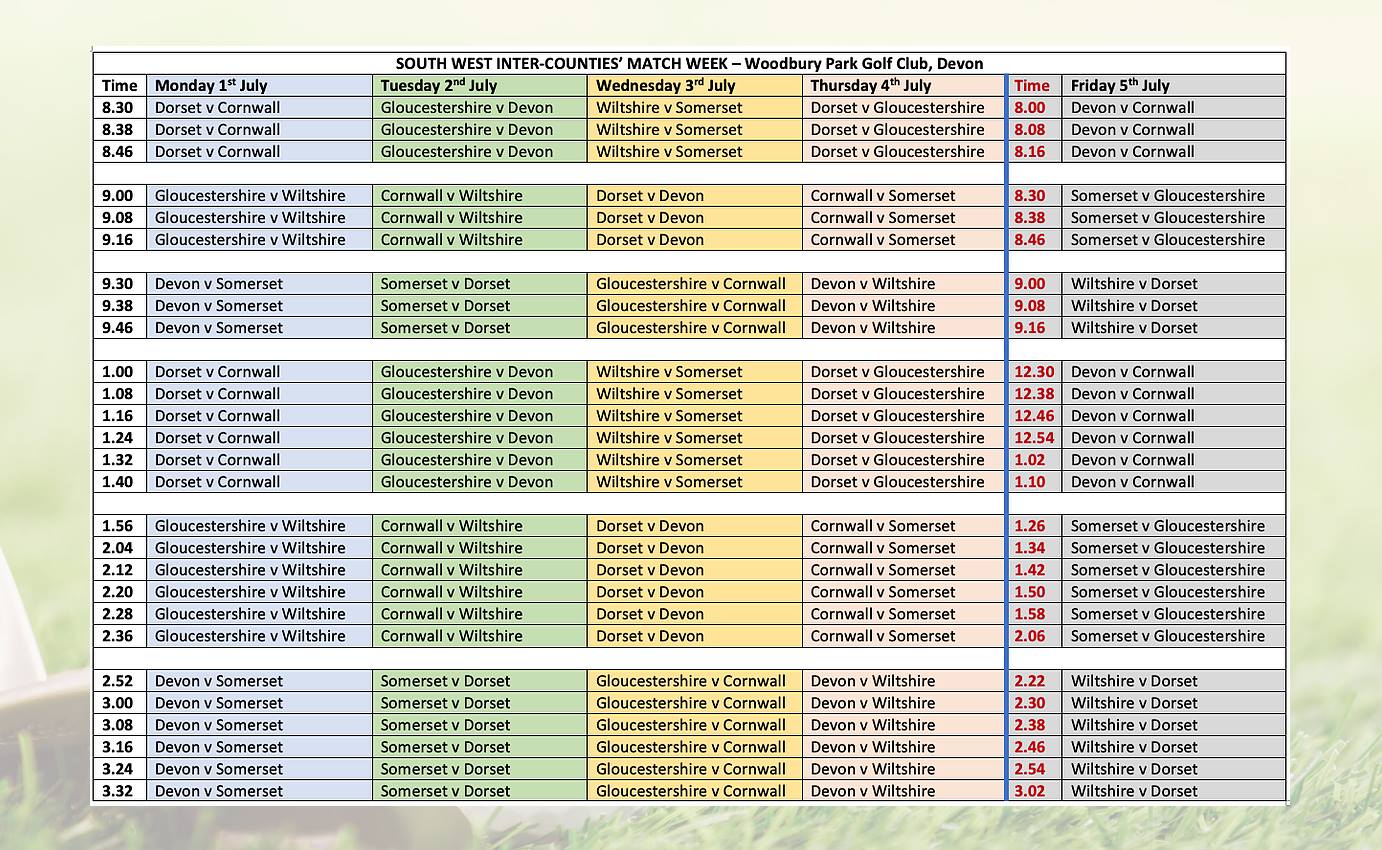 SW County Week is nearly here and we'll soon be teeing off at Woodbury Park G&CC to defend our position as SW Champions.
Su Mallon, Sandra Gibbs and Andrew McGreevy will be heading down to Woodbury Park with the team on Sunday for another practice round to familiarise themselves with the course and the greens a bit more before #TeamGlos take on Wiltshire on Monday.
It's going to be another great week of golf and #TeamGlos will do everything they can to bring the trophy back to Gloucestershire.
Play well #TeamGlos
Caley McGinty
Ebonie Lewis
Alexandra Giles
Alex Saunders
Jess Brown
Claudia Ovens
Samantha Round
Charlie Hiatt
Megan Bartlett
Issy Hopkins
Izzy Lloyd
Kate Bibby