Ever popular Fraser Foursomes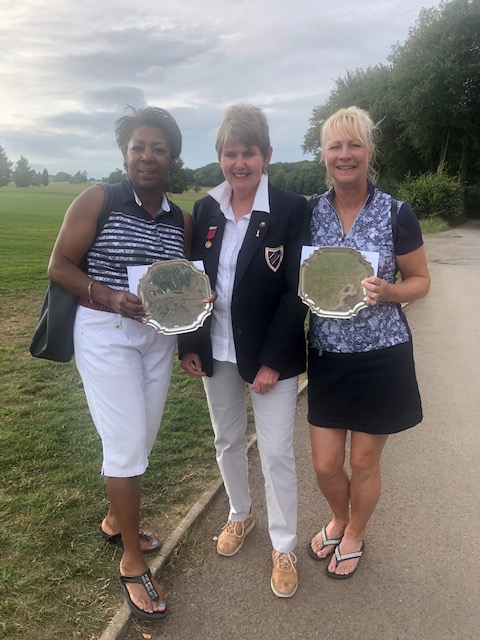 There were shrieks of delight from the winning couple as the results of the Fraser Foursomes were announced at Stinchcombe today. County President Sue Rawles presented the Silver Salvers to Beverley Hill and Sarah Spackman of the The Bristol Golf Club.
Sue explained the history of the Salvers and then went on to thank Stinchcombe for their excellent hospitality, warm welcome and lovely cakes!.
She congratulated everyone on completing 36 Holes and for playing so quickly - morning and afternoon rounds each took under 3 hours! There were smiles all day as players who come back each year said how much they enjoyed the format - foursomes medal - the winners thanked the County for running the Competition and were very complimentary about the course.
Olive and Peter French were thanked for their invaluable help as always and of course Jane Rowell for dealing with all the late changes in her trademark, unflappable way and for the the very smooth running of the competition
Prize-winners
Beverley Hill and Sarah Spackman The Bristol Nett 147
Jane Bartlett and Ann Crawley Cotswold Edge Nett 147 Runners up
Liz Sandilands and Karen Stokes Minchinhampton New 148
Lin Andrew and Vicky Watkins Broadway 168 Best Gross over 36 holes
Annie Griffin and Jill Sewley Thornbury Best a.m. gross 80
Jane Broderick and Jayne Worthington Cirencester Best a.m. Nett 70
Gillian Clark and Glenda Hamner Henbury Best 18 holes p.m. 83
Amanda Chong and Sefton Hooton Rodway Hill Best Nett 18 holes p.m 69