Lady Marling and Coronation Medals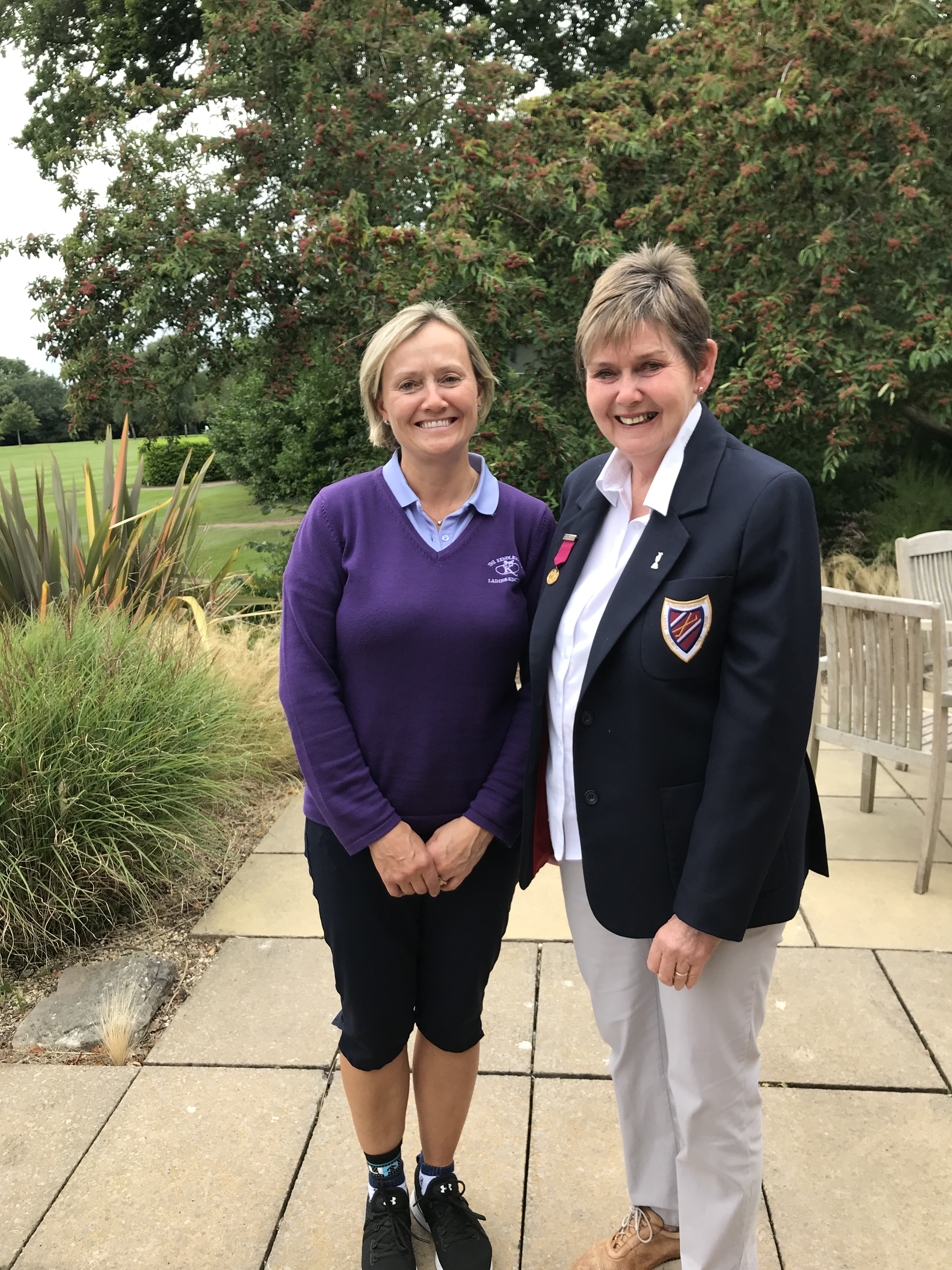 Jenny Garland, winner of the Lady Marling Challenge Cup at Henbury Golf Club
It was a perfect day for golf as competitors arrived for the "Marlings"and the Coronation Medals at Henbury Golf Club on Tuesday.
These are two of our oldest competitions but sadly due to declining numbers , the trophies are now played for on one single day.
County President, Sue Rawles thanked Lady Captain Glenda Hanmer and Henbury Golf Club for their support of the County this year. "When I spoke to you last year Glenda", said Sue, you told me that you wanted to do something for the County in 2019 and you have done it in spades!"
Starting with the ever popular County AmAm in April, the finish of the 6 Course Challenge in June, The GGG Fancy Dress AmAm in August and now 2 of our oldest Competitions, you have been very generous hosts throughout the year and we have been made very welcome by staff and members alike - in fact it's beginning to feel like home!
Low scores were hard to come by from all quarters, Gary and the green keepers had prepared a beautiful golf course but the greens were slick and Oh those tricky pin positions!!
Sue went on to thanks Club Delegate, Hilary Mason for all her help throughout the day on registration - what a wonderful right hand woman! Thanks also to all the Spotters and Starters including Vice Captain Helen Grove.And of course Sue extended her thanks to Paul and Debbie and everyone in the bar and kitchen.
There was a round of applause for Competition Secretary Jane Rowell for her excellent preparation and smooth running of today's Competition.
Prizes were awarded as follows:
Silver
Best Gross Ann Manley (Henbury) 86
Best Nett Jenny Garland (The Kendleshire) Lady Marling Challenge Cup Nett 74
Nett Runner Up Liz Henniker-Heaton (Henbury) Coronation Medal Nett 76
Bronze
Best Gross Heather Morgan (Cotswold Edge) The Graham Cup 101
Best Nett Christine Moylan (Cirencester) Lady Marling Bronze Cup Nett 77
Nett Runner Up Heather Morgan (Cotswold Edge) Coronation Medal Nett 77
Full summary of scores are on the Competition page of the website.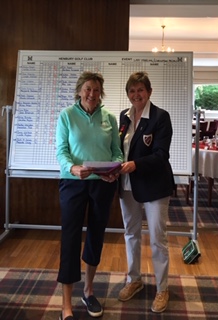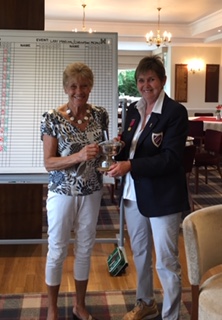 Liz Henniker-Heaton (left) and Ann Manley receiving their trophies from Sue Rawles.