Junior Fun on the Course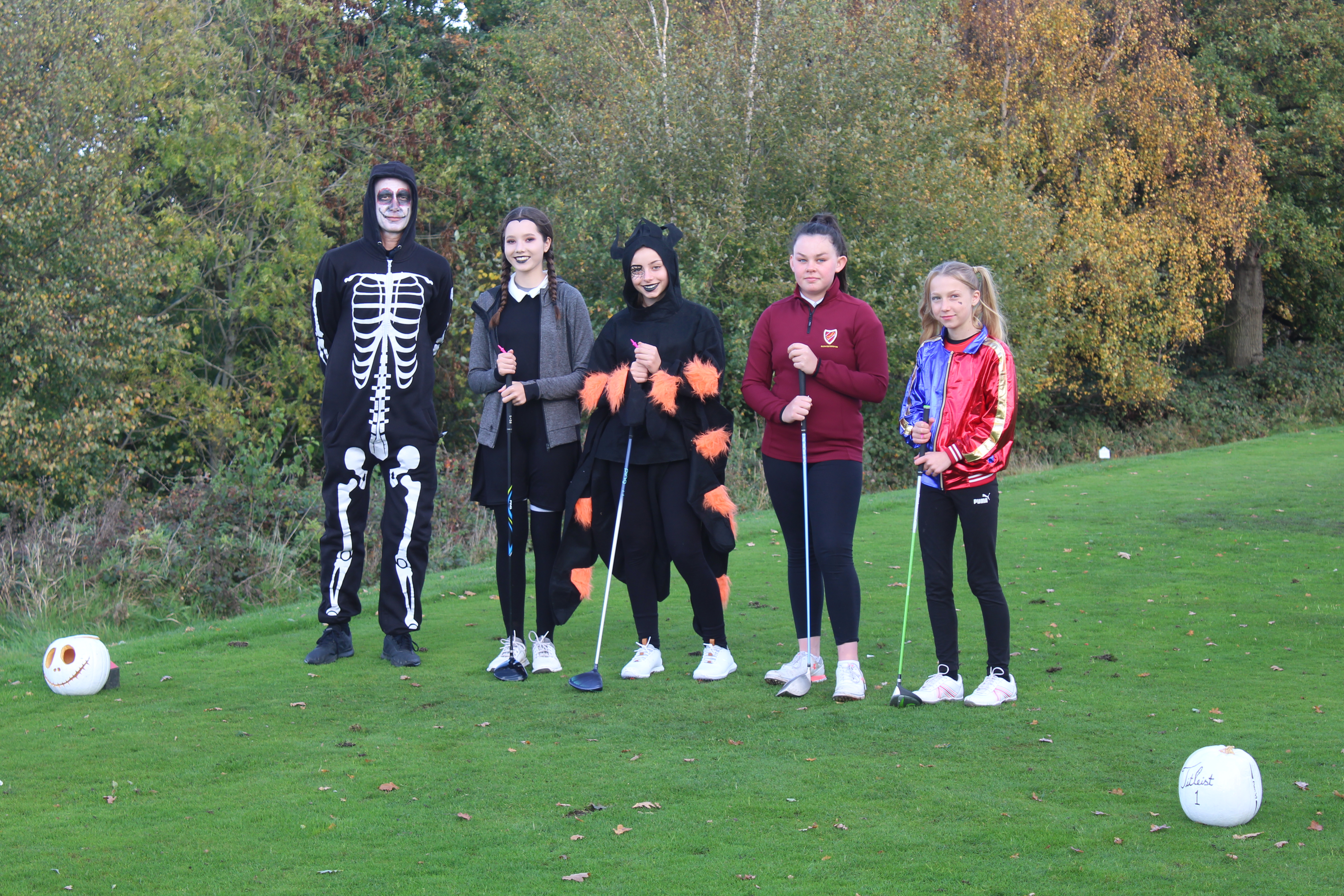 Our annual Jenny May Day event was a lot different this year but then this year has been an unusual one all round, so with the need to have a bit of fun, we halloween themed it with many of the girls being very creative with their costumes and even some of the adults joined in too!
There were prizes for the best costume and the scariest costume with Gabriella Haynes (Knowle) who was dressed as a spider picking up the scariest prize and Liz Robbins (The Kendleshire) dressed as Malificent winning the best dressed with Mariella Buchanan (Long Ashton) aka Harry Putter as runner up.
Martin Evans (Minchinhampton) certainly got into the spirit of the day dressing as a skeleton starter and he even brought along a couple of beautifully carved pumpkins for the first tee markers.
The Texas Scramble certainly brought out the best team golf for years, with prizes hotly contested and the results were all very close. However the Spider led her team to victory and Gabriella along with Molly Kemery and Lila Hazel (all from Knowle) and Lydia Sutherland (Cirencester), scoring a nett 63 to pick up the winners prizes.
Millie Gait's (Knowle) team came a close second with a nett 65 and her team comprised Liz Robbins, Una Morrissey (B & C) and Emily Austen (Chipping Sodbury).
Our Jenny May Day usually includes a season review, but with so little competitive county golf being played, there was little to report on, but one thing we were able to do was announce our new Junior Captain and Vice-Captain.
Lorna Evans (Minchinhampton) will be our 2020/21 Captain and Issy Hopkins (B & C) will be her Vice-Captain. We wish them both all the very best for the next year.
The Jenny May Day is always tinged with a little sadness, as it is the last event of our season and it's the day when we say goodbye to those juniors who will progress into the Ladies' ranks - we have such great role models who support the younger girls and we would like to wish Izzy Lloyd (our outgoing Junior Captain), Shannon Jones (our outgoing Vice-Captain), Chloe Lloyd (last year's Vice Captain), Jess Brown (2017 Vice Captain) and Phoebe Barber all the very best for their future golf careers.
The Bristol GC are excellent hosts for our event and we would like to say thank you to them for supporting junior golf and letting us play your course.
We look forward to a busier 2021 season with stableford and card marking days booked in at many different courses across Gloucestershire, plus some challenging match fixtures planned. Fingers crossed 2021 won't be as disruptive as this year and the junior girls can show us all how much their games have improved during a year when lots of practice has taken place.
Thanks go to Amanda Brown and Alex Saunders for your involvement in GGG this year, plus thanks go to a number of parents who have supported the junior section especially Martin Evans who is our star starter.
Enjoy the 'off season' girls and let's look forward to 2021!