CALEY IS THE 2021 MAC GOLFER OF THE YEAR!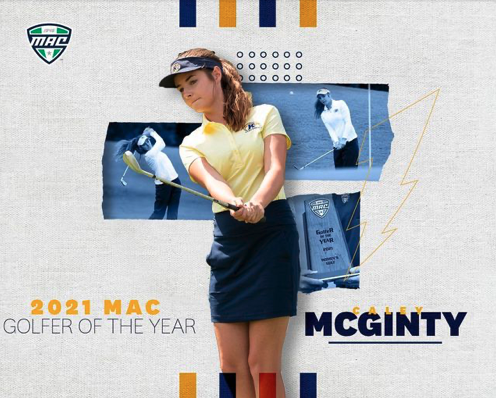 Caley McGinty's game has gone from strength to strength since she flew over 'the pond' to America to join Kent State University. As a key member of their golf squad, she seems to be clocking up the awards achieving incredible individual results in the various College/University team championships that take place across America.
Kent State University who are known as the Golden Flashes have just won their 22nd-straight Mid-American Conference Championship, tallying a third round total of 296 (+8) at the Silver Lake Country Club. Sophomore Caley McGinty was crowned the tournament champion after a tournament total of 4-under 212.
At 878 (+14) for the tournament, the Flashes won by 36 strokes over second place Northern Illinois and 42 shots over third place Akron. The Flashes, who have won every championship tournament put on by the conference, had all scores finish in the top-10.
Caley went 17 holes for par or better with three birdies en route to a 70 (-2) score in the final round. She completed the final nine holes bogey-free and finished with a 54 hole total of 4-under 212.
And to top this team achievement and her individual score, Caley was then announced as 2021 MAC Golfer of the Year!
This is a fantastic achievement and recognition of all the hard work and dedication that Caley puts into her game.
CONGRATULATIONS CALEY!