Glos Old Spots triumph in inaugural SW Seniors Gross team Champs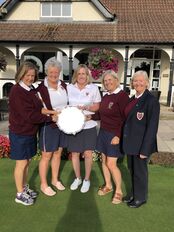 Our inaugural South West Seniors Gross Team Championships took place at Bristol & Clifton Golf Club on Tuesday, 21st September 2021. We were blessed with fine weather and it was great to see lots of smiley faces on the fairways, with everyone keen to enjoy our last County Seniors tournament of the year.
Bristol & Clifton and their staff were very welcoming and everyone praised the wonderful condition of the course. As always at B&C, the course proved a tough test. Many players lost balls, several had birdies, even multiple birdies, and a high point was the celebration of Sarah Waugh's very first hole-in-one on the 6th!
Although no-one in the field got close to the SS of 74, Gloucestershire's team won the Salver with a worthy Gross score of 242 - well done to Jane Rees, Alison Kelly, Linda Carruthers and Emma Brereton.
Given the difficulties some Counties had finding fit and willing players in this Covid year, we also provided a Nett Winners prize which was won by Wiltshire's Gill Loughrey, Karen Gosling, Sarah Waugh and Carol Main with a score of 232.
The Gross Runners-up were Somerset on 249, and the Nett Runners-up on 233 were also Somerset on count-back from Devon. Sarah Burnell was best Gross on 79, on count-back from Linda Carruthers, and Sarah was also Best Nett on 74 equalling the SS. Our thanks go to Janice Saunders for managing the scoring.
Congratulations to all the winners and well done everyone for helping us to get this new tournament going, with special thanks to Karen Rix and her fellow South West Representatives for supporting SW Seniors and its future development. If we want SW Seniors to become 'official' to match the other Regions it is up to all of us to make our Counties aware.
Somerset will be the hosts in 2022 and we hope that Long Sutton will be the venue at a date to be announced.
Frances Lindley
GLCGA Seniors