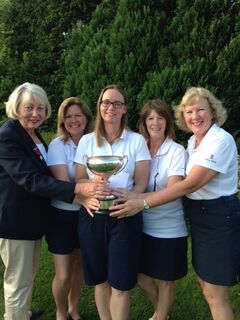 96 players today enjoyed a glorious summer's day playing in the Bronze Team Championships at Lansdown Golf Club. A new venue as this is the first year that Lansdown has been a member of GLCGA.
The players found the course challenging and, in fact, the CSS was raised from 74 to 75. Lansdown Ladies surpassed themselves with the level of support provided to Debbie Casling. Throughout the day they had a team of helpers in particular Millie Parker, Suzanne Wheeler, and Sonia Phipps. The men also played a part as Starters - thanks go to Alan Laycock, John Butler and Graham Pristo.
This was a very emotional win for the Lilley Brook Ladies as leading up to the event Lilley Brook member and team player Sue Robinson suddenly passed away. They all struggled to play today as Sue was supposed to be in the team. They dedicated their win and trophy to Sue.
Individual results on the Competitions page.

County President Carole Stratford presents the trophy to the successful Lilley Brook team.