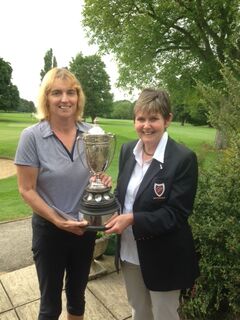 Recent strong winds had subsided in time for the Western Daily Press Cup played at Lilley Brook Golf Club today. It was agreed that this was a perfect day for golf! The 53 competitors (including a contingent of 19 from Cotswold Edge) enjoyed the course and were very complimentary about the condition; for a number of players this was their first outing to Lilley Brook.
Vice President Sue Rawles presented the prizes and thanked Lady Captain Mo and County Delegate Liz for spearheading the group of helpers, starters and spotters who had all ensured the smooth running of the competition.
Sue went on to thank everyone at Lilley Brook for their splendid hospitality and also thanked the players for their continued support of the County.
Pictured left is winner Karen Preedy (The Kendleshire GC) and Vice President Sue Rawles.