Well we had a ball with 16 teams going out and playing in the intense heat around Knowle GC but when we totted up all the money, I think everyone agreed it was well worth all the blood, sweat and tears that they shed whilst playing in the inaugural GGG AmAm.
An incredible £1,123.15p was raised, so a big thank you to all the golfers who participated, the Golf Clubs who donated complimentary 4-balls, the Club Pro's who donated prizes, everyone else who donated prizes for the raffle and most importantly to Knowle Golf Club who gave us courtesy of the course.
It was a fantastic event with lots of happy golfers especially the ones who won!
The most colourful team were the ladies from Bristol & Clifton GC who really pushed the colour boundaries.
There were 2 nearest the pin prizes on hole 6 and 12 and the winners were Jess Baber and Lorna Evans. Alex Saunders won the longest/straightest drive on hole 11.
In 3rd place with 128 points was Jess Baber's team of Colin and Lynn Lavender and Julie Jones.
In 2nd place with 133 points was Millie Gait's team of Paul Gait, Dan Moore and Steve Harris.
and in 1st place with a great score of 140 points was Gabriella Haynes team of Brad Haynes, Lewis Smart ad Justin Norcott.
Thank you to everyone who helped make this day a great success.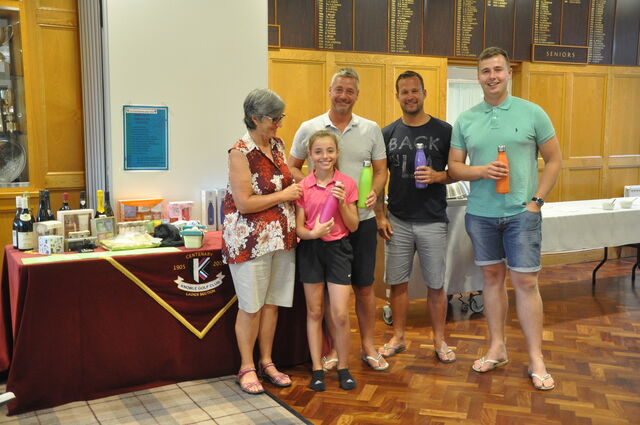 Gabriella Haynes and her team receiving their prizes from Lady Captain Gill Smith.