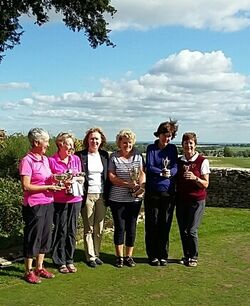 On a bright, but cold morning ladies from the 2 divisions tackled Minchinhampton Old Course with the accompaniment of several breeds of cattle, runners, dog walkers and cyclists as extra obstacles to overcome.
The sunlight made it hard to track the ball's flight, so much time was spent tracking the elusive objects although the rough was playable.
Vicky began the presentation by thanking Eve and Sue for running the competition and referred to the history of the Lady Marling trophies and the link with Minchinhampton.
Winners Lady Marling Silver Division
Nett- Lady Marling Challenge Cup -Susan Rosbotham-Minchinhampton Old-70
Lady Marling Silver Replica - Heather Sheridan - Cotswold Hills -72
3rd -Alison McDougall - The Bristol -73
Gross - Scratch Cup -Mel Lee - Cotswold Edge -83
2nd -Frances Lindley - Minchinhampton New -86
3rd -Rachael Paul- The Bristol -88
Winners Lady Marling Bronze Division
Nett - Lady Marling Bronze Cup- Heather Morgan - Cotswold Edge 70
Lady Marling Replica Cup - Sue Johns - The Kendleshire - 74
3rd Nett - Delia Allen -Cotswold Edge - 78
Gross - Graham Cup - Heather Morgan - Cotswold Edge - 94
1st - Ann Way - Tracy Park -98
2nd - Hannah Williamson - Minchinhampton Old - 100
3rd Kathleen Briggs - Cotswold Hills - 102
All scores are displayed on our Competitions page
Competition played on 7th September 2018