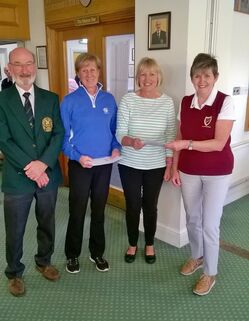 The early starters at Lansdown found themselves donning extra layers of clothing when they arrived for a bright but cool and crisp South West Autumn Bowmaker.
The President thanked everyone for playing, especially as this Competition very nearly didn't happen at all. Sue recalled Lansdown being easy level walking and no water so hopefully there were not too many lost balls today.
Sue thanked Competition Secretary Sue Johns for running the competition so efficiently and she in turn offered her thanks to Club Captain John Butler, a multi-tasker who was at hand all day, she would have been lost without him!
Sue Rawles went on to thank Josh and Ross in the kitchen and to Lansdown for hosting the Competition today, it was especially nice to see our friends from the other SW Counties and she hoped they would all continue to support the SW competitions in 2019.
Only 3 points separated the top three teams with the local team from Lansdown coming out on top, the winning team complimented the green keeper on the excellent greens and expressed their gratitude to Sue Johns for the very smooth running of the Competition.
Full results appear on the GLCGA website.
Pictured are Captain John Butler with Tricia and Bridget from Lansdown receiving their 1st prize from Sue Rawles.
Wimmes
1st Patricia Ritchie, Bridget Ashley and Laura Leach-Lansdown with 83 pts
2nd Jackie Mccarthy, Lin Wright and Kim Burchill -Tracy Park with 82 pts
3rd Carole Paterson, Caroline Hunter and Corinne Stolworthy -Long Sutton with 80 pts