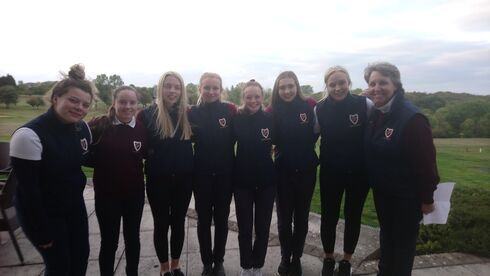 Su Mallon pictured with the Second Team who put up a brave fight in the Final against Cornwall.
Gloucestershire V Cornwall SW Inter County 2nd Team Championship Final at Taunton and Pickeridge Golf Club.
Team Gloucestershire: Jess Brown, Megan Bartlet, Izzy Lloyd, Hannah Brown-Pierce, Chloe Lloyd, Kate Thurlow, Sabrina Thompson-Green. Captain Su Mallon
Team Cornwall: Caroline Hume-Kendle, Kira Barnes, Anjie Chapman, Vicky Lee Comyn, Cath Hopkins, Annie Lobb, Penny Cartwright, Jo Body. Captain Vicki Stevenson
A cold day at Taunton and Pickeridge golf club for the final between Glos and Cornwall started with the morning foursomes. Glos President Sue Rawles was our starter for the day setting off Jess and Megan playing Caroline and Kira. Jess and Megan got off to a great start 1up at the first and never letting the lead go, being 4 up at the turn and finally wining 6/5. Kate and Sabrina next to play were up against Anjie and Vicky, and although they started well going 1 up through the 3, the experience of Anjie and Vicky finally took its toll and although Kate and Sabrina fought hard Cornwall were to win 3-1. The final pairing was Izzy and Chloe who were playing the steely pair of Cath and Annie. Again, a well fought match seeing the pair take the game back to 1 up through 9 from being 2 down. However, Cath and Annie eventually took back the lead and went on to win 2-1. The result of the morning foursomes 2 -1 to Cornwall.
The afternoon singles started with Jess taking the helm playing Kira. Once again Jess got an early lead that she was never going to relinquish and finally taking the match 4-2. A great start! Izzy was next to play and was up against Caroline. A very close match neither getting more than 1 ahead, but Izzy kept her cool and finally took the match 2-1. Kate was next to play and was up against Jo. Kate was to have a slow start going 4 down at 5, but never to give up by 11 had taken the match back to all square, but Jo, dug deep to finally take the match 3/2. Chloe was next playing Penny. A very closely fought match, Chloe and Penny never letting the match go more than 2 either way, so it was no surprise that the match was eventually halved. Hannah joined us for the singles and was up against the experienced Annie who had got the measure of the course and conditions on the morning foursomes and although Hannah played well the experienced Annie took the match 4-3. Finally, it was Megan to play seasoned player Cath. Megan played superbly, her gritty determination to keep the game within reach never letting the game go more than one. However, the older and more experienced Cath sunk some amazing long puts to hold off Megan's charge finally securing the point to win 3-2. The result of the afternoon singles 2 ½ - 3 ½ .
Final score for the day – Cornwall 5 ½ Gloucestershire 3 ½
A well fought match, on a very challenging course, by both sides played in the right spirit and our congratulations to Cornwall and a great win!
Thanks also to Taunton and Pickeridge and the team for hosting us on such a busy day.